Dietetics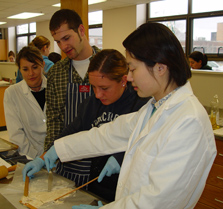 The undergraduate program in dietetics has been accredited by the Accreditation Council for Education in Nutrition and Dietetics (ACEND)*, Academy of Nutrition and Dietetics, as a Didactic Program in Dietetics that meets or exceeds the minimum academic requirements for professionally qualified dietitians.
The dietetics program is designed so that supporting disciplines provide a knowledge-base prerequisite to the professional courses. Course offerings are sequenced to provide increasingly complex experiences that build upon previous knowledge. The student is expected to acquire expertise in nutritional assessment and care and in foodservice management systems. Through the careful selection of elective courses, the student may develop special interests.
Eligibility for the Registration Examination for Dietitians is determined by verification of successful completion of an ACEND-accredited Didactic Program in Dietetics and one of the following supervised practice experiences: (1) ACEND-accredited Dietetic Internship, or (2) ACEND-accredited Coordinated Program, or (3) an Individualized Supervised Practice Pathway (ISPP) run by an ACEND-accredited program. Dietetic Registration, as administered by the Commission on Dietetic Registration (CDR), is a requirement of most positions for professional dietitians.
The MSU dietetics program is among the largest in the U.S. and one of the first established.
* Accreditation Council for Education in Nutrition and Dietetics, Academy of Nutrition and Dietetics, 120 South Riverside Plaza, Suite 2000, Chicago, IL 60606-6995; (312) 899-0400 ext. 5400; https://www.eatrightpro.org/acend; acend@eatright.org

For more information:
Entry Requirement for Dietetics Major
Food and Nutrition Association
Contact the advisor:
Linda Summers, MS, RD
Department of Food Science and Human Nutrition
G. M. Trout FSHN Building
469 Wilson Road, room 106C
East Lansing, MI 48824
Phone: (517) 353-3322 Fax: (517) 432-5295
E-mail: summer24@msu.edu
Web page: www.msu.edu/~summer24
MSU students: Reserve an advising appointment via the online Student Success Dashboard.