Study Abroad
The College of Agriculture and Natural Resources (CANR) offers Study Abroad destinations that span the globe, with opportunities to live, learn, experience different cultures and conduct research in more than 35 countries.
CANR students received about $35,250 in scholarships for study abroad. The average CANR award is $904 (16 percent higher than the average MSU award).
Would you like to learn Spanish in Costa Rica? Trek in the Himalayas? Live on a kibbutz? Engage in community-based development? Learn more about the many options available to CANR students all over the world: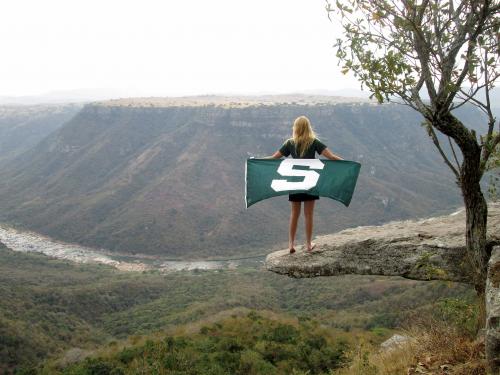 Africa
Antarctica
Asia
Australia/Oceania
Europe
North America/Central America
South America
Different Options
You can study abroad at almost any time during your academic program. Some students want to study abroad for a few weeks in the summer, during spring break or during winter break. Others want to spend a full semester or even an entire academic year steeped in the culture of another country.
Wherever and whenever you want to go, the CANR has the right Study Abroad program for you.
Whether MSU students are going abroad or coming to campus from other countries, they're in for life-changing experiences—experiences that just might change the world.
Programs & Courses
Overall, MSU offers Study Abroad programs in more than 35 countries. In addition, more than 40 Study Abroad programs have a community engagement component that allows students to contribute in a meaningful way to the people and places they visit.
Take courses in your major in places such as Austria, Ireland, the Netherlands, New Zealand or the Philippines. These are just a few of the locations where you can study and take classes that could fulfill your major requirements.
The CANR sponsors many programs that offer IAH, ISS, ISB or ISP courses. Complete your Integrative Studies requirements in locations such as Australia, Costa Rica, India, Madagascar or even Antarctica.
For all of your Study Abroad options, visit MSU Education Abroad and contact your academic advisor.
For more information about Study Abroad in the CANR, contact Rhonda Crackel via at crackel@msu.edu.