Curricular Special Options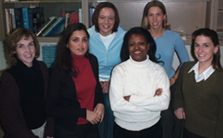 Foodservice Experience
Students may obtain foodservice experience by employment in one of the residence halls foodservices on campus, including Brody, Case, Holden, Wilson, Holmes, Akers, McDonel, Hubbard, Owen, Shaw, West Circle (Landon and Yakeley), and Snyder/Phillips. Through this experience, students will be exposed to various aspects of foodservice. This experience in foodservice will lay an essential and excellent foundation for success in HNF 445, the foodservice practicum course. Hardworking students, exhibiting potential and an excellent work ethic, are eligible for promotion to student supervisor -- a great resumé-builder. Apply in the foodservice manager's office at the residence hall of your choice.
Service Learning Center, Volunteer Services
The volunteer services program at Michigan State University is located in the Service Learning Center, Room 345 of the Student Services Building. Volunteer experiences are very important to a student in planning for the future. The more diet-related work experience one has, the better the chances of receiving a dietetic internship appointment. The experience may help students decide if they have chosen the right major. The Services Learning Center at MSU has positions available in hospital and nursing home dietary departments that provide experience in the clinical setting as well as in community programs. Placement in nutrition education programs may also be available.

Students must sign up for volunteer experiences online or in the Service Learning Center at the Student Services Building. Check with the Service Learning Center about sign-up dates. The most popular experiences go very fast.
Education Abroad
MSU is a national leader, sending more undergraduate students around the world than most other US universities. Students may choose from more than 200 programs in more than 60 countries, with choices on every continent. An Education Abroad Expo is held each year in Fall Semester to showcase the opportunities. Information about programs and application procedures is available at http://educationabroad.isp.msu.edu/.
The Department of Food Science & Human Nutrition sponsors one education abroad program and one exchange program, both in the summer, both in May-June. The contact person for both is Ms. Rhonda Crackel, crackel@msu.edu, 517-353-8870.