What is Dietetics?
An academic program that prepares students to use advanced knowledge about food and nutrition to help prevent and treat disease and maintain and promote health. It is...
People-oriented and science-focused
Evidence-based
The first step toward a professional credential
Dietetics at Michigan State University
One of the largest dietetics programs in the United States
Meets didactic program requirements as approved by the Accreditation Council For Education in Nutrition and Dietetics (ACEND)*
What is a Registered Dietitian?
Registered Dietitian (RD) -- or, the newer term, Registered Dietitian Nutritionist (RDN) -- is a professional title and credential used by individuals who have completed the following steps:
Step 1 — Successful completion of a didactic program in dietetics and earning a bachelor of science degree
Step 2 — Completion of an accredited dietetic internship
Step 3 — Pass the national registration examination for dietitians
The Academy of Nutrition and Dietetics has prepared a video describing the work of registered dietitians.
Video: What a Registered Dietitian Can Do For You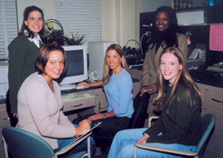 Career Opportunities as a Registered Dietitian
Perhaps the largest number of dietitians work in clinical practice -- such as in a hospital or extended care facility. Many also work in a community health setting, such as at a health department, often in programs for at-risk populations, such as WIC (Women, Infants, Children), Head Start, or programs for seniors. Some dietitians' responsibilities are concentrated in the foodservice operations where dietary modifications may be necessary. Here are some areas of focus:
Clinical nutrition practice
Public health nutrition
Corporate wellness/health promotion
Higher education
Food industry
Foodservice management
Private practice/nutritional counseling
*Accreditation Council for Education in Nutrition and Dietetics, Academy of Nutrition and Dietetics, 120 South Riverside Plaza, Suite 2000, Chicago, IL 60606-6995; (312) 899-0400 ext. 5400; acend@eatright.org
Contact the adviser:
Jill DeJager
Department of Food Science and Human Nutrition
G. M. Trout FSHN Building
469 Wilson Road, room 106C
East Lansing, MI 48824-1224
Phone: (517) 353-3322
Fax: (517) 353-8963
E-mail: hirdesji@msu.edu