Food Science (B.S.)
Food science is a multidisciplinary program field that applies chemistry, microbiology, engineering and nutrition to develop new food products and processes to improve the safety and quality of food.
The food science degree is internationally recognized and is approved by the Institute of Food Technologists.
Many students participate in internships at food companies and related industries. Students can receive course credits for internships while gaining invaluable professional experience. The Department of Food Science and Human Nutrition also has many scholarships available.
CURRENT STUDENTS: Connect with your academic advisor for advising appointments or to change your major/minor.
Set up a personal meeting to learn more!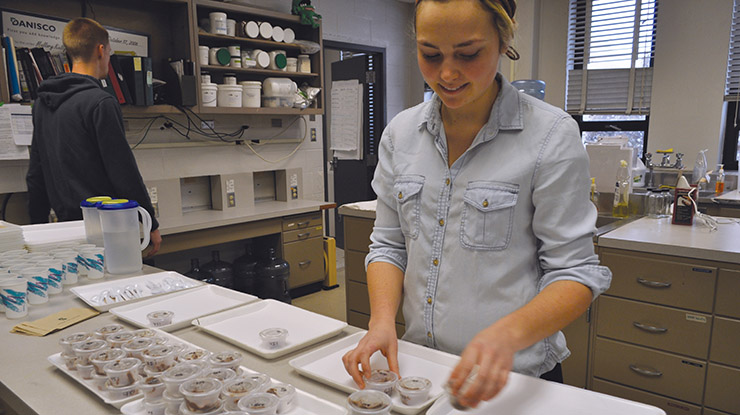 Core areas of study include:
Food chemistry.
Food safety and microbiology.
Food engineering.
Food processing technologies.
Product development.
Sensory analysis.
In addition to the core areas, students select at least one concentration or interdisciplinary emphasis area to customize the program based on individual interests.
Concentrations include:
Food Technology.
Food Business and Industry.
Food Packaging.
Basic Science.
Learn more about requirements and courses in Food Science.
Apply to Michigan State University!
---
Food Science Graduates
See career outcomes for MSU food science graduates, including salaries, top employers and employment locations.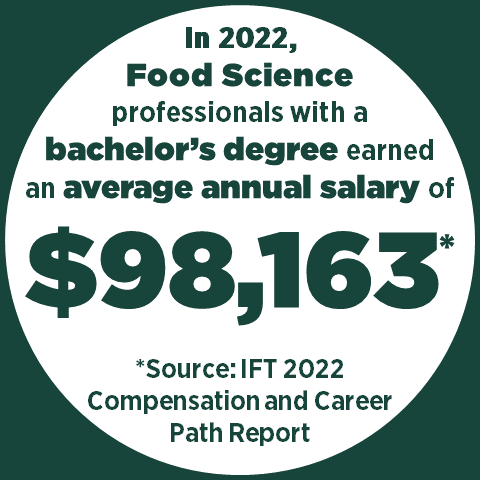 ---
Career Opportunities
The food industry offers a network of careers pertaining to supply, consumption, production, research and development, processing, safety and packaging. Food science graduates work for a variety of companies, industries, government agencies and academic sectors.
Food Science prepares students for a variety of career paths:
Food scientist.
Food or production technologist.
Research and development.
Marketing.
Packaging.
Food product or process engineer.
Quality assurance/control.
Faculty members and advisors maintain close relationships with partners in the food industry, which can help with internships, scholarships and employment in food-related fields.
There are also a number of professional associations and organizations in the food sector for further networking and career growth.
---
Student Stories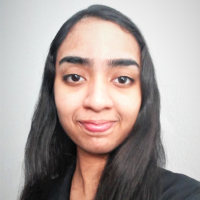 November 22, 2021
MSU undergraduate Rajsri Raghunath wants to shape food policy and help make food labels accessible for everyone.
May 4, 2021
Lichchavi Dan Rajasinghe, a postdoctoral researcher in the MSU Department of Food Science and Human Nutrition, has received multiple accolades for identifying a safe, effective way to treat lupus.
Food Science Advisor
Associate Professor, Director of Undergraduate Studies, Director of Undergraduate Food Science Program, Food Science Undergraduate Academic Advisor, Food Processing Complex Manager and Mobile Lab Liaison
swadajef@msu.edu
517-884-5993

---
Student Life
Food Science Club.
Institute of Food Technologists.
Product Development Team.
Dairy Products Evaluation Team.
Food and Nutrition Association.
Minorities in Agriculture, Natural Resources and Related Sciences.
---
Human Health Majors