Undergraduate Research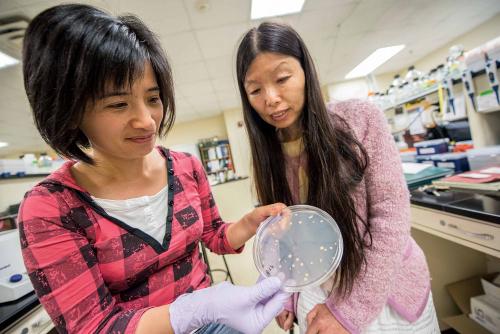 The College of Agriculture and Natural Resources (CANR) offers funding for students to participate in undergraduate research to increase academic engagement, intellectual inquiry and practical learning.
These funds are part of the Undergraduate Research Program (URP) for students whose primary major is within the CANR only.
We're looking for highly motivated, inquisitive, committed and self-disciplined students with a drive to succeed.
Increase your understanding of your field, gain real-world experience and prepare for your future career by working closely with a faculty mentor and graduate students.
---
Apply for Undergraduate Research Funding
Applications are OPEN for the CANR Undergraduate Research Program (URP) for Spring 2024.
Spring 2024 Submission Deadline (Open)
Student application materials are due Sunday, October 29 to be considered for funding.

Upon completion of the application, your faculty mentor will be invited to complete a reference form. The research mentor reference form is due Sunday, November 5. The absence of your mentor's letters of support does affect your scoring, which could affect the awarding of funds (NOTE: Faculty mentors may only support one student applicant per application period.)
Spring awardees will be notified by December.
Summer 2023 awardees will be notified in late April/early May and Fall 2023 awardees will be notified in August 2023.
Undergraduate Research Program Funding Request Application.
---
Skill Development
Undergraduate research offers you an opportunity to broaden your employment opportunities, strengthen your application to graduate school or explore career interests and options.
Investigation of important issues will strengthen your research, analytical, writing and speaking skills. It could also result in journal article publication or presentation at a professional meeting or conference.
Research projects can be carried out locally or internationally. Find out more by contacting Rhonda Crackel, director of CANR Education Abroad, at crackel@msu.edu.
---
Funding Opportunities & Eligibility
URP participants may be eligible for research funds of up to $2,000 per semester.
Awardees are eligible to receive funding once a semester, but cannot exceed two semesters.
Minimally 80 percent of the award must be used as project salary, conference/travel expenses, and/or presentation expenses. No more than 20 percent may be applied toward lab and/or field supplies.
This is a great way to substitute traditional work commitments with being paid to do research on a topic you enjoy.
Eligibility
Undergraduate student with a primary major in CANR
Cumulative GPA of 2.5 or higher
Any class level except seniors in their last semester
Contact Stratton Lee at leestrat@msu.edu if you have any questions.
---
Travel Grants
CANR offers grants to support various travel costs for students within the college. Fill out the CANR Undergraduate Travel Grant Requests Form for consideration. Travel grant awards normally do not exceed $500 per student.