Ph.D. student takes interdisciplinary approach to fisheries and wildlife
Kelly Kapsar's research looks at the relationship between humans and their environment with a focus on wildlife conservation.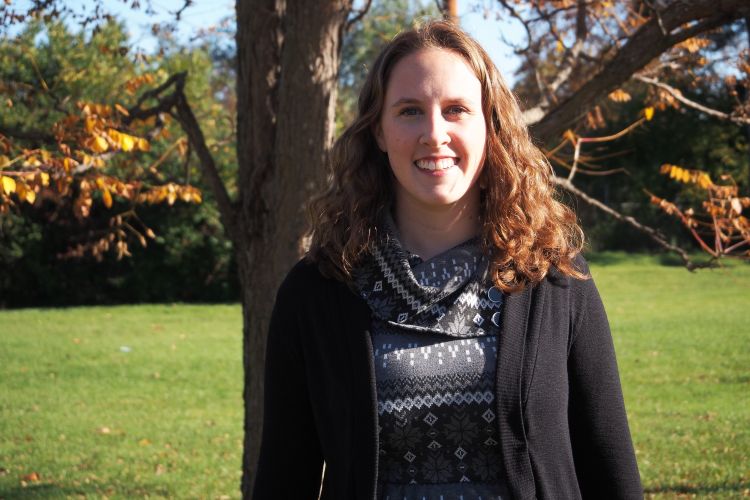 Kelly Kapsar was drawn to the fisheries and wildlife doctoral (Ph.D.) program at Michigan State University in part because of the collegiate environment between the graduate students in the program.
With some of those graduate students, Kapsar started a local chapter of Women in Nature Network at MSU to help students succeed in natural resource careers through networking, research and professional development.
"Through this organization, we have been able to bring speakers and filmmakers, both from MSU and around the country, to come in to speak about their experiences. We've also been able to send several members to international meetings of the Women in Nature Network in Guyana and India," she said. "Seeing the membership grow and hearing from such inspiring speakers has been one of my most rewarding experiences at MSU."
As part of the Department of Fisheries and Wildlife, Kapsar's primary research goal is to better understand the dynamic relationships between culture, ecosystems, science and conservation policy in the Arctic. She is passionate about solutions-driven research that seeks to minimize conflict and promote human-wildlife coexistence and is also part of the MSU Center for Systems Integration and Sustainability.
Additionally, Kaspar maintains close connections with the Saint Louis Zoo in her hometown, and she has traveled to Alaska as part of the zoo's partnerships with Alaska Native people on the effects of a changing climate.
Kapsar is one of the 2021 CANR Alumni Association Scholarship awardees.
---
Name: Kelly Kapsar
Hometown: St. Louis, Missouri
Degree program: Fisheries and wildlife Ph.D. program through the Department of Fisheries and Wildlife
Expected graduation date: Spring 2022
What is your research focus at MSU?
My research looks at interactions between humans and the natural environment from an interdisciplinary perspective, using quantitative tools and spatial modelling. In particular, my dissertation is focused on examining the spatial and temporal patterns of marine vessels in the Bering Sea and Arctic Ocean and trying to estimate potential overlap with marine mammals and sensitive ecosystems.
What inspired your interest in an advanced degree area?
I chose coupled human and natural systems research because it is a holistic area of research that views problems as complex and uses interdisciplinary tools to help solve them.
Viewing a real-world problem through the lens of a single discipline can help shine a light on specific aspects of that problem, but if decisions are made based on only one viewpoint, that runs the risk of causing unintended consequences. By integrating knowledge from many different sources, we can better understand the system as a whole and predict how it might react to future changes.
"I chose coupled human and natural systems research because it is a holistic area of research that views problems as complex and uses interdisciplinary tools to help solve them." Kelly Kapsar, MSU doctoral student, fisheries and wildlife
Why did you choose to study at MSU?
I chose MSU in part because I was excited by the collegiality of the graduate students in my department. Also, my advisor [Jianguo "Jack" Liu] does very cutting-edge and inspirational research that breaks through disciplinary silos. Finally, MSU provided an excellent financial support package that would ensure that I was funded throughout the entirety of my Ph.D.
What do you want others to know about this program?
While MSU can seem large and intimidating, I have never had a problem finding someone to help me if I have a question. Professors and administrators alike will go out of their way to meet with you and help you along your way.
What are some of the best things about being an MSU student?
As an MSU student you have access to so many resources and so much knowledge. There are so many researchers doing amazing work. It's really inspirational.
The cities of East Lansing and Lansing also have a lot to offer, from unique restaurants and lively street festivals, to minor league baseball and nature centers. I love that you can drive to a state park in the afternoon and then see a Broadway play at the Wharton Center in the evening.
Any thoughts or advice for current or new students?
Make the most of your time here! It can be easy to get trapped in the small bubble of your thesis research, but it's important to take breaks and meet new people. Some of my best research ideas have come from conversations with people outside my field.
Also, try to go to at least one football game – it's truly an incredible experience to be in a crowd of 75,000 cheering fans.
What are your future plans?
My goal is to find a job where I can work towards sustainable human-wildlife coexistence. I could see myself in a state or federal wildlife management agency or at a nongovernmental organization.