CSUS student follows his passion for the environment
Studying environmental studies and sustainability sets students up for green careers, including having an impact in areas of policy and climate change.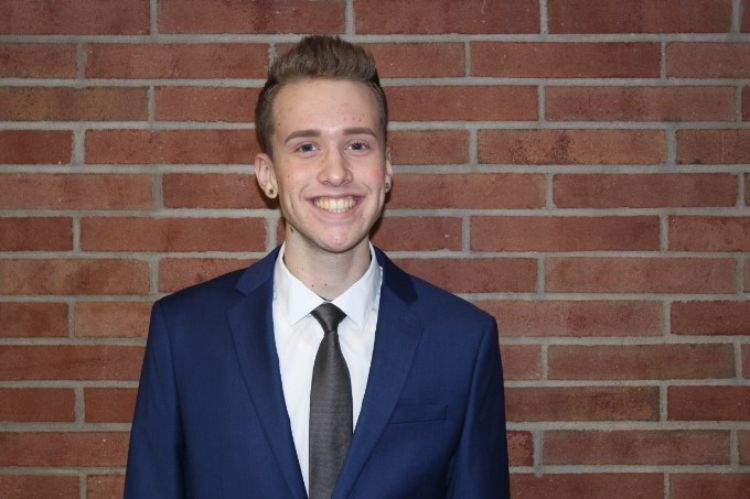 Like many students, Blake Lajiness explored different programs and areas at Michigan State University, starting in the James Madison College. After a semester, Lajiness changed his major to environmental studies and sustainability to more closely follow his dream of one day working for the Environmental Protection Agency.
His inspiration was pursuing an academic path that would help him make a difference in regards to climate change and the resulting challenges facing the world.
"I knew that I needed to be a part of the solution. As if that was not enough, my heart and passion lead me to the major," he said.
Lajiness is one of the 2020 CANR Alumni Association Scholarship awardees.
---
Name: Blake Lajiness
Hometown: Lambertville, Michigan
Major: Environmental studies and sustainability major in the Department of Community Sustainability
Expected graduation date: December 2021
Why did you choose MSU?
MSU was one of my top-choice schools when I was a senior in high school. Unlike some students, I am not a legacy student, so I chose MSU from only information I saw online.
Nonetheless, I was impressed with the beauty of campus and the spectacular faculty, programs and opportunities I saw. I knew that MSU was where I belonged.
What has been one of your best experiences within your major so far?
One of my best experiences within my major so far has been my Community Engagement for Sustainability class [CSUS 301] with Professor Shari Dann [retired in summer 2020]. Not only did Dr. Dann make the sessions fun and engaging for us students, but she gave us the opportunity to conduct hands-on fieldwork with community partners.
During my semester, I worked with East Lansing Info (ELi) where I helped the local news organization get more involved with the East Lansing community and find stories to cover in the area. CSUS 301 was one of the first classes I had taken at MSU that required me to engage with my community, and I am a better person and student because of it.
What do you want others to know about the environmental studies and sustainability major?
I want others to forget about their preconceived ideas about environmental studies and sustainability. I want others to know that our curriculum is just as rigorous.
The College of Agriculture and Natural Resources contains some of the greatest thinkers and doers that MSU has to offer. We are humble people who want to see a more sustainable planet today and an inhabitable planet for generations to come.
What are some of the best things about being an MSU student?
One of the best things about being a Michigan State student is the access to the massive opportunities that the university has to offer. With countless majors, concentrations, programs, student organizations, internships and job opportunities, students are never left without a chance to make their future brighter.
I would be remiss if I did not give a shout out to the Dairy Store ice cream, which single-handedly makes the Spartan experience incomparable.
Additionally, I think living on campus is one of the best parts of being an MSU student. I lived on campus for three semesters, and I cherish all of the memories that came from it. Nothing compares to being immersed in the campus culture.
Any thoughts or advice for current students?
As cliché as it sounds, the best advice I can give any incoming or current student is to get involved on or off campus. Just get up and get involved!
Getting involved in different organizations and programs has brought me close to people I would not have otherwise met. Participating in student organizations over the years has built my character and provided me with marketable skills that will benefit me when I look for a job after graduation.
My resume is bursting with numerous opportunities that I have seized since coming to MSU, which has already helped and will continue to help me achieve my goals.
What are your future plans?
My future goals are very fluid after my expected graduation in December 2021. I never intended to attend graduate school, but that may change. I plan to apply for the Mitchell Scholarship [through the US-Ireland Alliance] next year, which would allow me to pursue a master's degree in Ireland for one year.
One of my ideal future careers would be to work for the government in some capacity, perhaps on Capitol Hill where all the action happens. My ultimate dream job would be to work for the Environmental Protection Agency where I could make real policy changes that would protect our fragile and declining environment.