Student furthers education for a future career in equine industry
Abigayle Holland's volunteer experience at a horse rescue helped her decide to further her equine education through the MSU Institute of Agricultural Technology.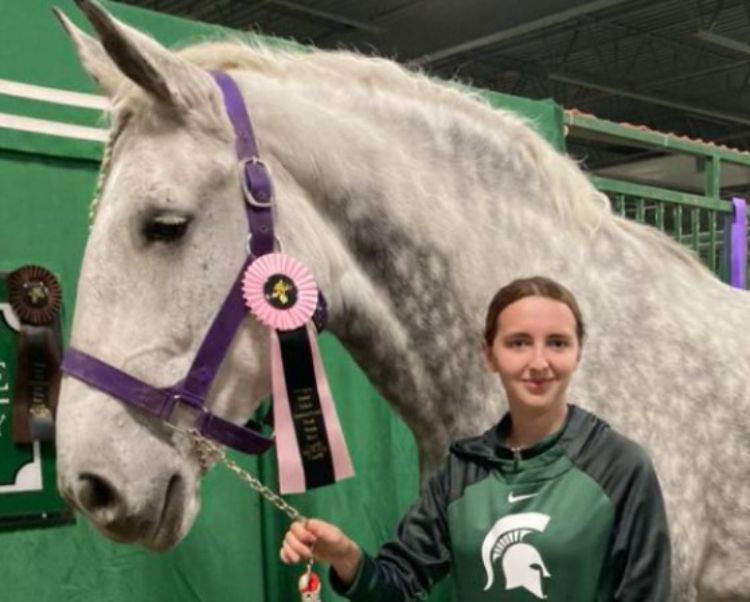 Abigayle Holland, of Howell, Mich., enjoys working with horses, a passion she hopes to develop into a career. Holland is a student in the Michigan State University (MSU) Institute of Agricultural Technology (IAT) studying horse management. IAT offers innovative, educational programs that develop career-ready graduates through intensive, practical learning and skill enhancement in animal sciences, plant science and electrical technology.
"I have always loved horses since I was little. I had very limited opportunities growing up to interact with horses. It was not until my senior year of high school that I had more opportunities to do so," she said.
"I worked at a horse rescue for a few years prior to coming to MSU. I would be out there almost every day, from doing the day-to-day chores to working with horses in hand. From that experience, I realized this is something I want to do, not just as a hobby, but turn it into a career," she continued.
Holland volunteered for Horses' Haven, a nonprofit horse rescue facility in Howell, Mich., which rescues, rehabilitates, retrains and re-homes at-risk equines. She is also an FFA alumna and is active in her home community. Holland is also one of the 2021 CANR Alumni Association Scholarship recipients.
After receiving her certificate in the IAT horse management program in spring 2022, Holland plans to transfer into the animal science bachelor's degree program at MSU. Holland aspires to a career assisting horse owners with their training, behavioral and rehabilitation needs.
Through the IAT Horse Management certificate program, students can focus their area of interest toward horse management, reproduction, riding instruction or training.
---
Name: Abigayle Holland
Hometown: Howell, Michigan
Certificate program and location: Horse management certificate program in East Lansing, Institute of Agricultural Technology (IAT)
Expected graduation date: Spring 2022
Why did you choose your specific certificate program and why MSU IAT?
One of the reasons I picked the MSU IAT program was because it was not only close to me, but I had an interest in the program.
What has been one of your best experiences within IAT so far?
For me, it's the community that IAT creates. Every class I go to I meet someone new, most of the time they are not even in the same program as me. But we all can relate to something in the agriculture industry.
Any thoughts or advice for current or new students?
Enjoy the classes; they go quicker than you realize, especially from this program. All the professors really want to interact with you and help you succeed.