Focus on recent forestry graduates
A series highlighting the careers and inspiration of young forestry professionals
The MSU forestry program, established in 1902, is accredited by the Society of American Foresters and has been recognized as one of the top forestry programs in the nation. Over the last eight years, an average of 95 percent of MSU Forestry graduates were placed in a forestry related job the first year after graduation, with jobs ranging from timber buyer to urban forester. This article is one of a series that highlights the job choices of recent forestry graduates and the life experiences that led up to the pursuit of a forestry career.
Meet Hilary Wells, MSU Forestry Class of 2015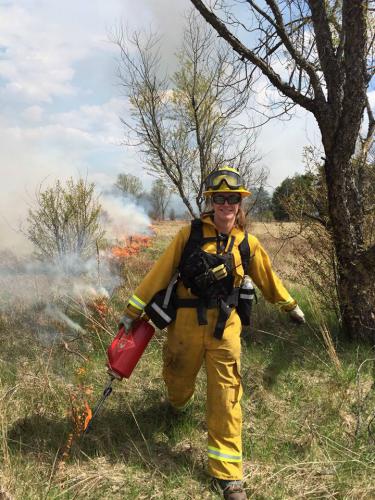 Hilary Wells, originally from Battle Creek, works for the Michigan Department of Natural Resources (DNR) as a Forest Technician in the Gaylord Management Unit. As a forest technician, Hilary spends most of her time in the forest (and a bit in the office) figuring out the size, age and number of trees in the forest to makeup what is called a forest inventory. The data from a forest inventory is used to plan when and how areas of trees will be cut. This entire process of collecting data about the forest, then cutting areas of trees at the right time is called forest management.
Hilary uses a computer to map out different stands of trees, or areas where the same species, or kinds, of trees grow. Once the stand of trees is mapped, the computer calculates the acres or area the stand covers. Then Hilary heads out to the forest to measure the sizes of trees using a special tape made for foresters so that they can wrap the tape around the circumference of the trunk to measure its diameter (it's all about math!). The diameter is important in calculating how many boards can be cut from the tree when it gets to the sawmill. Knowing how many boards is in a tree helps a forester figure out how much money the stand of trees is worth. It is also important to know the ages of trees in a stand. Hilary use a hand drill, called an increment borer, to take a straw-shaped piece of wood out of the tree, and then count the annual rings from the center to the edge of the tree. Over time, data collected through forest inventories will help managers make decisions about the timing and scope of a timber sale, or harvest, for which Hilary does the preparation and coordination on state land.
During a timber sale, Hilary communicates regularly with the logger or timber operator, to ensure the entrances/exits, boundaries and instructions for the sale are clearly understood and practical for the timber operator or logger to follow while the trees are cut and hauled out of the forest. Hilary also works with the Michigan Department of Environmental Quality (DEQ) and DNR to obtain proper permits for temporary bridges or stream crossings to be installed when necessary. In addition, Hilary helps to keep the forest healthy by regularly watching for insects and diseases in or on the trees. If insects or diseases are found, actions may be taken to limit the spread before the forest and wildlife habitat are negatively affected.
Another big part of Hilary's job is wildland firefighting, including prescribed burns. The Michigan DNR maintains a nationally recognized wildfire program that works to protect state and private land. On average DNR firefighters respond to over 500 wildfires a year with special equipment and training that helps to put fires out. Prescribed or planned, fire is used to help control invasive species, create or maintain critical habitat for wildlife and to help forests grow. Prescribed fire can also help remove natural materials that if left unchecked, could provide fuels for bigger wildfires.
Overall, Hilary's top three favorite activities as a Forest Technician are: forest health surveys, forest inventories and assisting with prescribed burns.
Why forestry?
Below, Hilary Wells describes in her own words why she chose a career in forestry.
I chose forestry as a career because I grew up in the woods. My grandparents own a large forested area and between their property and my parents I must've built 100 different forts as a kid. Every summer we went camping in a different part of the state too. I wanted a job that still allowed me to enjoy the woods and make sure more people could enjoy them in the future.
Hilary is proud to be a woman working in what was traditionally a male dominated career.
"As a woman, I'm a minority in this field, but it's nice to be part of the changing face of forestry."
This is the first article in the series "Focus on recent forestry graduates". If you have recently graduated with a degree in forestry and would like to share your story, please contact Julie Crick at crickjul@anr.msu.edu.