Forecasted temperatures give a green light for planting
Many locations in Michigan saw multiple freeze and frost events, but forecasted milder low temperatures will allow gardeners to plant tender plants. Locations that have not passed their frost-free dates should keep an eye on the low temperatures.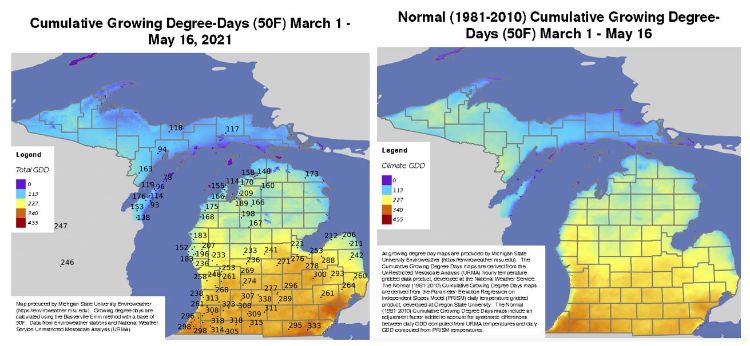 Spring came early to much of Michigan. As of April 1, 2021, the growing degree days (GDD) accumulation was 14 days ahead in majority of the state of Michigan. GDD is a temperature-derived index that is calculated based on the amount of heat accumulated above a base threshold temperature such as 50 degrees Fahrenheit and is strongly related to the rate of plant growth and development. The heat map of Michigan represents GDD between 0 and 338 GDD (Figure 1). The warmer the color, the more heat has accumulated in the area.
During the first two weeks of May, cooler than normal temperatures brought us closer to average totals of heat accumulation for this time of year (Figure 2). Much of the Lower Peninsula is approximately average with only the immediate lake shore remaining 14 days ahead of normal.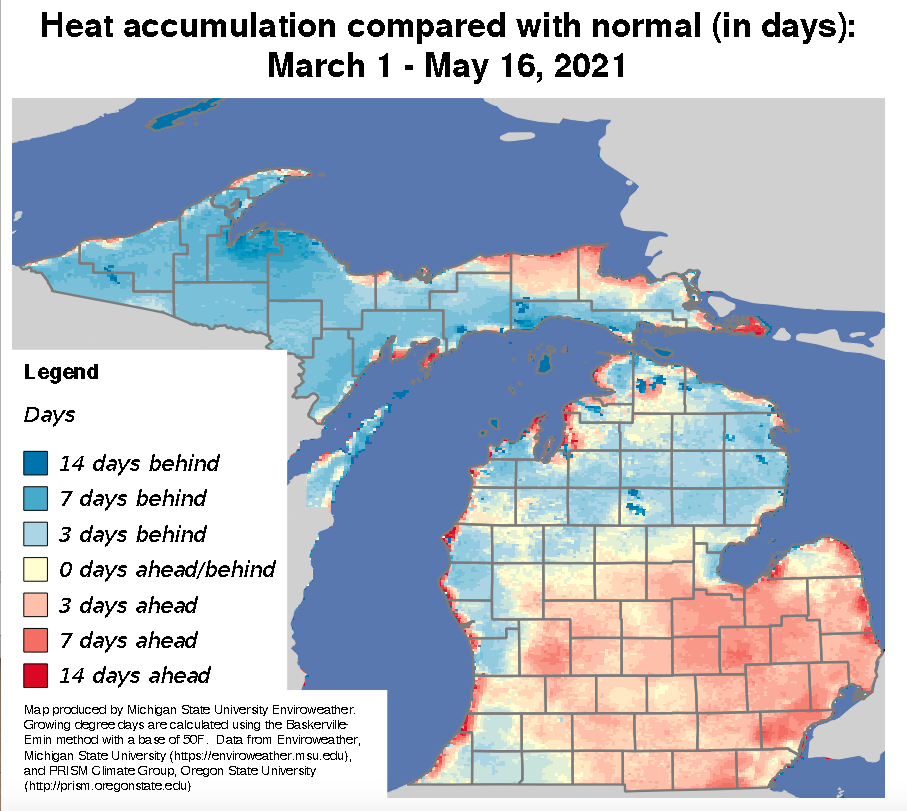 With the early onset of spring and people still traveling less than normal, consumers are out buying plants to enhance their landscapes. Mother's Day was May 9 and is traditionally a huge weekend for plant retailers. This past week, which followed Mother's Day, was uncooperative for Michigan gardeners as many areas of the state observed many freeze and frost events (Table 1).
Table 1. The observed low temperatures at select Michigan locations by Michigan Enviroweather stations during the week of May 10, 2021.

Low temperatures recorded by Enviroweather stations throughout Michigan

Hudsonville

Commerce Township

Benton Harbor

Elk Rapids

Petoskey

Escanaba

May 10

35.1

31.4

34.5

35.9

35

29.1

May 11

28

32.9

30.5

35.2

35.7

32.2

May 12

27.7

35.7

30.6

27.7

28.1

36.9

May 13

28.6

33.2

29.8

28.7

29

32.4

May 14

32.5

35.7

32

38.6

33.8

38

May 15

40.3

38.5

43.8

41.5

36.5

36

May 16

50.4

48.8

51.7

45.2

44.5

44.6
These freezing temperatures killed the newly emerged foliage of many perennials such as hostas (Photo 1).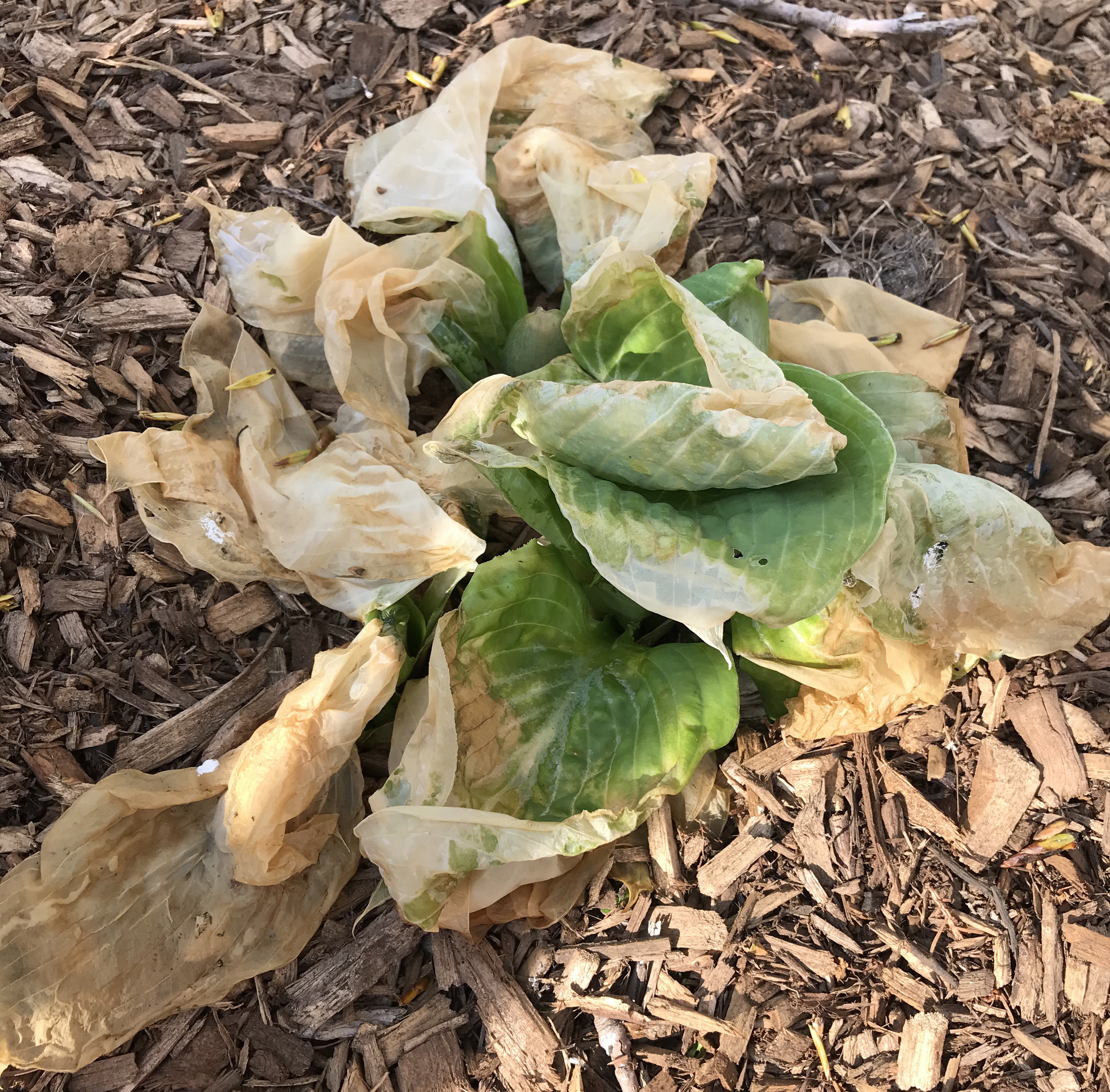 However, plants such as hostas will send up new foliage from the base and will likely reemerge for the year. If gardeners did not protect their cold-sensitive annuals, they may have endured frost or freezing injury.
Luckily for Michigan gardeners, the weather is changing and the low temperatures are predicted to be in the mid-40s through the mid-60s through the state in the next seven days (Table 2).
Table 2. Predicted low temperatures at select Michigan locations for the week of May 18, 2021.

Low temperatures predicted throughout Michigan

Hudsonville

Commerce Township

Benton Harbor

Elk Rapids

Petoskey

Escanaba

May 18

52

54

52

50

49

45

May 19

59

56

57

56

54

52

May 20

64

60

60

62

56

57

May 21

63

63

63

62

57

56

May 22

63

62

60

57

54

54

May 23

63

63

62

57

54

54

May 24

58

54

60

50

49

48
In many areas of central Michigan, we are passing the traditional frost-free dates, which are the dates that tell us when statistically we are least likely to have any days with temperatures that can kill cold-sensitive pants. Especially if you live in northern Michigan, keep an eye on the predicted low temperatures and know the typical frost-free dates in your area. For example, there is still a 25% chance that there will be a freezing temperature after today in Escanaba, Michigan, and the latest freeze ever recorded in recent history was May 30. In Grayling, Michigan, there's still greater than a 75% chance there will be a freezing low temperature after May 21.
What if you have already purchased plants and a frost is expected for your area; what can you do to protect them? First, gardeners can bring containers and hanging baskets into the garage overnight. Gardeners can also protect them with frost blankets – or lightweight fabrics – to retain the radiant heat from the ground and prevent the air temperature from sinking to or below freezing under the frost fabric.
Commercially available frost blankets are light-colored, woven or non-woven materials that can breathe. Dark plastics or other impenetrable materials may do more harm than good as they can cause moisture to build up and freeze on the foliage below. However, tarps can be used if propped up on patio furniture or sawhorses, not making contact with the foliage underneath. Make sure to remove the frost protection after the threat has passed otherwise the temperature will build up under the fabric or tarps and the plants may experience heat stress and drought. For more information, check out Part 2, "Frost and freezing temperatures and ways to protect plants," from Michigan State University Extension.
As always, keep an eye out for freezing or frost advisories but for the vast majority, gardeners now have the green light to plant their gardens. Happy planting!