Frost and freezing temperatures and ways to protect plants
Many locations in Michigan saw multiple freeze and frost events last week. There are numerous ways agricultural producers and home gardeners can protect crops and plants.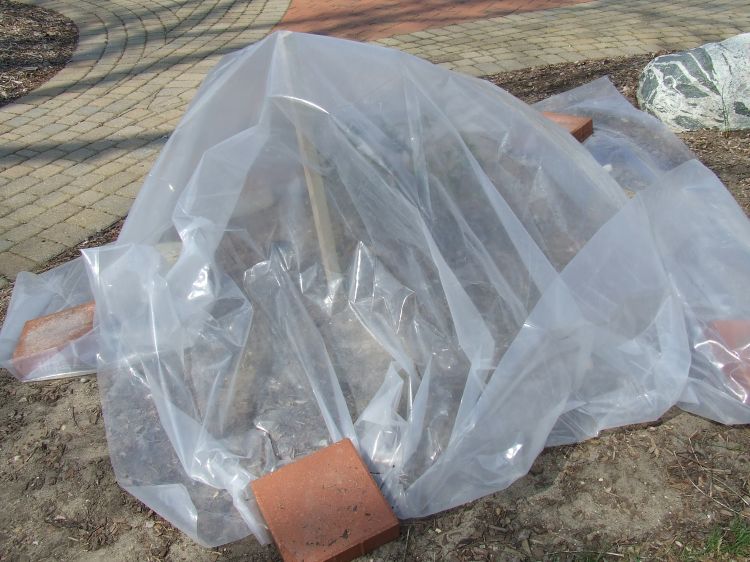 Last week, many Michigan locations saw frost and freeze warnings as temperatures dipped into the upper 20s to low 30s degrees Fahrenheit throughout the state on an almost nightly basis (Table 1). According to the National Weather Service, a freeze warning is issued from the area if the low temperatures are expected to be 29 to 32 F between May 1 to Oct. 20. A frost advisory is issued when the low temperatures are expected to be 36 F or below and the conditions are ideal for frost.
The greatest threat for frost in the spring season occurs when the sky is clear and winds are relatively calm, creating a temperature inversion. A temperature inversion is a layer of air in the atmosphere in which when the temperatures increase with height instead of the much more typical decrease. Given relatively clear, calm conditions during the overnight hours, the ground surface cools more quickly than the air above, leading to the formation of an inversion near the surface that can grow upwards in depth from the surface with time.
Low temperatures recorded by Enviroweather stations throughout Michigan*

Hudsonville

Commerce Township

Benton Harbor

Elk Rapids

Petoskey

Escanaba

May 10

35.1

31.4

34.5

35.9

35

29.1

May 11

28

32.9

30.5

35.2

35.7

32.2

May 12

27.7

35.7

30.6

27.7

28.1

36.9

May 13

28.6

33.2

29.8

28.7

29

32.4

May 14

32.5

35.7

32

38.6

33.8

38

May 15

40.3

38.5

43.8

41.5

36.5

36

May 16

50.4

48.8

51.7

45.2

44.5

44.6
*Complied low temperatures as recorded by Michigan State University Enviroweather stations during the week of May 10, 2021.
Part 1, "Forecasted temperatures give a green light for planting," covered the low temperatures seen last week and the forecasted low temperatures for next week. In review, home gardeners and agricultural producers should monitor the forecast and know the typical frost-free dates in your area.
Freezing temperatures
There is little agricultural producers of perennial crops or home gardeners with plants already in the ground can do to mitigate the risk from temperatures associated with hard freezes (25 F or less). Home gardeners can bring cold-sensitive plants into the garage or heated area overnight and return the plants outside once the freezing temperatures have passed. This is not a practical strategy for agricultural producers.
Frost events
However, there are numerous methods that commercial agricultural producers and home gardeners can use to protect plants from frost and minor freeze events, which is when the temperatures are expected to be between 28 and 36 F and the conditions are ideal for frost.
Frost protection strategies for agricultural producers
Overhead sprinklers are often used to protect blueberries from freezes at bloom time. Photo by Brookside Farms.

Cover crops with winter blankets or frost fabric to use the radiant heat from the ground to keep the vegetation from freezing.
Use hoop houses for cold-sensitive crops where crops are protected with an additional warm air mass within the house.
Irrigate plants during frost conditions as there is a small amount of heat released when the ice that forms on the plants melts, thereby protecting them from the freezing air temperatures. It is only effective for taller plants when wind speeds are up to 5 mph for taller plants and 10 mph for plants grown close to the ground. This strategy is commonly employed by many small and tree fruit producers.
Use a wind machine to bring some of the warmer air in an inversion layer back down to the ground surface to warm up the layer containing the crop canopy. This strategy is also used in small and tree fruit production.
For more information, check out, "Frost and freeze protection for nursery crop."
Frost protection strategies for home gardeners
Bring plants indoors or in a garage to protect plants from frost
Cover plants with winter blankets (or tarps) or frost fabric to trap the radiant heat from the ground and to keep vegetation above freezing. Support the covering with stakes, patio furniture or sawhorses to be sure that the covering does not touch the foliage during the night. Always remove the covering the next day as temperatures recover above freezing.
For more information, check out other articles from Michigan State University Extension: