Fruit dip and protein
A healthy fruit dip provides more than being just a tasty snack!
There are times when a quick "pick-me-up" is what you need to help get you through the day. Kids need the same thing. They play hard and we work just as hard. Our lives can get extremely busy, but what Michigan State University Extension urges you to remember is that quick fixes can apply to healthy snacks too. Fruit is such a great way to nourish the body. The following recipe provides fruit, protein and dairy.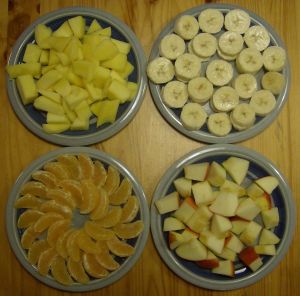 Fruit dip Ingredients:
8 ounces of Greek yogurt
½ cup of strawberries
½ cup of bananas
½ cup of mango
½ cup of chopped pecans
Sliced apples or any desired fruit that you want to dip.
Place all fruit (except dipping fruit) into a blender. Mix until well blended. Pour blended fruit over the Greek yogurt and mix in the pecans. Dip sliced fruit in dipping sauce and enjoy.
Greek yogurt provides a good source of dairy and protein, according to the United States Department of Agriculture approximately 17.3 grams per serving. At choosemyplate.gov it says that proteins function as building blocks for bones, muscles, cartilage, skin and blood. Protein is also building blocks for enzymes, hormones and vitamins. Proteins are one of three nutrients that provide calories (the others are fat and carbohydrates). You can find some great information about meat and proteins at ChooseMyPlate. This dip can be used anytime for snacks, an appetizer or desert. Kids love to dip things, which is a great way to get them to snack in a healthy way. The yogurt will perform double duty for dairy and protein. Enjoy!