FSP West Africa Expertise on Herbicide Policies at the International Consortium on Applied Bioeconomy
This panel explores the impact of the resulting rapid growth in herbicide use.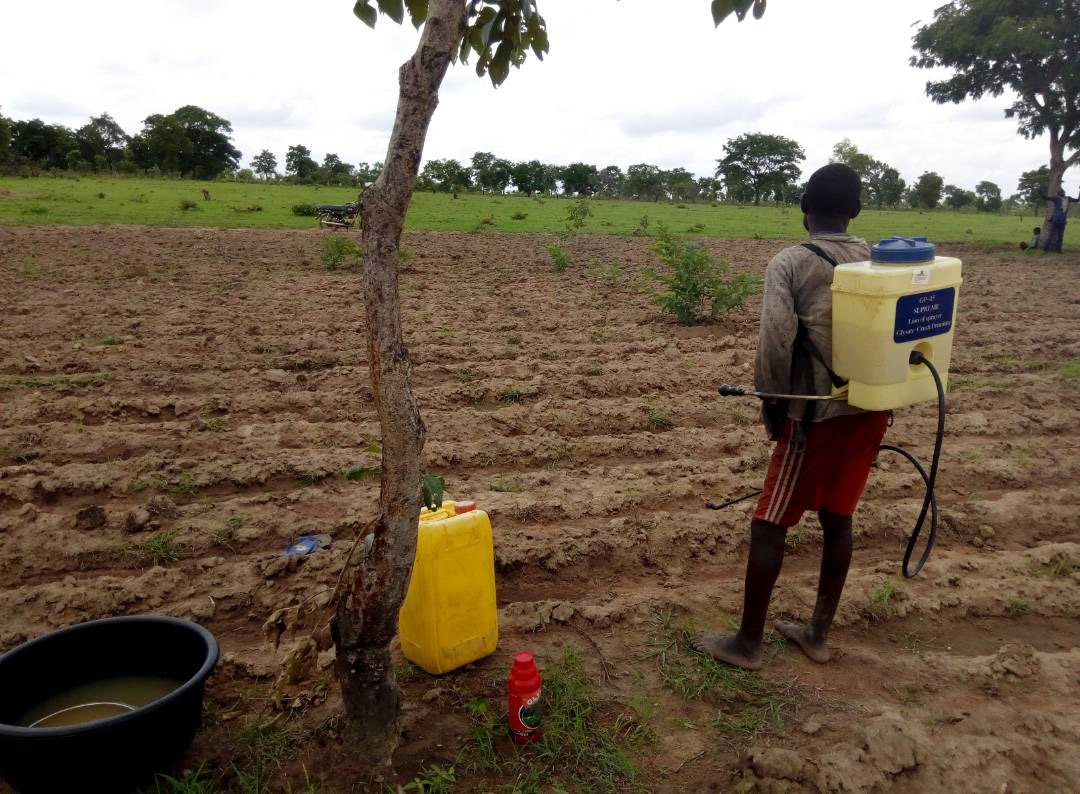 Photo: Pre-applying herbicide in Kaduna State, Nigeria. Photo by Eden Emmanuel, APRA Nigeria Survey Enumerator
Although the marketing and use of herbicides has grown rapidly in West African countries and in the Region, regulatory staffing and resources have not kept pace. As a result, a wide range of generic products is now available on the market, including many counterfeits and unregistered brands. This leads to a very confusing situation for farmers and traders who don't necessarily know what active ingredient they're really getting. Health, food safety, and environmental impact concerns likewise arise with increasing frequency.[1]
Feed the Future Innovation Lab for Food Security Policy teams in Mali and West Africa have been researching the situation and are contributing to active policy discussions at the regional level working with the West African regional Comité Sahélien des Pesticides (CSP), CILSS and ECOWAS, as well as with US stakeholders such as USAID and the World Bank.
Steve Haggblade [2] and Melinda Smale [2] will lead the "Africa's Emerging Herbicide Revolution" panel at the 22nd ICABR Conference: "Disruptive Innovations, Value Chain and Rural Development," The World Bank, Washington DC, June 12–15, 2018.
ABSTRACT
Two major shocks in global supply systems have driven a rapid recent surge in herbicide adoption across the developing world. A flood of off-patent herbicide formulations has hit global markets, enabling low-cost Asian suppliers to dramatically scale up productive capacity. Together, these disruptions have increased availability and driven down herbicide costs across the developing world. In settings where rural wage rates face upward pressure, herbicide adoption has increased rapidly.
The years since 2005, in particular, have witnessed a sharp spurt in herbicide adoption across many parts of Africa. While Green Revolution seed packages proved famously difficult to transfer to the African continent, herbicide formulations have transferred readily to a range of diverse African settings. Over the past decade and a half, a direct private sector pipeline has emerged to deliver a proliferating number of herbicide products from Asian factories to African markets. As a result, herbicide prices in Africa have fallen roughly in half.
This panel explores the impact of the resulting rapid growth in herbicide use: • on input markets and marketing behavior; • on herbicide quality in the face of growing numbers of unregistered and counterfeit products, • on farm productivity; • on environment and human health; and • on regulators.
[1] See FSP outcome story: How to Tell Fake from Real? Consequences of Rapid Herbicide Market Growth in Mali and West Africa, December 2017
[2] Steve Haggblade is Professor, International Development at Michigan State University, Department of Agricultural, Food and Resource and Economics, Food Security Group
Melinda Smale is Professor, International Development at Michigan State University, Department of Agricultural, Food and Resource and Economics, Food Security Group