Great Lakes Regional Dairy Conference celebrates 20 years in February in Frankenmuth
Educational sessions, exhibitor showcase and producer networking will round out the annual two-day conference, with several sessions featuring Michigan State University Extension educators.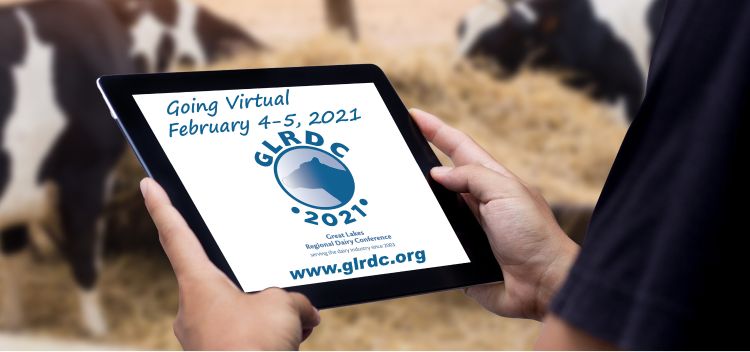 The 20th annual Great Lakes Regional Dairy Conference (GLRDC) offers dairy producers the opportunity to learn new strategies and tools to help their farm thrive. Producers will hear about ways to increase their bottom line and get the latest updates on issues facing the dairy industry. The conference will take place Feb. 3-4, 2022 at the Bavarian Inn and Conference Center in Frankenmuth, Mich.
Dairy producers must constantly update and hone their skills in cow management, land and resource management, and people management. This year's GLRDC offers sessions to help producers in all these management areas position their operation for success. GLRDC also is a unique opportunity for networking among producers and industry representatives.
Volatile feed costs have squeezed dairy producers across the Great Lakes region in the past few years. Join our panel as we discuss how new research results and insights from fellow producers can help you to stabilize feed costs and get the most out of your feed investments. Several sessions will feature presentations and speakers from Michigan State University Extension, including Thursday morning's session that will discuss Strategies to get the most out of your feed dollar.
Throughout the two-day conference, producers will also learn:
strategies to find the right balance between nutrition and economics.
the latest in colostrum management and strategies to ensure healthy calves for the future from Tom Earleywine.
how to position their dairy for success during this economic reset with David Kohl of AgriVisions LLC, who will share his expertise on the global and domestic economy, land values, cash rent, and more.
recommendations for forage alternatives to reduce risk, improve soil health and increase feed quality with Thomas Kilcer from Advanced Ag Systems LLC.
the latest technology for dairies and recommendations for deciding why, what and how technology should be incorporated into the farm from Trevor DeVries from the University of Guelph.
fellow producer Lee Kinnard of Kinnard Farms sharing his view from the other side of the lake. He helps manage their 8,200 cows, 7,000 heifers and 10,750 acres with a focus on sustainability and profitability.
strategies to recruit, retain and develop employees to grow with the dairy operation.
how implementing sustainability strategies is critical to help achieve climate neutrality, better optimize water usage, and improve water quality from Sara Place of Elanco Animal Health.
how to harness great leadership to thrive in the future from Bob Milligan with Dairy Strategies LLC.
personal strategies from Thomas Kilcer and other producers on utilizing winter forages to increase profits and improve soil health, while overcoming double cropping challenges.
the latest in heifer reproduction to meet age at conception goals and better manage feed costs associated with raising heifers with Joseph Dalton from the University of Idaho.
The conference also includes an exhibitor showcase; industry and producer networking reception; the Michigan Holstein Association annual meeting; the Michigan Dairy Industry Banquet and an energizing presentation, "If I can" from Chris Koch. Chris, born and raised on a farm in Alberta, was born without arms and legs and used this challenge to fuel his dreams. This motivational presentation is sure to leave attendees inspired to build the life they dream of. The conference also features an informal preconference session hosted by the United Dairy Industry of Michigan (UDIM), who will share an overview of organization's dairy promotional activities. The pre-conference session is free and open to anyone, including those not registered for the conference.
In addition to the exceptional educational sessions, attendees can connect with various agricultural companies, and purchase heifers and cows through Kreeger and Associates GLRDC All Breeds Online Exchange on Thursday and Friday.
Adult, student and farm registration options are available. Register by Jan. 23, 2022, to receive a discount of up to $25 a day. Online registration closes at midnight on Jan. 30, 2022. On-site registration is subject to availability.
For more information or to register online, visit www.glrdc.org. To register by phone, call 989-666-3773.