Great Lakes science, careers, and environmental stewardship at 4-H Camp
4-H Great Lakes and Natural Resources Camp campers gain science and career experience while helping to map invasive plants threatening biodiversity within Lake Huron's coastal wetland habitats.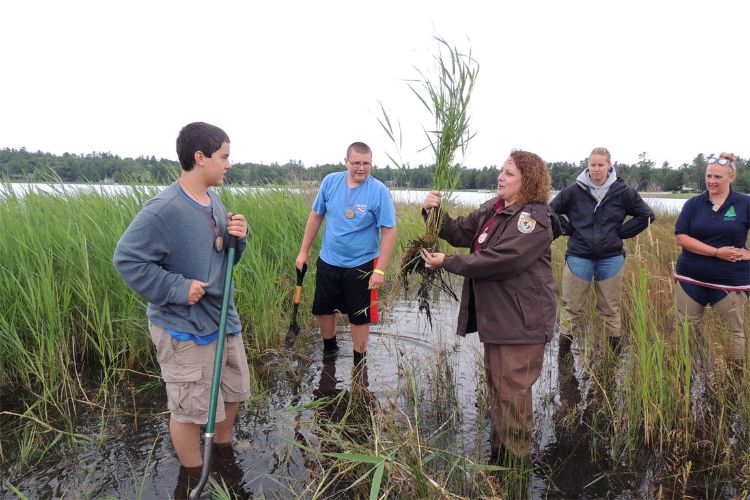 Toting Global Positioning System (GPS) units, datasheets on clipboards, and an enthusiasm for Great Lakes science, youth participating in the 2014 4-H Great Lakes and Natural Resources (GLNR) Camp were on the hunt for aquatic invasive plants this summer. Getting their feet wet exploring Lake Huron's coastal wetlands, they gained first-hand career experience with wetland ecologists from the U.S. Fish and Wildlife Service and Huron Pines. They also contributed to an important stewardship service project aimed at mapping invasive plants, such as Phragmites, along the Presque Isle County coastline.
The 4-H GLNR Camp, held annually in Presque Isle County at Camp Chickagami, provides hands-on learning experiences engaging 70 youth, ages 13-15, in exploring science, leadership, and careers (and of course, recreation) related to Michigan's Great Lakes and natural resources. The 4-H GLNR Camp is sponsored by Michigan State University Extension, 4-H Youth Development, Michigan 4-H Foundation, Michigan Sea Grant, and MSU Department of Fisheries and Wildlife, among several others. Through partnerships, this summer camp program brings youth development professionals together with Great Lakes science experts in offering these amazing learning and leadership experiences for youth.
During this week-long natural resources experience, Michigan teens participate in science sessions relating to local woodlands and wildlife, Great Lakes invasive species, wetlands, watersheds, fisheries, and more. Campers learn about Michigan's outdoors in numerous hands-on and science-based activities, while exploring potential careers by working with professional experts. Practicing leadership through place-based education, community service and environmental stewardship reflects another opportunity behind these experiences.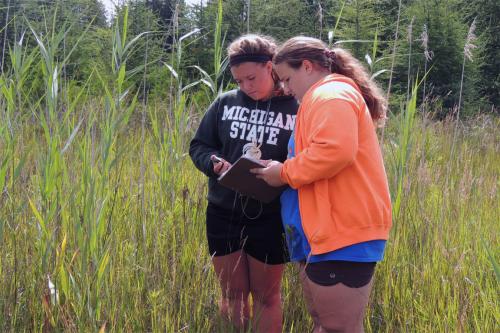 This year, after donning their wetland ecologist waders, the campers' science exploration included an effort to help map and control invasive plants threatening local coastal wetlands. Invasive species reflect an important and growing issue of concern for the Great Lakes region—and are identified as critical threats to Lake Huron biodiversity conservation. To take this challenge, U.S. Fish and Wildlife Service biologist, Heather Rawlings, and Huron Pines AmeriCorps members and ecologists, Josh Ryan, Amanda Zwagerman and Gina Zanarini, teamed up to take campers hiking through the coastal wetlands of Presque Isle. While learning about wetland ecology, campers were also on the hunt for invasive plants, such as Phragmites, purple loosestrife, narrow-leaf cattail, buckthorn and spotted knapweed. Getting wet and muddy wasn't the goal—but certainly a fun bonus.
Hiking the beaches, dunes, and coastal wetlands along the Lake Huron coastline, students blended science and technology using GPS to flag invasive species identified, such as Phragmites and purple loosestrife. The goal of this student mapping project is to help slow the spread of these species into northern Lake Huron coastal areas by identifying and documenting these new infestations that have spread into the region. Monitoring and early identification of these infestations allows resource managers to strategically and more effectively control the spread of these invaders. Based on the work of these campers, teams of professionals will use this camper-collected data to conduct management treatments later this fall, removing these invasive plants identified and flagged.
Campers understand that it will take continued surveillance and management to keep these species contained. At camp's conclusion, they leave with an appreciation of this environmental issue, how they have contributed in conservation stewardship, and perhaps an eye towards a career in natural resources management. Heather Rawlings noted, "We're just trying to empower students in recognizing invasive species and learning that they can take action in their local area."
As a Michigan State University pre-college program, this camp offers a great science inquiry experience, career learning, and community leadership opportunity all relating directly to the Great Lakes and natural resources we enjoy across Michigan. The camp was a great way for Michigan teens to participate in science sessions relating to our state's richness in Great Lakes and natural resources. More than just science, this camp experience also fosters awareness and appreciation of the diverse values Michiganders have toward our Great Lakes resources. In the end, these campers returned to their communities with these experiences as future leaders in environmental stewardship – and maybe, someday, as future Great Lakes scientists!