Green Infrastructure workshops offered in Bay City, Dearborn in May
Green infrastructure practices play a critical role in making coastal communities more resilient to natural hazards and threats to water quality.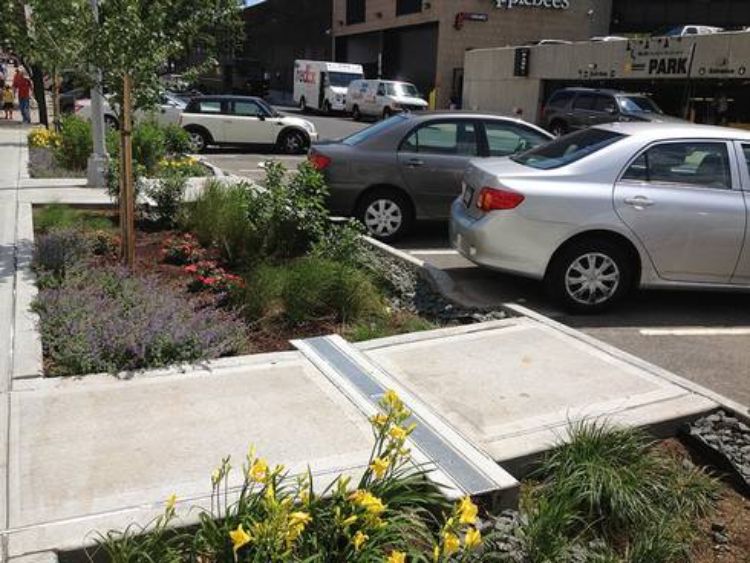 Green infrastructure offers a variety of nature-based and engineered solutions to help manage stormwater and foster community resiliency when facing coastal storms. To improve regional capacity, the Michigan Coastal Management Program, Michigan Sea Grant, and Michigan State University Extension are offering one-day workshops -- Introducing Green Infrastructure for Coastal Resilience -- at two locations near Michigan's eastern coasts in May 2019.
Green infrastructure helps resiliency
Green infrastructure practices play a critical role in making coastal communities more resilient to natural hazards and threats to water quality that are characteristic of living on the coast.
During the training, NOAA's Office for Coastal Management will lead participants through the fundamentals of green infrastructure and various practices. Local speakers will highlight how these techniques have been used and the benefits they provide. Through presentations, group discussions, and activities, participants will learn what they can do to support green infrastructure in their local communities.
Who should attend?
This is a great introductory course on green infrastructure, and is recommended for local government officials, employees, planners, and partners supporting community resiliency in coastal areas. Registration is limited to 50 people at each location. The workshop cost is $45, which includes lunch.
Course participants from land use planning, conservation planning, hazard mitigation, stormwater management, floodplain management, and local government departments will find this training useful and will learn how to:
Differentiate green infrastructure terms and concepts
Identify the ecological, economic, and societal benefits of green infrastructure
Recognize the wide variety of scales of approaches referred to as "green infrastructure"
Identify new or existing planning processes suitable for integrating green infrastructure techniques
Connect with local green infrastructure activities and experts
Choose your location
Registration is available online through the Michigan Department of Environmental Quality website. Training sessions will be held:
Continuing Education credits available
Six hours of certification maintenance credits for this course have been approved by the American Institute of Certified Planners. Five core continuing education credits have been approved for certified floodplain managers.
Don't miss this opportunity - register online for the Introducing Green Infrastructure for Coastal Resilience training.
Michigan Sea Grant helps to foster economic growth and protect Michigan's coastal, Great Lakes resources through education, research and outreach. A collaborative effort of the University of Michigan and Michigan State University and its MSU Extension, Michigan Sea Grant is part of the NOAA-National Sea Grant network of 33 university-based programs.