Hope for veterans living with an alcohol use disorder
Many veterans associate alcohol consumption with military culture and see it as a way to connect with comrades, but alcohol misuse can lead to serious health problems.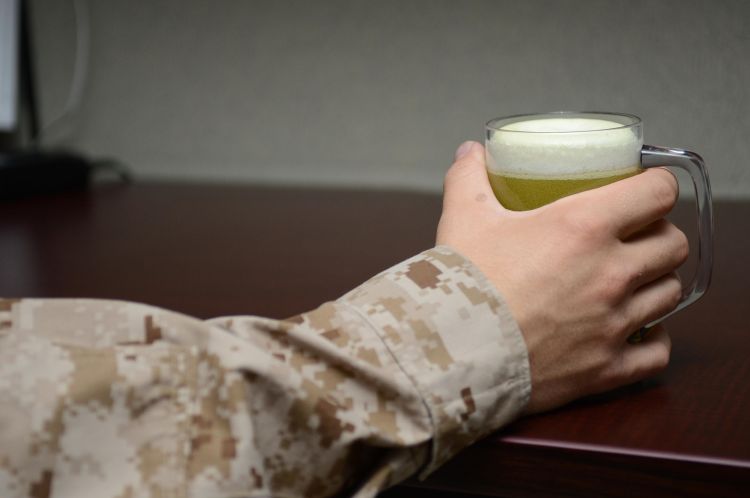 Alcohol is the most misused substance in the United States. Rates of alcohol misuse are higher within the veteran population and on the rise. Many veterans associate alcohol consumption with military culture and see it as a way to connect with comrades. Specific factors that increase the risk of alcohol misuse among military veterans include deployments, combat exposure and difficult transitions back to civilian life. Additionally, younger male veterans (aged 18-25) and individuals living with a mental health disorder such as depression or anxiety may be at a higher risk for alcohol misuse.
Alcohol is sometimes used as a coping mechanism to deal with stress, boredom, loneliness and a lack of recreational activities. It may also be used by individuals who have experienced trauma or developed post-traumatic stress disorder (PTSD). Alcohol misuse tends to be more common among veterans living with PTSD if they have ongoing health problems or pain. The frequent and heavy consumption of alcohol may increase a person's risk for developing an alcohol use disorder (AUD). This is a brain disorder that ranges from mild to severe in effect. If an AUD is not addressed, it could negatively impact one's relationships, work, health and quality of life.
It is important to know the signs and and symptoms of an alcohol use disorder. According to the National Council for Mental Wellbeing, these may include:
Choosing alcohol use over important social, work or recreational activities.
Spending a lot of time to get, use and recover from the effects of alcohol.
Using larger amounts of alcohol for longer-than-planned periods of time.
Continuing to use alcohol despite known negative consequences.
Problems controlling or reducing use.
Experiencing withdrawal symptoms.
Increasing tolerance for alcohol.
Given the heightened risk to veterans, prioritizing health, wellness and connection can help prevent an alcohol use disorder. This can be done by:
Scheduling regular health check-ups that incorporate physical/mental health and substance use screens. Veterans may choose primary care physicians who understand their unique needs and perspectives from a VA location or community-based health center.
Developing self-help and healthy coping mechanisms by engaging in hobbies, faith practices, regular exercise, self-help books and other uplifting activities.
Getting connected to communities, programs, and resources that promote physical and mental well-being including the VA's Whole Health Program; Michigan State University Extension's Mindfulness for Better Living and pain-and-disease-management PATH programs; and veteran-focused groups, many of which are highlighted on Michigan Veteran Affairs Agency's website.
If someone is living with an alcohol use disorder, there is hope for recovery. Numerous evidence-based treatments, therapies, support groups, and medications are available:
It's never too late to seek help and regain one's health and wellness. For more information on resources for military personnel and their families, visit MSU Extension's Veterans website.