How to Tell Fake from Real? Consequences of Rapid Herbicide Market Growth in Mali and West Africa
With a rapid increase in herbicide use, the West Africa region needs to implement regulations to fight counterfeit products.
By FSP Mali and West Africa Team, December 2017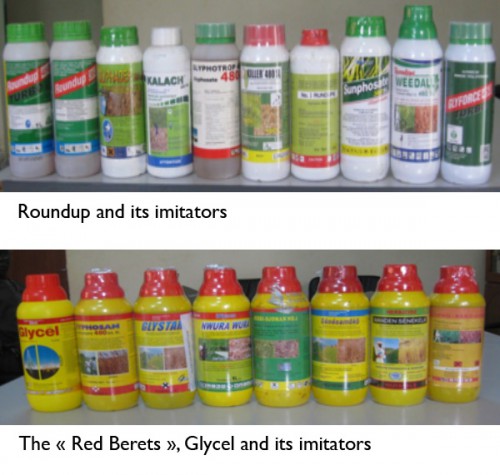 Over the past decade, herbicide use has increased rapidly, in Mali and throughout West Africa. With the quickly growing market, many counterfeit products are also available.
Figure 1 (right). Growing profusion of glyphosate herbicide brands sold in Mali: Can you distinguish the quality brands from the counterfeits? Imagine, how an illiterate farmer must feel!
Fig. 1: Growing profusion of glyphosate herbicide brands sold in Mali
Recent research by the Feed the Future's Innovation Lab for Food Security Policy's (FSP) Mali Food Security Policy Research Program, has documented this rapid growth in herbicide use, and interviewed farmers who consistently report widely differing outcomes, even when they buy the same herbicide from the same supplier:
Salif Camara, from Teneya village in Mali, has a 13ha farm and has been using herbicides since 2004. He is quite pleased with the results, but strongly recommends to consult with other farmers before investing in an herbicide to make sure it's the right product.
Fousseyni Camara, from Niambaly village, has a 5ha farm and started using herbicides in 2013. As Mr. Camara, he too checks with other farmers the quality of the products he buys. And in spite of these precautions, he got an ineffective herbicide for his 2015 crop.
Djan Diakité, from Dalakana village, has a 2.5ha farm and has been applying herbicides for the last 10 years. In 2014, he and his friends bought the same product together from their usual supplier. But to his surprise, Diakité was the only farmer for which the herbicide didn't work at all.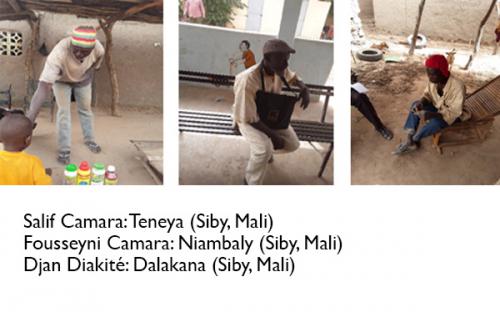 These farmers from southern Mali have small-size farms to support their extended families. They consult with each other, and buy inputs together at the local market. Herbicides represent a substantial investment in their crops. With increasing shortages in the supply of rural labor, farmers increasingly rely on herbicides for weed control. Effective and reliable products are thus ever more critical. Unfortunately for Mali's small farmers, unreliable herbicide quality generates unpredictable outcomes on farmer fields. They regularly request that the government of Mali monitor the quality of herbicides before these are distributed on the market.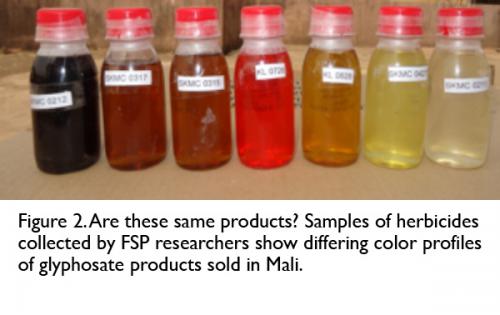 In response, FSP has commissioned chemical laboratory analysis of a sample of widely sold herbicide products. Out of 100 bottles of glyphosate herbicide purchased for laboratory testing, 40% turned out to be counterfeit or unregistered. Figure 2 below shows the surprisingly wide variety of content in market samples. All allegedly contain the same single active ingredient, glyphosate. In addition to widely differing color profiles, quality varies vastly as well: 24% of tested samples contain below 75% of stated concentration; while another 12% contain over 125% of stated concentration. Little wonder that farmers like Camara and Diakité face unpredictable outcomes!
Researchers from the FSP Mali Food Security Policy Research Program and the USAID West Africa Regional Program are now working with the regional pesticide regulatory body, the Comité Sahélien des Pesticides (CSP), to identify the magnitude of the quality problem in the region, and seek potential solutions. Key policy challenges emerging so far center around the lack of a quality monitoring system for pesticide products available on the markets, and generally weak monitoring of the health and environmental impacts of potentially toxic pesticide products used in growing quantities by farmers across West Africa. Without adequate funding and staffing, national regulatory bodies in Mali and other countries in the region are unable to keep pace with the rapid growth in herbicide market. Following a week of interactions with policy makers at the latest regional Conservation Security Program (CSP) meeting in November 2017, FSP researchers are further collaborating with the CSP, CILSS and ECOWAS on follow-up studies to examine regulatory capacity and financing requirements as well as potential resources for strengthening regional and national pesticide regulatory bodies.