How do you show a tarantula?
Midland County youth, a 4-H true science leader, shares tips for showing a tarantula.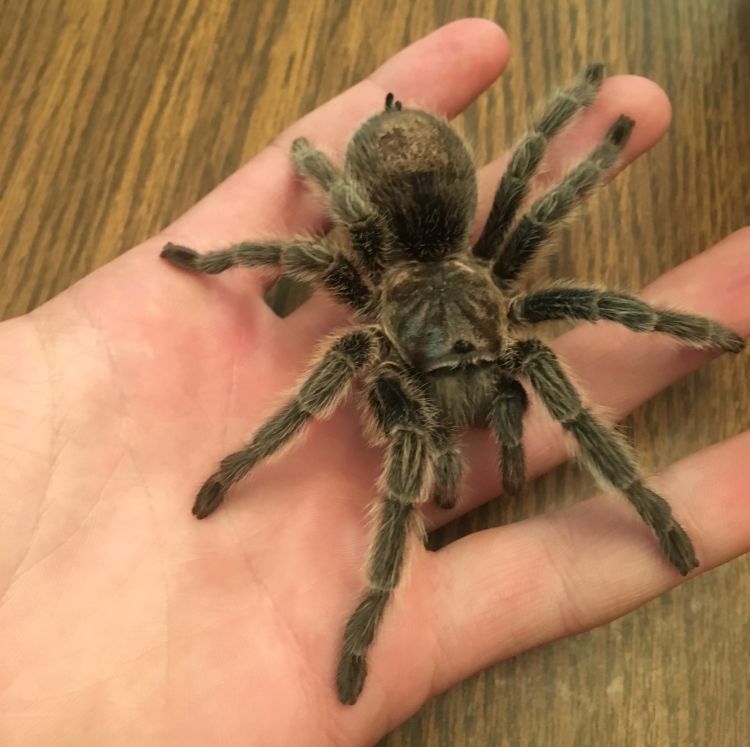 The next generation of True Science Leaders is growing in 4-H. Nathan Laurenz, 4-H member from Midland County, was recently featured in several Michigan State University Extension articles. The Dec. 5, 2016, article, "Michigan 4-H youth is a true leader in science with research in eating insects," highlighted how Laurenz is a true leader in science with his research on insects as a food source for humans. In this second article, Laurenz is sharing tips for showing tarantulas rather than eating insects.
Laurenz showed a tarantula at the Gratiot County Fair, where he won numerous awards. He received first place honors in 2016 in pocket pet showmanship. Competing in the overall small animal showmanship, the tarantula also received a fourth place award. Laurenz said he currently does not own a tarantula, as most of his pets are caught from the wild. The biggest spider he has is a dark fisher spider, a harmless, non-aggressive spider that lives in Michigan. This spider is a little too skittish and fast to take to the fair, therefore Laurenz borrowed a friend's (Elly Maxwell, Dow Gardens entomologist) spider. The spider was a Chilean rose hair tarantula named Charlotte. Laurenz did not know her age because she was found abandoned.
4-H science is all about asking questions and making discoveries. How do you show a tarantula in pocket pet showmanship? Is it difficult? Will they bite? Do you give them a bath? Laurenz had this to say in answering some of these questions.
"There are two kinds of tarantulas: new world and old world. New world species have a special defense called urticating hairs that can cause irritation to skin and eyes. They flick them at threats when they feel intimidated. A bite is comparable to a bee sting. Old world tarantulas are considerably more aggressive and have more powerful bites. The Chilean rose is a new world spider.
"Nearly all spiders are harmless and even the ones that have the capabilities to be dangerous to humans tend not to be. Also, if you have experience around spiders, you can tell when they are getting aggravated and start to handle them less before a bite. Signs like front legs flaring shows the spider is not liking what you are doing. Luckily, Charlotte was very calm and let me handle her often without much difficulty.
"The actual showing was really easy. I didn't really know how to do it before and so I figured the judges didn't know either. I did do some research on an 'official' way to show a tarantula/spider, but as far as I could tell, there was no literature on the subject. I couldn't even find reference of anyone else showing a tarantula at fair—although I did find tarantula fairs, which seem awesome! So basically I looked at what you do to the other small animals and replicated it, went through the body parts and explained how they were healthy. So I did have to memorize some spider anatomy, but it is good to know. Then I talked a little about Charlotte and tarantulas in general. I did not practice much—I just kind of talked about the spider like I had numerous times before.
"Charlotte did not get a bath before the show—insects and spiders tend to keep themselves pretty clean. But I do have a good story. My fisher spider, on the other hand, has had a trip to the bathtub. I keep her in a terrestrial terrarium with a large water dish and usually feed her land feed such as crickets. But she is a fisher spider, so one day I thought I'd give her a treat. I filled up the bathtub with water and then caught lots of little fish and other creatures from the ditch. I also added a little Popsicle stick raft. Then I let the spider loose.
"Now, my fisher does not have urticating hairs, but she does have another kind of hair. Fisher spiders are covered in hydrophobic hairs and they spread their weight over a larger area of water, which allows them to walk across the water. So she was able to glide across the water. The hairs also have another purpose; if I scared her from above the water, she would dive below—or sometimes just crawl to the submerged part of the raft and hang out—and her hairs trapped air bubbles. These trapped air bubbles allow her to hold her breath for a long time.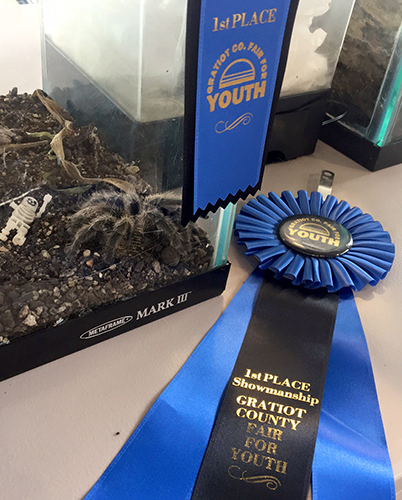 "When I showed Charlotte, I got first place in pocket pet showmanship, fourth place in small animal championships and blue ribbon for cage decorating. This was my first time at Gratiot County Fair—Midland County, where I have shown in the past, does not have a pocket pet category. So this was my first time showing an unconventional pet, although I have made other projects and displays such as animal sciences with the aid of spiders and other 'creepy crawlies.' I also showed a cockroach, salamander and ribbon snake in the 'breeding stock' portion of pocket pets. The snake was much easier to handle and very friendly. I took the snake to the science fair and let anyone who wanted to pet it."
Laurenz has proven to be a 4-H True Science Leader in the area of insects and arachnids. He will continue his journey asking questions and making new discoveries. He has captured in his spider web what 4-H science is all about!
Michigan State University Extension and the Michigan 4-H Youth Development program help to create a community excited about STEM (Science, Technology, Engineering, and Mathematics). 4-H STEM programming seeks to increase science literacy, introducing youth to the experiential learning process that helps them to build problem-solving, critical-thinking and decision-making skills. Youth who participate in 4-H STEM are better equipped with critical life skills necessary for future success. To learn more about the positive impact of Michigan 4-H youth in STEM literacy programs, read our 2015 Impact Report: "Building Science Literacy and Future STEM Professionals."
Michigan 4-H has many 4-H science programming areas for youth to explore. Science is everywhere with many questions to ask and discoveries to be made. For more information about 4-H learning opportunities and other 4-H programs, contact your local MSU Extension office.
Other articles in series