Hummus Goodness recognized with MSU Product Center's 2023 Entrepreneur of the Year Award
Hummus Goodness, a Michigan-based, certified women-owned company crafts delicious hummus products for consumers interested in quality ingredients and are tired of the same boring flavors.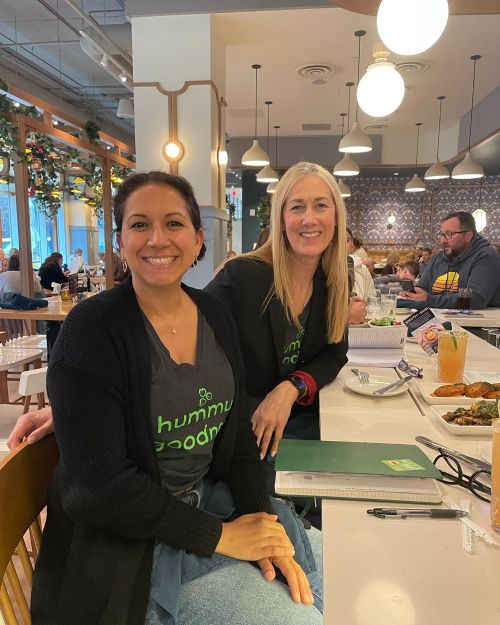 Business partners Hannah Awada and Lara Lozser of Hummus Goodness received the Michigan State University Extension Product Center's 2023 Entrepreneur of the Year Award at the Making It In Michigan Conference and Trade Show on April 20, 2023.
In 2017, Hannah Awada introduced her friends and husband's co-workers to her Lebanese hummus while living as an expatriate in Shanghai, China. Hannah capitalized on the huge demand and started her first company, Hummus House. In less than 9 months, she expanded her customer base and created over 30 different flavors of hummus—from classic hummus to coconut curry hummus, and even a chocolate peppermint option.
In 2018, Hannah's husband was transferred to Michigan. With this move across the world, the first thing many asked Hannah was whether she would start a new company. She was hesitant to do so because of the oversaturated hummus market, but at the urging of family and friends, she decided to seriously consider doing so. What Hannah discovered was that while there were plenty of hummus options on the shelf, none of them were made with premium ingredients like olive oil, lemon juice and garlic. In April of 2019, Hummus Goodness was founded, and she began crafting her clean-label hummus with the help of neighbors and friends in a local church kitchen. It was at this time that she met her current business partner, Lara Lozser. Together they have increased their store count to over 300 stores throughout the Midwest with more expansion opportunities ahead.
When asked about the services and support of the MSU Product Center, Hannah stated: "I wholeheartedly believe and am inspired by the guidance that Becky DeYoung and the MSU Product Center have provided my company. After nearly 4 years as I look back, I can truly say, Hummus Goodness would not be where it is today without the Product Center team and for that I am forever grateful."
"Watching the evolution of Hummus Goodness has been an exciting venture. I am personally so proud that the Product Center can work with clients like Hannah and Lara and be a part of their tremendous success!" said Mollie Woods, director of the MSU Product Center.
Follow Hannah's and Lara's exciting story of success on social media:
MSU Product Center
Diversifying a farm or food business brings rewards and potential challenges. In making these strategic decisions, consider partnering with MSU Extension's Product Center. The MSU Product Center is an organization that brings together on-campus expertise in the sectors of food, agriculture, and natural resources to help entrepreneurs define and launch innovative products. Field-based innovation counselors advise entrepreneurs on business planning, regulatory requirements, and product development needs. To access business development assistance, visit the MSU Product Center website or call 517-432-8750.