Hunt for the endangered Hine's emerald dragonfly
Both in and out of school, Alcona youth partner in an innovative citizen science effort to track habitats of the federally endangered Hine's Emerald dragonfly and the invasive species that threaten them.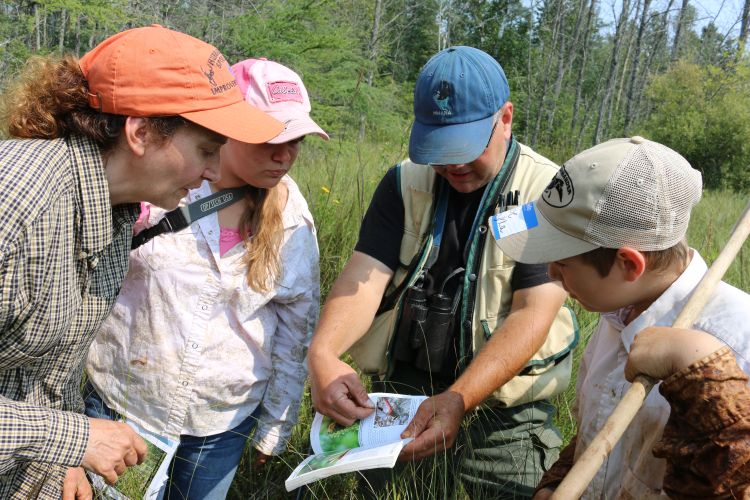 Walking the woods, wading in wetlands, and scouring Lake Huron beaches—what could be more fun for a kid (or adult) than a field trip exploring remote Negwegon State Park? Add Great Lakes scientists, an endangered dragonfly, and Alcona County youth committed to biodiversity conservation at their local state park and the trip just got much more interesting.
A new citizen science effort led by Michigan Natural Features Inventory, a program of Michigan State University Extension, called on community involvement to help protect the federally endangered Hine's emerald dragonfly and high quality natural habitats at Negwegon State Park (along the Lake Huron coastline in northeast Michigan).
This summer, the Alcona 4-H environmental science club ventured into the park during their summer break as community volunteers and citizen scientists. Joining Michigan DNR Parks' Friends of Negwegon State Park volunteers to work alongside scientists from the Michigan Natural Features Inventory, these students were on the hunt for potential habitat for the federally endangered Hine's emerald dragonfly. Armed with GPS units, a map of the park, muck boots and identification guides they were also on the lookout for invasive species—such as glossy buckthorn and narrow leaved cattails—threatening wetland habitats critical to this particular dragonfly.
This fall, students in school joined this project, including middle school science students from Alcona Community Schools and Alpena Community College's field biology class. Alcona school students have long partnered in promoting stewardship of Negwegon State Park, and past students had helped create interpretive signage on display at the park. On this trip—as part of their school science learning experience—they continued the search to map endangered species, wetland habitats and problematic invaders.
Funded by U.S. Fish and W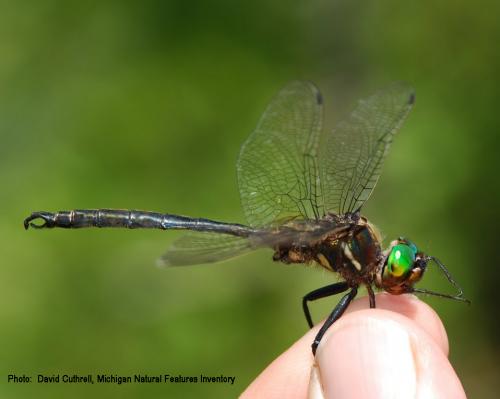 ildlife Service (USFWS) Coastal Program through the Great Lakes Restoration Initiative and local Community Foundation for Northeast Michigan, this innovative project trained and engaged community volunteers as citizen scientists. And, with many science, conservation, and community partners supporting this project, it only made sense that students—as our youngest citizens—might also take part in this project. Fostering school-community partnerships through 4-H and local school connections, the Northeast Michigan Great Lakes Stewardship Initiative network helped link educators and youth as part of this important biodiversity conservation project.
Attention to the Hine's emerald dragonfly offers opportunity to promote Lake Huron biodiversity conservation—conservation of a variety of species and their habitats. In the past, scientists documented adult Hine's emerald dragonflies inhabiting the park but have been unsure about the wetland habitats where adults lay their eggs and where the larvae develop. Larvae, commonly, spend three to five years in these wetlands, even inhabiting crayfish burrows during dryer seasons, before they emerge as adults—thus it is critical to protect them. Threatening these critical wetland habitats are invasive species that are moving into and starting to establish within the park. This presents an opportunity to manage these invaders before the problem gets too bad. But how can you protect critical habitats and contain invaders if you don't know where they are?
To date, more than 100 citizen scientist volunteers helped to map 23 locations of potential Hine's emerald dragonfly habitat including 77 crayfish burrows flagged (scientists will later search these burrows for juvenile Hine's emerald dragonflies). They also helped map more than 230 instances of 10 invasive plant species, treating a majority of these with the help of Huron Pines, a habitat conservation organization.
Adding stewardship value in this citizen science effort, Alcona School students also had fun exploring the beach while conducting a beach trash clean-up, an annual event for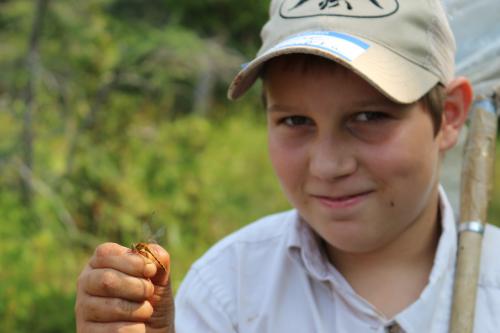 this class. With Michigan Sea Grant experts, they searched the sandy dunes along the coastline for other rare species known to the park like the federally threatened pitcher's thistle and state threatened Lake Huron locust. As with wetland habitats, invasive species also threaten habitats of these two rare beach-loving species. Documenting these rare species, students also improved their beach habitat by working with Friends of Negwegon and local USFWS staff to remove invasive spotted-knapweed.
These young citizen scientists helped collect data (and make habitat improvements) for scientists working to map endangered species, protect critical habitats and prevent invasive species threats within Negwegon. Through this invaluable place-based education experience, these young citizens learned about Great Lakes science and careers, habitat stewardship and civic engagement in support of this project. In trade, the enthusiastic contributions of these students were valued by the community and scientists welcoming them as partner to this conservation effort.