Updated August 2020
Fresh fruits and vegetables are important for a balanced diet. But what happens when, all of a sudden, you're told you can't eat them?
Bradley Marks, professor in the Michigan State University (MSU) Department of Biosystems and Agricultural Engineering (BAE), pondered this question as a close family member was undergoing chemotherapy about five years ago.
For six months, this young woman followed a neutropenic diet, which is intended to reduce risk of infection among immunocompromised people, such as cancer patients, by eliminating foods more apt to carry bacteria or other harmful organisms. People on this diet typically can't eat fresh fruits and vegetables, as well as undercooked meats, eggs and unpasteurized dairy products. She underwent treatment over summer, when her family frequently eats produce grown in their garden.
"What was critical to me is — if you say to someone who's used to eating a diet heavy in fresh fruits and vegetables that they can't have any for six months, that has a huge impact," said Marks. "From that point on, I set out to find better answers on how to deal with this."
Marks researched food safety for immunocompromised populations and asked Carly Gomez, his then undergraduate professorial assistant, about completing her BAE master's thesis and Ph.D. dissertation on the topic. She finished her master's thesis in August 2020.
"Dr. Marks picked up on my interest in the health side of engineering," said Gomez. "He had been thinking about doing research on the neutropenic diet for a while because he noticed that the materials for cancer patients were so vague. He proposed the project and I was 100% in."
Effective, evidence-based information
The food safety resources currently available for cancer patients is minimal. The U.S. Food and Drug Administration (FDA) offers a resource called "Food Safety for People with Cancer," which Marks and Gomez say is not specific enough.
"[The FDA resource] is just generally good guidelines for food safety that would be applicable to anyone," said Marks. "It doesn't give much guidance and it doesn't really take a stand on neutropenic diet or otherwise. It just says here are some things you should avoid or be careful with as sort of general principles. There's no specific guidance in food preparation where it might be ok to eat fresh produce."
Through this work, Marks and Gomez are hoping to create more informed, evidence-based guidelines and resources.
"When you're dealing with families or patients who are undergoing chemotherapy and have cancer, you're going to have about 1,000 pages of information thrown at you about all the kinds of drugs and all the treatments," Marks said. "In there, somewhere, there's information on food safety.
"One of the questions isn't just can we improve information? It's can we make more effective information, so that if we give it to a patient or their family, it will make a difference and help them understand."
Testing and modeling
For Gomez, this process involves testing different kitchen-scale food preparation methods to reduce risk of pathogens, such as Listeria, surviving and developing risk models to understand the probability of an immunocompromised patient contracting a foodborne infection.
"I'll boil a piece of fruit for 30 seconds and see if it can remove Listeria, or I'll peel it and see how much that method can remove to see if there's alternative ways that the patients could incorporate produce into their diets without completely eliminating it," she said.
Gomez completed these experiments in summer 2020. Results indicated that most washing treatments were minimally effective, but some physical treatments, like surface blanching and peeling, did reduce the risk of pathogens in the edible portion of the produce.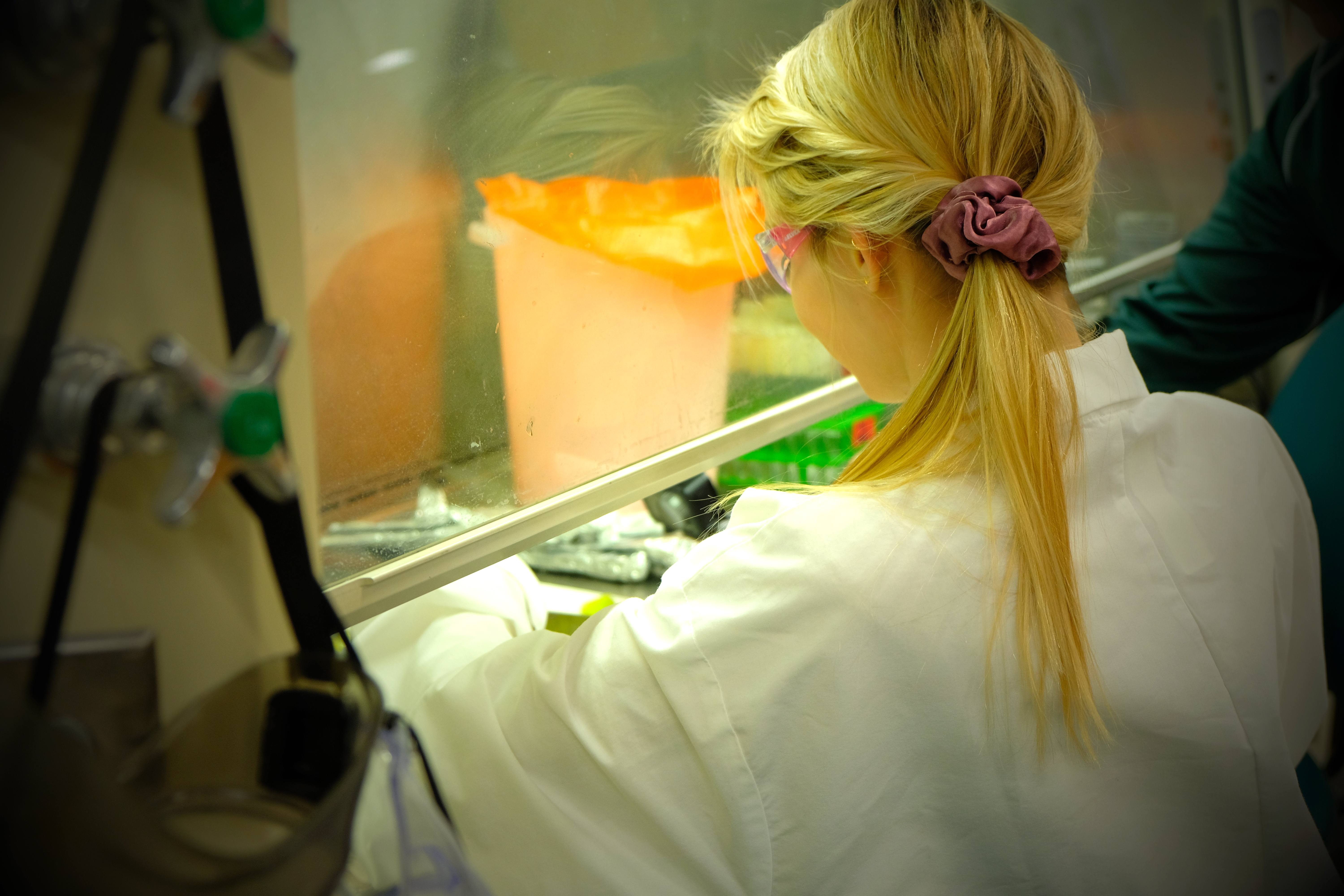 Funded through a National Science Foundation Graduate Research Fellowship, Gomez also works with Elliot Ryser, MSU professor of Food Science and Human Nutrition, on the experimental testing and Jade Mitchell, BAE associate professor, on risk modeling.
She presented her preliminary risk model at the International Association for Food Protection (IAFP) meeting in Louisville, Kentucky, in July 2019, and was awarded second place in the annual undergraduate research poster competition. Representatives from government agencies, such as the U.S. Centers for Disease Control and Prevention, and researchers conducting related work at universities, expressed interest in her model.
Partnerships for patient education
In addition to Marks, Mitchell, Ryser and Gomez, the team also includes Sanja Ilic, an assistant professor of human nutrition at Ohio State University who specializes in consumer food safety education, and Cindy Meteyer, a pediatric hematology/oncology nurse practitioner with Sparrow Health System in Lansing, Mich.
"[Meteyer] is really passionate about this because she doesn't like to tell patients that they can't eat fruits and vegetables," Gomez said. "It can kind of turns your world upside-down even more, and you have to change your whole diet."
Gomez and Marks will work with Meteyer on the patient education aspect of the project. Gomez will observe Sparrow Health System chefs in the hospital to design her experiments to be as applicable as possible.
"Having a team with diverse backgrounds allows for more perspectives on how to build this research as a larger project, and think about the resources that we need to develop effective materials and procedures for patients and patient care teams," Marks said.
In summer 2020, Gomez gained more experience in developing educational materials on food safety as an intern for the Partnership for Food Safety Education, where she helped to create curricula for K-12 students.
Freedom, nutrition and stability
Minimizing risk is the number one goal, and Marks is hopeful that Gomez and the rest of the team can discover methods that allow patients with weakened immune systems to eat certain fresh fruits and vegetables.
"Our goal is to understand that there's going to be a greater risk for an immunocompromised person to eat these certain foods, but how does that offset the loss of nutrition?" he said. "What are the positive aspects of the nutrition, and what can we do to help even that out?"
Gomez said discovering ways to incorporate fresh fruits and vegetables into more diets could offer immunocompromised patients a small bit of comfort — like eating from a family garden.
"Not only do these people have cancer and they have to go through painful treatments, but also their whole sense of normalcy is completely disrupted," she said. "Food can be one more thing to help someone feel stable. I feel like it would help them a lot."