Increase fruit and vegetable intake the easy way
Regularly eat more fruits and vegetables by making small changes to the meals you already enjoy.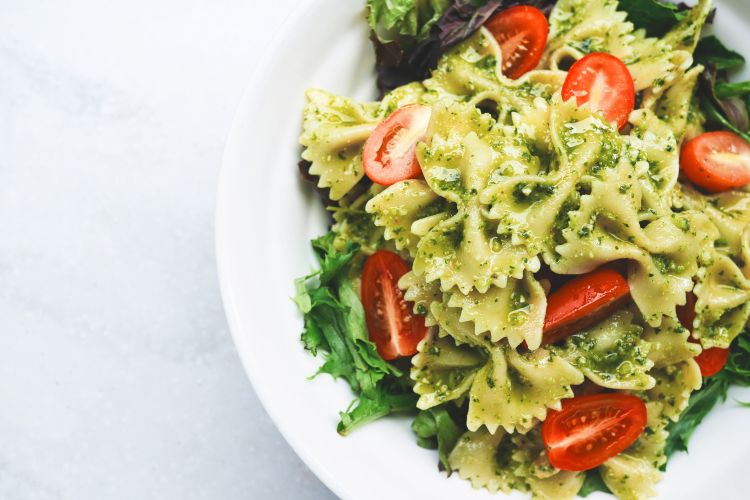 The 2015-2020 Dietary Guidelines for Americans recommends that half of every meal consist of fruits and vegetables. This recommendation uses a visual called "MyPlate" to demonstrate the need to incorporate greater amounts and varieties of fruits and vegetables into the American diet, which typically falls short of that recommendation.
Fruit and vegetables are lacking in many popular meals
Most classic American meals do not include the right amount and variety of fruits and vegetables. For example, a steak dinner is dominated by meat and starches (rice, pasta, or starchy vegetables like potatoes) and lacks colorful fruits and vegetables. Breakfast sometimes includes juice, but generally lacks fresh fruits and vegetables. Colorful fruits and vegetables are also lacking in most fast food meals that are dominated by meats, white bread and fried potatoes.
Explore different approaches to find what works for you
There are many ways to eat more fruits and vegetables. Trying completely new recipes with more fruits and vegetables is fun but not always convenient. In addition, most societies have a deep connection to traditional cooking, and modern busy lifestyles lead us to frequently depend on convenience food.
To help compensate for a fruit/vegetable shortage in main meals, you can make your snacks more nutritious. For example, try adding an afternoon banana or carrot sticks to your day. However, this is an "added" change to your routine, and may not always remain consistent.
In contrast, small and consistent changes to our daily meals may create a more permanent change to the way we eat. Small consistent changes can have a more long-lasting effect because they change our overall eating habits.
To increase your intake of fruits and vegetables start with small changes to what you already do:
Breakfast
Order or make an omelet with vegetables rather than meat.
Sautee leftover veggies into scrambled eggs.
Adopt a new "rule of thumb" to always top pancakes/cereals/oatmeal/yogurt with fresh fruit.
Lunch
Add vegetables to a sandwich by adding a layer of guacamole, a slice of tomato, some lettuce leaves or sprouts.
Add frozen vegetables into a soup before heating.
Throw a handful of cherry tomatoes or chopped up broccoli into a pasta salad from the deli.
Dinner
Adopt a new "rule of thumb" to always include a side of cranberry sauce, chutney or fruit salad onto your plate – they pair well with almost everything!
Center the same dish you usually cook around the vegetable instead of the meat. For example, pile a modest portion of pasta and cream sauce onto a larger central portion of asparagus; or add 3 ounces or less of cooked meat to the top of a large, colorful salad.
Top main dishes with a handful of fresh basil, parsley or dill – these herbs can be eaten in large amounts and are vegetables too!
Weekend barbecue – Set a goal to have half of the barbecue always filled with fruits and vegetables. Many delicious pairings exist, including:
Pineapple with pork
Zucchini and summer squash with steak
Mixed peppers with chicken
Fairs, festivals and sporting events – Swing by a local Michigan Farmers Market on the way to a game or event and grab a small bag of fresh vegetables. Wash them before ordering at the event, and add them on top of the following:
Cherry tomatoes on nachos
Small hot peppers on a hot dog
Sprouts or greens on a burger
Blueberries in a milkshake
Choose one or two habits to start with
As with any new eating routine, pick one to two new habits at a time to try. With time and effort, they can become easier and be a permanent part of your routine. Think of each new habit as taking another step towards becoming a healthier person!
Michigan State University Extension has a range of nutrition programs and resources to help you eat a variety of nutritious foods including fruits and vegetables. Michigan markets have great fresh food. For tips on growing, handling and preserving Michigan fruits and vegetables visit Michigan Fresh.
For more information on growing your own fruit and vegetables, explore MSU Extension's Smart Gardening Resources.