"It's about creating food abundance"
Joan Nelson, director of Allen Neighborhood Center in Lansing, Mich., is hopeful that the availability of fresh, locally-grown food will continue to increase.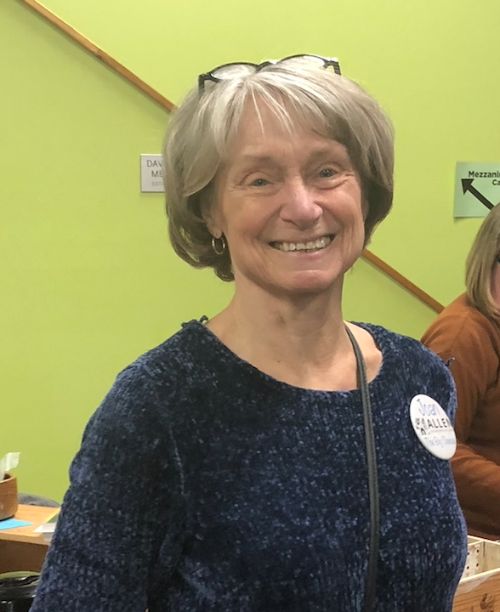 "Our Table" is a series of community roundtable discussions on various food topics ranging from health to sustainability. On November 16, 2017, "Our Table" kicked off with a panel discussion on food access held at Cristo Rey Community Center in Lansing. This article is part one of a three-part series further exploring the views and work of the community leaders on the panel.
Joan Nelson is the director of the Allen Neighborhood Center (ANC). The ANC defines itself as "a place-based organization that serves as a hub for neighborhood revitalization and for activities that promote the health and well-being of Lansing's Eastside community and other stakeholders."
Abby Harper is the Community Food Systems Educator with Michigan State University (MSU) Extension.
Harper: Can you define food access? What does food access mean to you and to the Allen Neighborhood Center?
Nelson: In simplest terms, the reason we care about food access is because, in 2005, we discovered that roughly 29 percent of the neighbors in Lansing's Eastside are food insecure. When you find out that one-third of your neighbors are food insecure, you get them food, so we started the Breadbasket Pantry. Now, every Tuesday, we distribute between 700 and 900 pounds of fresh produce and 200 pounds of bread from Panera to roughly 140 people. It's a very convivial program that is a point of entry to some of our other programs and resources.
Health department data indicated that chronic disease was well represented on the Eastside, so our first focus was on wholesome and fresh. We started the neighborhood farmers market in 2004 and were one of the first in the area, so early on, access became synonymous with local food.
The immediate response to hunger is to give food when people need it, but we didn't want to stop there. We wanted to focus on building capacity. We realized that real food security would require that we grow food, so we worked with the city to develop a plan to improve Hunter Park and worked to install a greenhouse that served both to grow food and to teach people how to grow food. Then food access became about access to skills and land to grow your own food or grow food for a business.
At the most basic level, food access means that people have enough calories in a given day, but for us it has morphed and added layers. I don't have a simple definition for food access, but in efforts to expand, we've developed this set of synergistic programs that collectively make it less and less likely that someone will be food insecure. It's about creating food abundance.
Harper: What are the biggest barriers that your audience faces in accessing food?
Nelson: I think we have mitigated the geographic and transportation issues a little bit by having a neighborhood-based market, but the Eastside is a full quarter of the city, and it is not within walking distance of much of the neighborhood. There are still transportation challenges to access local food, as well as there being locally grown food in the neighborhood on more than one day of the week. I would love it if there was a 7-day-a-week grocery store offering locally grown food within the boundaries of the Eastside and more in the heart of the Eastside.
Cost is also a barrier. There's been so much about flatlined incomes for the last 10 or 15 years, and people having to be frugal and make tough choices, so the issue of affordability becomes a barrier – dealing with limited economic resources and having to really figure out how to obtain the most calories for the least pennies.
Harper: What promising strategies do you see/support/employ that help address food access/insecurity?
Nelson: On the issue of geographic access, I am heartened by the growth of farmers markets – we were the third in 2004 and now we're one of 26 farmers markets in mid-Michigan (25 plus one mobile market). The growth of urban farms and the number of them that do pop-up farm stands in neighborhoods is a heartening trend. The continued growth of community gardens and backyard gardens, and the skills and education – the fact that there are resources to till, provide fertilizer and seed and education on growing food – all of those things are increasing the abundance of fresh, locally grown food in a variety of ways by farmers, urban gardeners, backyard gardeners, rural farmers congregating in farmers markets and others.
I am hoping that that continues to grow. Right now, we're the only incubator kitchen in mid-Michigan – I think that there will eventually be one or two additional incubator kitchens, which increases the likelihood that farmers and growers can utilize incubator kitchens to do value-added food processing.
We're also exploring the idea of a CATA shopping bus – one that will carry people to farmers markets from apartment complexes, primarily seniors with limited access. Church vans could also be an interesting possibility to bring individuals in from low-access neighborhoods.
Harper: In your opinion, where is there not enough focus with regard to addressing the challenges to food access?
Nelson: Buying local, and supporting mid-Michigan growers and producers, is still not getting enough attention. People are not getting that a healthy, robust, local food system that will feed more people in many more ways will address long-term food access. That is the bigger goal – to create a robust food system in mid-Michigan that will be versatile enough, strong enough and big enough, to be able to address the food access issues in this county. Meeting the food access needs of a family on Custer Avenue is related to the overall robustness and diversity and health of local food systems. It's not a single strategy or opportunity, it's multiple opportunities to consume locally grown and produced and affordable food that help maintain the agriculture community in and around Lansing – the development of a whole system that supports food access.