Join MSU Extension, 4-H and community members at the 12th annual 4-H Day at the Breslin
Cheer on the MSU women's basketball team at the 12th annual 4-H Day at the Breslin on Sunday, Jan. 22! Join us as we celebrate the 4-H and MSU Extension community with a day of family fun and camaraderie.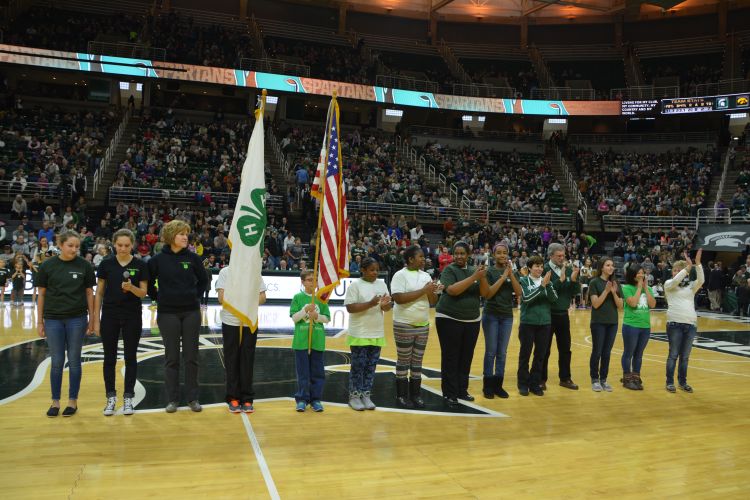 Michigan State University (MSU) Extension invites 4-H Youth Development families, volunteers and staff members to cheer on the Spartans at the annual 4-H Day at the Breslin Jan. 22. This family-friendly event will be held at the Jack Breslin Student Events Center as the MSU women's basketball team takes on the Purdue Boilermakers.
The annual event celebrates the MSU Extension community, including its Michigan 4-H youth, volunteers and programs. Attendance is free for 4-H members and their families, 4-H volunteers and MSU Extension staff members and their families. For those interested in attending, contact your county MSU Extension office to reserve tickets. Some counties may also be coordinating free group transportation to the event.
"Michigan 4-H is dedicated to growing true leaders and helping youth develop valuable life skills," said Julie Chapin, director of MSU Extension children and youth programs. "4-H Day at the Breslin allows us to celebrate all the leaders that 4-H is helping to grow in our communities by getting families together for a day of fun and camaraderie."
Breslin Center doors will open at 3:30 p.m. for MSU Extension guests, allowing them an opportunity to check out 4-H booths across the concourse. These booths will give participants a chance to explore various activities, interests and programs related to 4-H while learning more about the impact of 4-H in the community. The basketball game will start at 5 p.m.
Along with the activities mentioned above, attendees will also have the opportunity to take photos with Sparty and watch as a group of 4-H youth lead the crowd in reciting the 4-H pledge during halftime. Participants are encouraged to show their pride and wear green and white 4-H or MSU Extension apparel. Upon arrival, guests should enter the Breslin Center through the Northwest Kalamazoo Gate (formerly known as Gate D). Parking is free for all school buses and $20 for all other buses. Car parking costs $5.
For more information on this event, contact your county MSU Extension office. Additional questions can be sent to Jane Love at lovejan@anr.msu.edu.
4-H alumni and their families are also invited to a special pre-event activity at Spartan Stadium, beginning at 2:30 p.m. To learn more, go visit the 4-H Alumni Tip-off Reception webpage.
To learn about the MSU Extension 4-H Youth Development program, go to our Michigan 4-H webpage.
Visit the Breslin Center website for more information on the facility. For additional details on the MSU women's basketball team and all MSU varsity sports, visit the MSU Spartan Athletics website.