Learn about Michigan's lakes online
Register today for this opportunity to learn about inland lakes from MSU Extension and participants across the Midwest.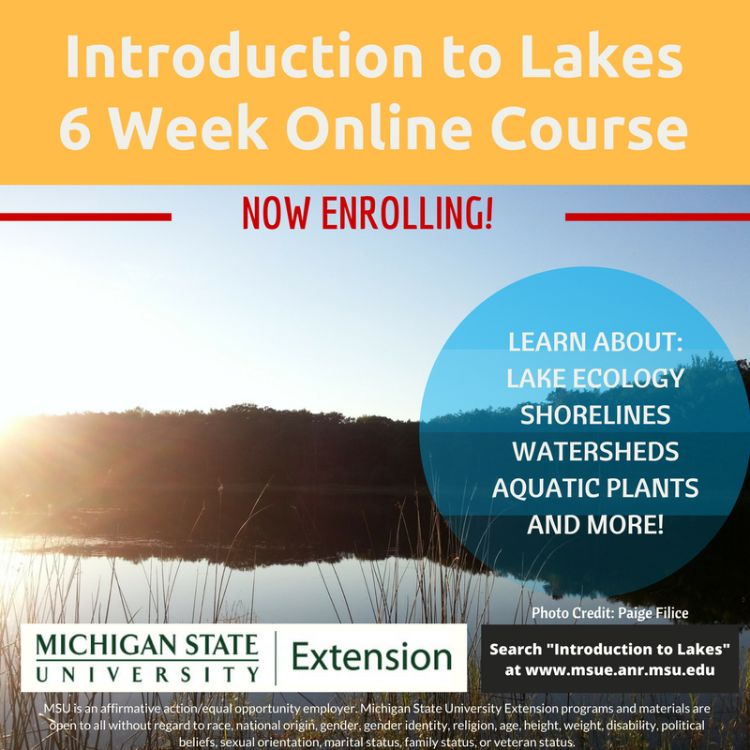 The Introduction to Lakes course is being offered again in January 2018, and registration is open now. This popular six-week course is offered in a convenient self-paced online format. Introduction to Lakes is designed for anyone interested in lakes, including lakefront property owners, lake users, local government officials, lake managers and educators. The course schedule allows for regular online communication with classmates and course instructors through discussion forums and live Ask-an-Expert webinars.
Introduction to Lakes is taught by lake experts from Michigan State University Extension. Students have week-by-week, 24/7 access to six online units - Complete with video lectures, web-based activities, discussion forums, three biweekly live webinars and quizzes to assess learning. A certificate of completion is awarded to those who complete assignments and quizzes.
Over the last two years, 235 lake enthusiasts across Michigan and numerous surrounding states have enrolled in the course. Here are some examples of feedback from past participants:
"After Unit 3, Lakes and Their Shorelines, I implemented a project in my classroom to help students understand what they can do to decrease shoreline erosion."
"I learned I was incorrect in much of my pre-course assumptions, i.e., the importance of beneficial aquatic plants, evaluating the actual "health" of our lake, riparian rights, etc."
"I have implemented a buffer zone on our condo association's lakeshore; approximately 1,200 feet of frontage. I have, of course, had opposition (we have 78 units), but the knowledge obtained from the Introduction to Lakes course has helped my credibility."
Here is a glimpse into the content covered in Introduction to Lakes:
Lake ecology. Understanding lakes starts with a clear understanding of lake ecology and the relationship between the organisms and chemical and physical components of a lake system.
Lakes and their watersheds. No two lakes or watersheds are alike and understanding watershed components and potential community partners leads to effective local watershed management and ultimately healthier lakes.
Shoreline Stewardship. Whole lake management considers the shoreline including upland areas, buffer zones, the shoreline and the lake itself.
Michigan water law. An understanding of water law and the permitting processes regulating lake activities is necessary for lake protection and enjoyment.
Aquatic plant management. Lakes teem with a diversity of aquatic plants. Learn to appreciate beneficial native plants, and about the identification and management of nuisance and invasive species.
Citizen involvement. Learn how to engage in lake management planning, project implementation, and citizen science programs such as the MiCorps Cooperative Lakes Monitoring Program. You will also gain insight into encouraging involvement of others in your community. .
The 2018 course begins on January 23 and will run through March 9. The Ask-an-Expert webinars are scheduled from 12 to 1 p.m. on Feb. 7, 21, and March 7, 2018. The cost of the course is $115 per person.
Online course registration is now open. Register by December 22, 2017 to receive an early bird discount of $95 per person. Registration ends January 16, 2018. For complete registration details please visit the Introduction to Lakes Online program page.
Fourteen Michigan Department of Rural Development Pesticide Applicator Recertification credits, 14 Michigan Department of Education State Continuing Education Clock Hours (SCECH), and 6 Master Citizen Planner Education Credits are available for this course.
Please contact Bindu Bhakta for more information.