Learning leadership at 4-H Exploration Days – Part 1
Discover how this 4-H pre-college program helps grow #TrueLeaders.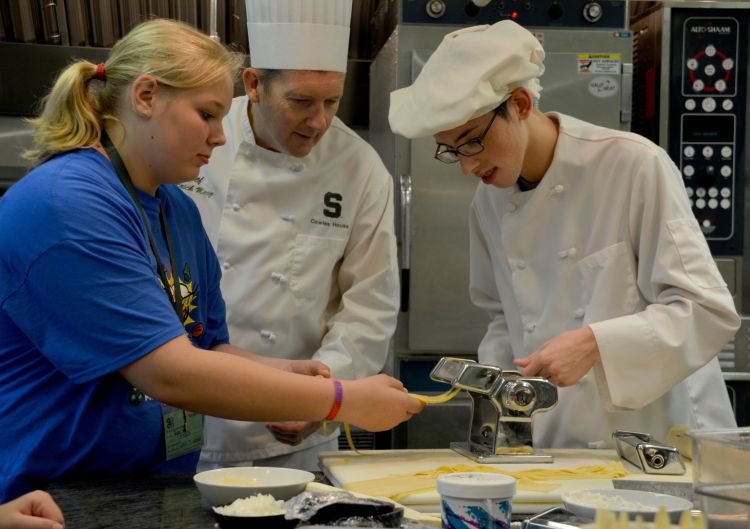 4-H Exploration Days is an annual pre-college program that is hosted on the Michigan State University campus at. Each year, over 2,500 youth from all over Michigan come to campus to participate in over 200 sessions to choose from, selecting one or two to partake in throughout the three-day experience. This program is called a "pre-college" program for a reason. Youth sleep in the dorms, eat in the cafeterias and take busses around campus. They are expected to actively engage in learning throughout 4-H Exploration Days, while also managing their own time, navigating campus and checking in with their county-assigned chaperones.
4-H Exploration Days is a dynamic growth opportunity that has been happening for over 40 years. A theme is selected each year, which is reflected in the extracurricular opportunities and whole group presentations. The theme for 2016 is "4-H Grows True Leaders." This theme is aligned to the National 4-H campaign, "4-H Grows Here," and the campaign's national social media shout-out, #TrueLeaders. While the theme is timely to the national #TrueLeaders campaign, it is a theme that is always relevant at 4-H Exploration Days.
Ways in which 4-H Exploration Days helps grow #TrueLeaders:
Time management. 4-H Exploration Days is a big event on an even bigger campus, so it takes an amazing team of people to coordinate it each year. To ensure youth are registered, adequately chaperoned and all risks are minimized to the maximum, youth are expected to respect deadlines as they prepare to come to the event. This is an extremely relevant life skill as youth age – having school assignments, college payment dates, tax filings, etc. At the event, youth are also expected to arrive on time to sessions and county meetings; factoring in the size of MSU, time management is exercised frequently.
Responsible decision-making. This event follows all Michigan 4-H rules and best practices regarding chaperoning and adult presence at youth development programs. That said, youth who participate are expected to know which sessions they're signed up for, where those sessions are located and identify ways to get to that location. They are also expected to use the buddy system and arrive promptly at county meetings to check in with chaperones. 4-H Exploration Days expects responsible decision-making from participants, and creates a flexible environment with great independence for youth to live up to that expectation.
Problem-solving and active communications. Sometimes things don't go as planned. What was supposed to be a quick stop to the MSU Dairy Store turns out to be an adventure in getting lost on campus, or the bus that was supposed to arrive at stop A was full so a wait for the next one to arrive must ensue. To not expect little snags is unrealistic, so youth are asked to utilize active communication with their county group. They are asked to identify all their tools and resources to find solutions to their challenges, and share status updates regularly with chaperones. MSU Extension faculty and staff, the 4-H Exploration Days program guide/map, mobile devices and the staff at "headquarters" all make great resources youth can identify and take advantage of throughout the program.
For more information on 4-H Exploration Days, check out this Michigan 4-H Exploration Days Promotional Video.
If you have questions or comments about this program, you can contact 4-H Exploration Days coordinator Laura Potter-Niesen at potterla@msu.edu or 517-432-2963. The 2016 4-H Exploration Days takes place June 22-24. If you missed the registration date this year, plan to enroll next year! Visit the 4-H Exploration Days website for upcoming information on next year's program.
Also, consider checking out the Michigan 4-H website for more information on all the youth development programs happening throughout the state so you can connect your young person with opportunities to grow into a true leader.
Other articles in this series: