Lundeen receives MSU Extension Innovative Technology Award at Fall Extension Conference
Norma Lundeen received the MSU Extension Innovative Technology Award for her partnership with the SNAP Program during the annual Fall Extension Conference held virtually on Sept. 28.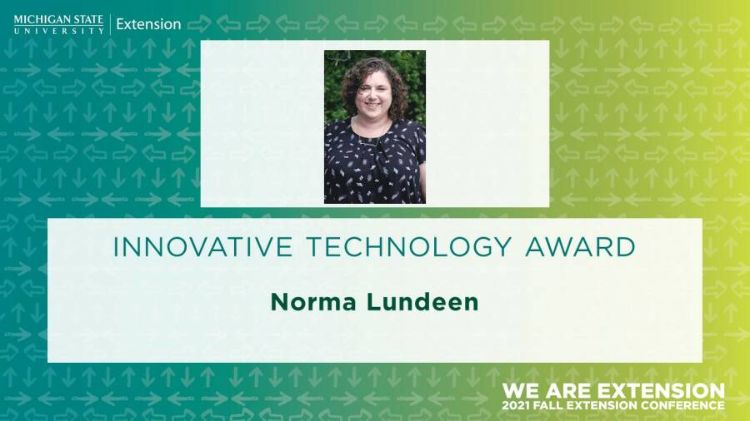 The Michigan State University Extension Innovative Award is awarded to someone who is constantly working towards bettering a project and finding new ways to adapt to a variety of challenges.
Norma Lundeen, Michigan State University Extension planning and reporting project manager, started as a project coordinator working on the multi-state Voices for Food research grant in September 2017. She also assisted in Supplemental Nutrition Assistance Program–Education (SNAP-Ed) and Expanded Food and Nutrition Education Program (EFNEP) reporting and was instrumental in onboarding the new Program Evaluation and Reporting System (PEARS). As part of the PEARS release, Norma did critical training for SNAP-Ed staff in 2019. In addition to PEARS training, she also assisted with the web-based Nutrition Education Evaluation and Reporting System (WebNEERS) training for EFNEP staff. In April 2019, she was hired as the planning and reporting project manager for Extension and provided oversight for the Michigan Planning and Reporting System (MiPRS). In January 2020, Norma rolled out the use of PEARS Extension-wide. She was instrumental again in onboarding the system and subsequently developing extensive training opportunities. Norma continues to help staff transition to PEARS. She has developed numerous training videos to guide them through various processes.
She collaborated with the MSU Extension director's office, MSU Extension Human Resources, and all institutes to come up with unique solutions to various reporting topics including how to report time off. She was invaluable in developing surveys and forms that captured data specific to the reporting needs of MSU Extension. This included capturing youth data required for the Extension ES-237 report.
Norma is also proficient in Qualtrics survey technology and has provided support and training to staff who request surveys. She empowers staff to learn and use the technology provided for them to complete their job duties. Not only does she help staff think of innovative ways to use Qualtrics to capture data, but she also helps build their capacity on how to use Qualtrics to their advantage.
Norma Lundeen is patient, thoughtful, and responsive to staff needs throughout the state. Her input and insight have been invaluable. Her work with technology has been indeed innovative, making her worthy of receiving the Innovative Technology Award.