Making your native plant choices for Michigan inland lake shorelines
Protecting water quality means protecting inland lake shorelines from erosion and stormwater runoff. Restoring inland lake shorelines means selecting and planting the shoreline with Michigan native plants.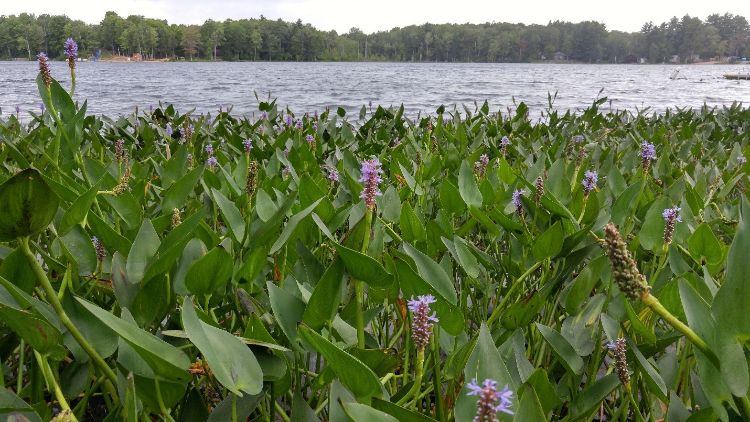 Michigan's inland lakes draw many people for a variety of reasons. Being close to nature and being a part of a relaxing natural environment are not the least among them. However, the reality of owning a lake home often is at odds with what nature provides.
People often replace nature's protections with short green grass right to the water's edge, which increases the risk of shoreline erosion. Additionally, intensified development, water sports, boating traffic and careless gardening practices further increase negative impacts on Michigan lakes. Adding native plants back to the shoreline can help alleviate the everyday pressures that degrade shorelines.
Planting with native plants does not mean you have to mimic the chaotic order of plants on your shoreline property (unless you want to). Using native plants in a landscape design or shoreline garden does allow for a more formal garden design. Landscaping with Michigan native plants is simply the type of plants you choose, not how they are placed in a garden or landscape.
When choosing native plants for your shoreline you should have a landscape design plan and know the Lake fetch or prevailing wind direction on your lake in relationship to your property. Then go about choosing what plants will serve your needs and aesthetic.
If you require plants under the ordinary high-water mark, you may need a DEQ permit. Planting outside or above the high water mark on your lake does not require a permit and can be planted with trees, shrubs or other herbaceous material to your liking.
The important thing to remember is to choose the right plant for the right place. For example, planting an upland plant near the water may cause it to waterlog and die. Other considerations include choosing seeds, plugs, live stakes, potted plants, balled and burlap for trees and shrubs or a combination. Additionally, choosing a variety of species will promote a more balanced shoreline ecosystem while increasing the success of your native planting.
There are three zones to consider when choosing plants for along a lakeshore:
Emergent and submergent plants - Roots directly in the water
Lowland plants - Can survive temporary saturation from seasonally high water
Upland plants - Thrive in well-drained soil that dries out between rains.
You can learn more about native plants at MSU's Native plant website. If you require a large number of native plants for your lakeshore restoration project, you may want to advance order them.
Michigan State University Extension, the Michigan Natural Shoreline Partnership and a number of other groups are working together to help lake property owners protect Michigan lakes from further decline.
Lake front property owners now have several tools available to them that provides information about native shoreline landscaping and native plants. These include the publication Natural Shoreline Landscapes for Michigan Inland Lakes, bulletins, and Smart Gardening Tip Sheets. Natural shoreline landscaping training events are also available, with a list of locations and times listed on the Michigan Natural Shoreline Partnership website.
For more information about the Michigan Natural Shoreline Program, the Clean Boats, Clean Waters program, or aquatic invasive species, contact Beth Clawson, MSU Extension Educator. To learn more about invasive organisms and invasive aquatic plants contact Michigan State University Extension Natural Resources educators who are working across Michigan to provide aquatic invasive species educational programming and assistance. You can contact an educator through the "Find an Expert" search tool using the keywords "Natural Resources Water Quality."