Malletts create MSU Extension emerging needs fund
To help support MSU Extension into the future, Jef and Patty Mallett have provided a future gift to support emerging needs within MSU Extension.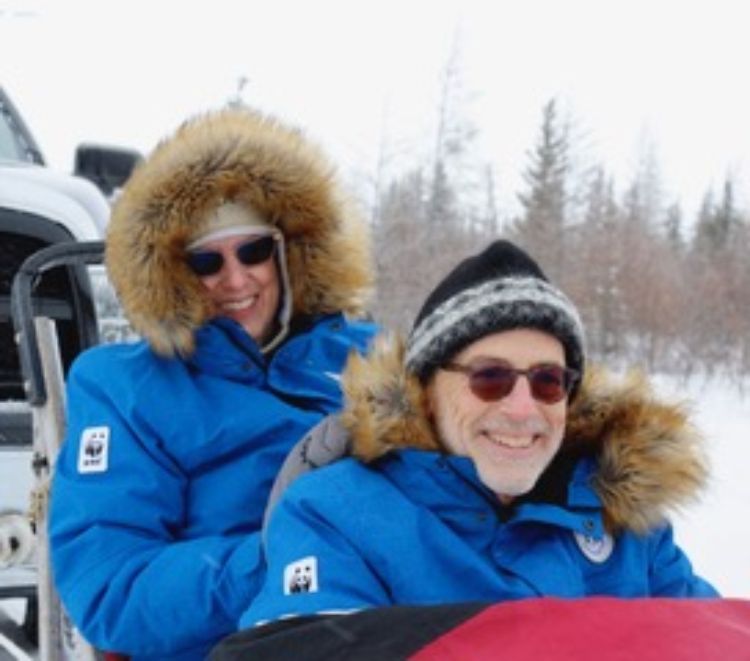 Jef and Patty Mallett, of Huntington Woods, Mich., both attended Michigan State University (MSU) and benefited from MSU Extension programs. To help support the organization into the future, they have made an estate gift to create the Jef Mallett and Patty Charles Mallett Emerging Issues Fund for MSU Extension.
Jeff Dwyer, director of MSU Extension, says this fund will help the organization respond quickly to urgent community needs.
"This gift will provide funding for emerging issues that arise around the state that MSU Extension needs to be able to respond to," he said. "For example, the Flint water crisis or the farm stress situation in some rural areas. Because we had existing relationships with leaders and residents, we were able to work with them quickly to determine their evolving needs."
Patty Mallett received both her bachelor's and master's degrees from the MSU School of Journalism in the College of Communication Arts and Sciences. Jef Mallett also studied at MSU, but entered the workforce before receiving a degree.
"I benefited a ton from Michigan State well before I was college age. As a teenager, MSU and particularly MSU Extension, did huge favors for me," Jef said.
Jef continued, "My family lived in the country and we did a lot of gardening, so Extension helped us out a lot there. And I was involved in 4-H, including when I was in high school, a program called Challenge. That really saved my life a lot and does to this day. It was fantastic. I'm grateful to Michigan State and Extension for that as well."
As a Mecosta County 4-H'er, Jef also hosted two Japanese exchange students, attended and taught at4-H Exploration Days, a pre-college program held at Michigan State University, and participated in weekend 4-H Outdoor Adventure Challenge camping trips. Through the Challenge program, participants learn canoeing, kayaking, backpacking, hiking, outdoor survival and safety skills. The program also teaches youth the skills necessary to deal with stressful situations in any setting, giving young people a greater understanding and appreciation of themselves and the outdoors.
"I favored the really adventurous things," Jef said. "I loved climbing rocks, caving, anything like that. These kind of activities put you in a position to learn things about yourself that you're just not going to learn anywhere else."
Jef still enjoys outdoor adventure activities, mostly focusing on marathon swimming. In addition, he is artist and writer of the nationally syndicated comic strip, Frazz. He published his first comic strip for his local newspaper, the Big Rapids Pioneer, while in high school. After becoming a graphic artist, he worked for several newspapers, including the Grand Rapids Press and the Flint Journal. He now concentrates on Frazz full-time.
"I'm in my 20th year of syndication," he said. "It was always something I had dreamed of. I re-found it later in life. I drew a daily comic strip for a few years – prompted by my art teacher who was also my 4-H Challenge leader. She knew me really well."
"A couple of decades went by and when the journalism world looked like it was changing, I rediscovered my comic strip dream later in life. But it was there at the very beginning. Extension, 4-H and Challenge were a factor, to varying and sometimes profound degrees. I still use what I learned about myself in my writing today."
Patty spent a few years in journalism before a 15-year communications career with Delta Dental. She then was a part-time communications director for an equity theater in Lansing and was with a private economic development firm for nearly three years. Since 2010, she has served as product development manager for Blue Cross Blue Shield of Michigan.
"I thought I'd get back into journalism and there was a whole bunch to learn and I wanted to learn it," Patty said. "They had moved increasingly online, though not fully there yet. I wanted to know more. I had gone to grad school a couple years after graduating when we moved back to Lansing. I took the GRE and started grad school. It just wasn't working for me at the time, so I dropped out of grad school. When I wanted to go back, I had to reapply and explain why I dropped out. One of the higher ups in the department was a former professor at the time and he fully supported me coming back. I ended up back in the journalism program and earned a master's degree from MSU."
Patty's love of learning has led her to participate in the Master Gardener Program through MSU Extension. The Master Gardener Program is an adult horticulture education and volunteer leader training program committed to improving horticulture information in communities throughout the state. Through their volunteer outreach, Extension Master Gardeners share science-based, environmentally sound gardening knowledge, engage citizens and empower communities.
Even with all their prior experience with MSU Extension, it wasn't top of mind when they thought of giving back to MSU — not until they met with MSU Extension director Jeff Dwyer and heard about all that MSU Extension is doing.
"It really hadn't occurred to us to support Extension up to that point. In 15 minutes, it was at the top of our list. Extension was such a good match," Jef said. "Even though Extension had really affected both of our lives in our past, Extension wasn't on our radar until Jeff put it back on our radar so clearly. In my mind, if they're not getting the attention that some of the other programs are, I don't know if they're getting the money that some of the other programs are, too. And we were in a position to do at least a little about that."
"All you have to do is look around to see what is needed and what Extension is doing to see the value in that. Funds are needed to do that kind of work. You just can't do it on good intention," he added.
Following that one meeting, the Malletts decided to take action. They added MSU Extension into their will. Once realized, their gift will create the Jef Mallett and Patty Charles Mallett Emerging Issues Fund, allowing MSU Extension the ability to respond to immediate needs as they arise.
"As the university's major outreach arm, our job is to work with communities, individuals and businesses to determine their collective needs," Dwyer explained. "We need to be able to respond quickly when needs change, and we can't do that without proper funding. This gift allows us to take our vast knowledge and resources and put them to work when and where people need them."
"We picked the emerging needs fund because the Extension program seems very, very good at identifying what needed to be done," Patty said. "We see things that are missing in the state, in the world, and MSU Extension is doing something to address them. We thought as MSU Extension identifies these things going forward, we can support that."
"I think Extension touches a lot of people's lives in more ways than we even know. It does a lot of things behind the scenes that are affecting us and in addition to the upfront things — 4-H, Master Gardener Program. They do a lot of things that help without people really being aware of it. I think that's terrific. I think it's a wonderful service," she continued.
Jef agrees.
"For example, given the current circumstances, specifically the pandemic, MSU Extension is responding to local community needs. But there's more going on than that — climate change, social injustice," he said. "Extension has benefitted me in the past which in turn, benefits me to this day. I talked about how the 4-H Challenge program taught me to look inward. As a writer that is important. It continues to benefit me in that way. Every day I find a new way that Extension is benefiting not only me, but Michigan and society in general."
In addition to their support for MSU Extension, the Mallets have also allocated a portion of their estate to support the Mallett Endowed Veterinary Scholarship Fund in the College of Veterinary Medicine and the Jef Mallett and Patty Charles Mallett Scholarship Fund in the College of Communication Arts and Sciences.
When the Malletts lived in Lansing, they participated in a dog walk program hosted by the MSU veterinary program. They eventually adopted their Greyhound, Skylar, whom they owned for 15 years until she passed.
"We've always have had pets that were rescues that no one else wanted. So, we put a requirement for the scholarship to be awarded to a veterinary student interested in housing or caring for unwanted animals," she said.
The Malletts feel fortunate they are able to give to MSU, both through annual gifts and with a future estate gift.
"We are really grateful for the opportunity to give back in this way," Jef said. "When we were going through the process with our will, we don't have children or heirs. It was a lot harder than we thought to decide what to do with ourselves, to leave some kind of a record of our existence to put something back in. MSU made it obvious."