MassTimber@MSU in Italy
Dr. George Berghorn, Research Director, Mass Timber @ MSU travelled to connect with the mass timber industry in Italy, read his blog entry here.
Northern Italy conjures many images: the Dolomites with their forested mountainsides and lush valleys; cities teeming with fashion, fast cars, and motorcycles; and the classics, Romeo and Juliet, gondolas, and hearty food featuring lots of cheese and butter. What might not come to mind, except for those in the know, is wood construction. And that's what brought me to the Trento Alto-Adige and Cadore regions, where wood construction is a prominently featured building technique that is both ancient and ultramodern.
A respect and affection for wood construction is natural when you consider that Italy's forest industry is more-or-less headquartered in this region. Trento, an ancient city at the edge of the Dolomites with some 112 timber buildings spread across its landscape, is an early adopter city for the European Build in Wood initiative. Scattered across the mountains of the surrounding province of Trento are many small villages where ancient dialects are often the first language learned (as opposed to Italian or German) and where building with wood is still the most typical form of construction.
Given all of that, it just makes sense that MassTimber@MSU would connect with the mass timber industry in this part of the world! In addition, my grandmother's family originates from this area, and I have visited here many times in my youth, but my last visit was 12 years ago, long before I ever thought about mass timber! So, I jumped at the opportunity to visit as part of planning for a mass timber and building decarbonization study abroad program I will lead on behalf of MSU in summer 2024.
The centerpiece of this site visit was a day at Rothoblaas' automated warehouse. (Photo 1) Rothoblaas, a leading developer, producer, and supplier of connectors and fasteners used in mass timber construction active since 1991, currently operates in more than 70 countries. The warehouse itself is an amazing technological feat constructed using mass timber, and – fun fact – the wood product-storage racks function both as columns, that support the gravity load of the building and as lateral bracing (that resists wind and seismic forces) (Photo 2)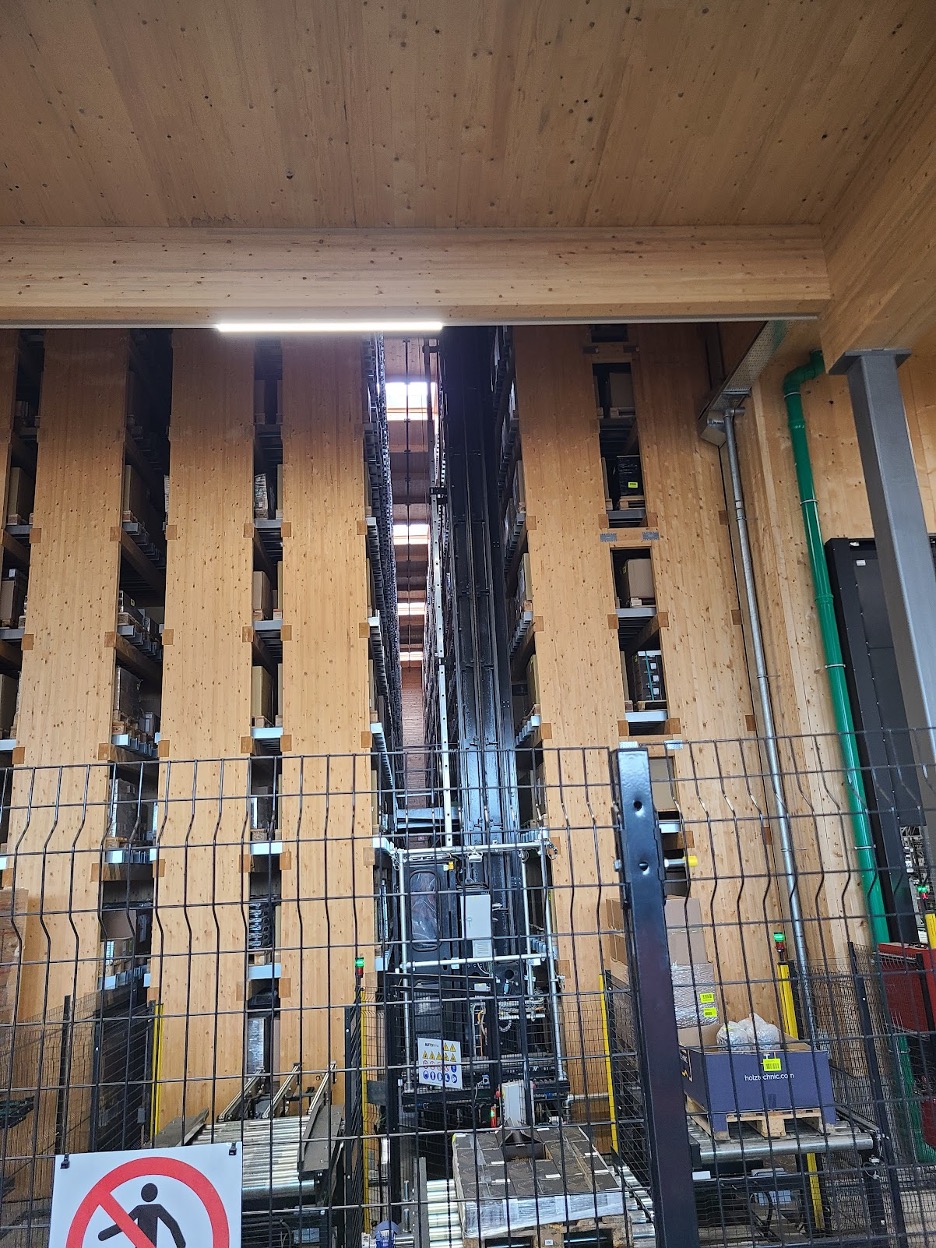 This warehouse design reflects Rothoblaas' grounding in the culture and history of wood construction (Photo 3) as well as its engagement in innovation an education in the mass timber industry.
My host for the day, Matteo Andreottola, directs the Rothoschool program, which offers training programs on a variety of topics in online, or in-person. For example, a two-day "Theory in Practice" seminar to be offered in November 2022 blends practical installation information with theoretical insights about mass timber design, engineering, and construction.
While I felt like a kid in a candy store checking out the warehouse, gawking at various design features, timber elements, and interesting connections (Photo 4, Photo 5, and Photo 6), maybe the coolest part of the visit was seeing the R&D lab. It was a great place to get a sense of Rothoblaas' product innovation and development initiatives on topics such as water intrusion, heat, and UV testing on membranes and tapes; torque and insertion testing of new structural fasteners; fastener testing with different wood species (like Douglas fir from the U.S.); and abrasion testing of membranes. I also witnessed the aftermath of seismic testing on a variety of fasteners (Photo 7).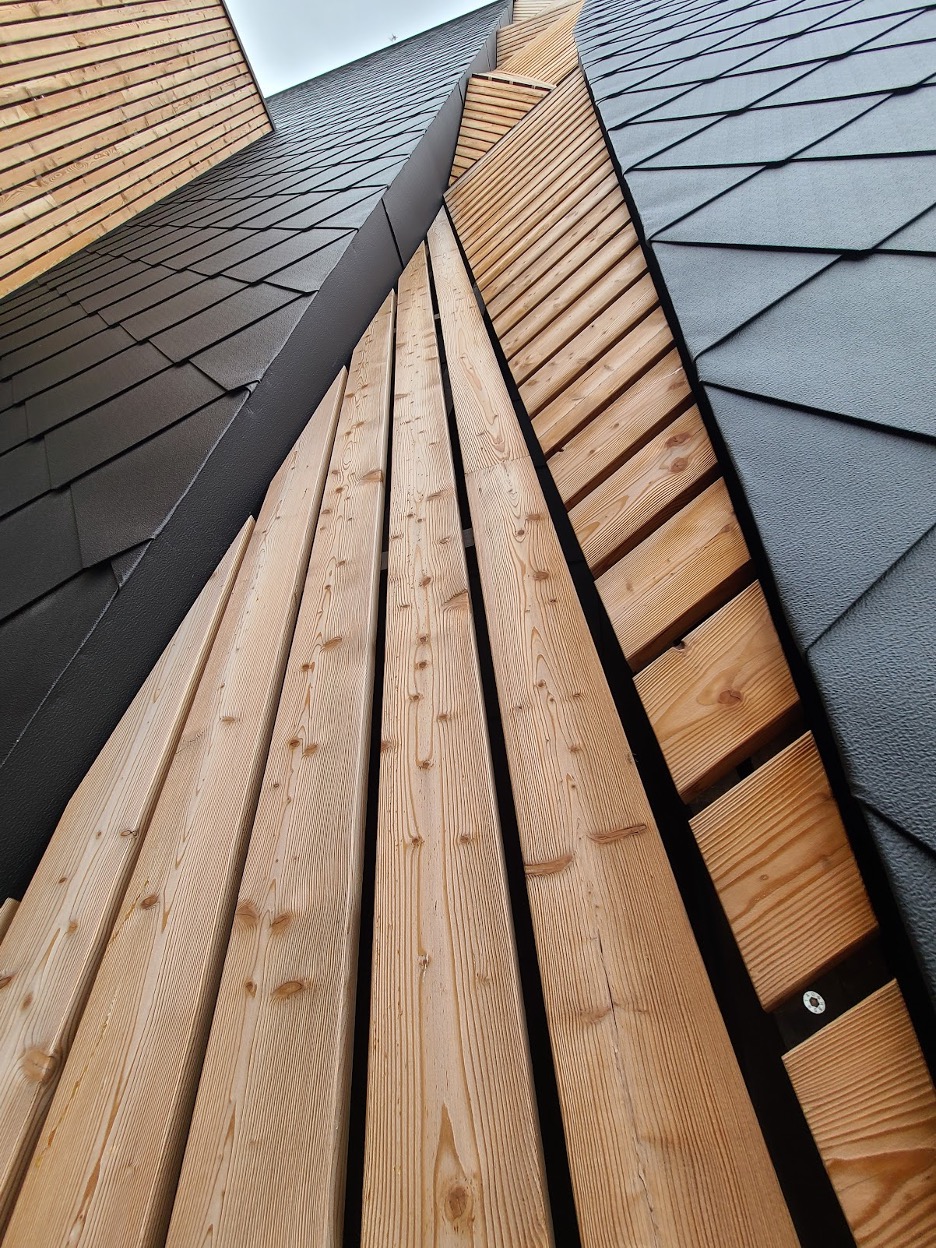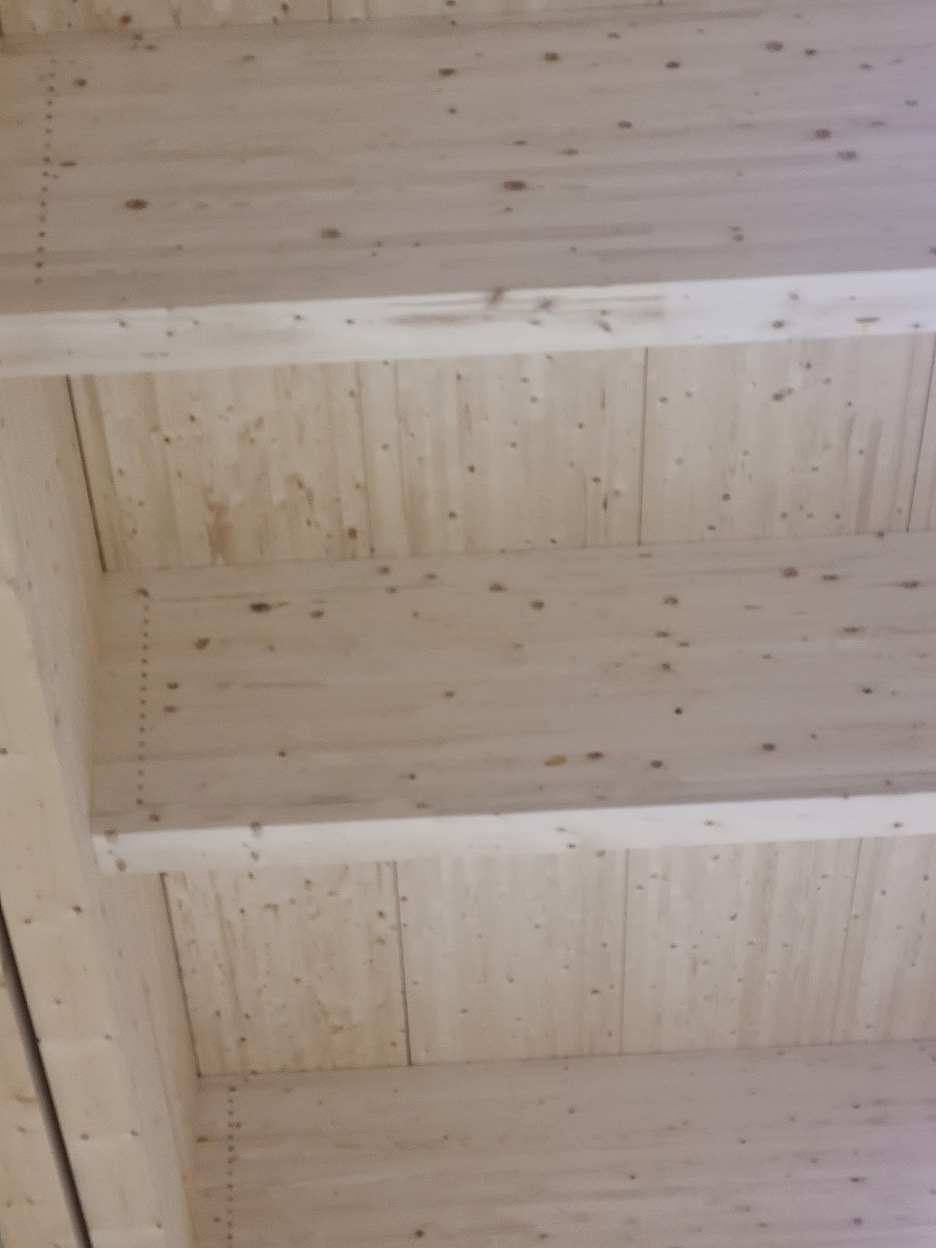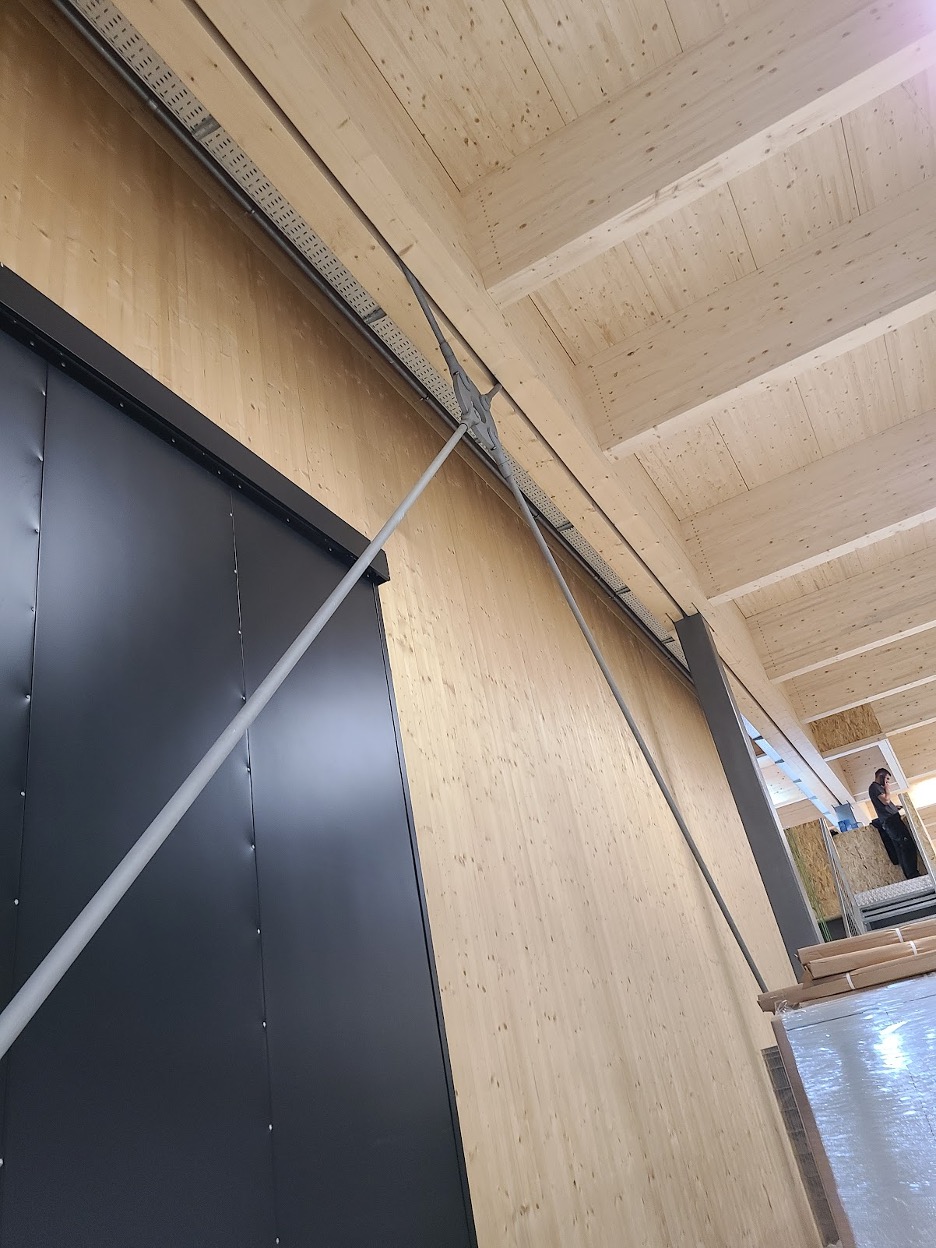 At the end of the visit, I got to see Rotohblaas' latest teaching and training innovation, which I'll call the "mini-mockup (Photo 8)." This pallet-mounted model shows a variety of fastener and connector types as well as membranes and envelope systems. The small size makes it easy (and inexpensive) to transport, as well as very easy to store and use; it also comes in a relatively reasonable price point. We have a larger mockup (8'x8'x12') in our construction management lab at MSU (Photo 9), but recognize that many schools don't have that kind of floorspace or the financial support to procure something of this size. [We're now preparing to use the mini-mockup, in addition to the larger one currently in our lab, as part of our NSF mass timber curriculum development project.]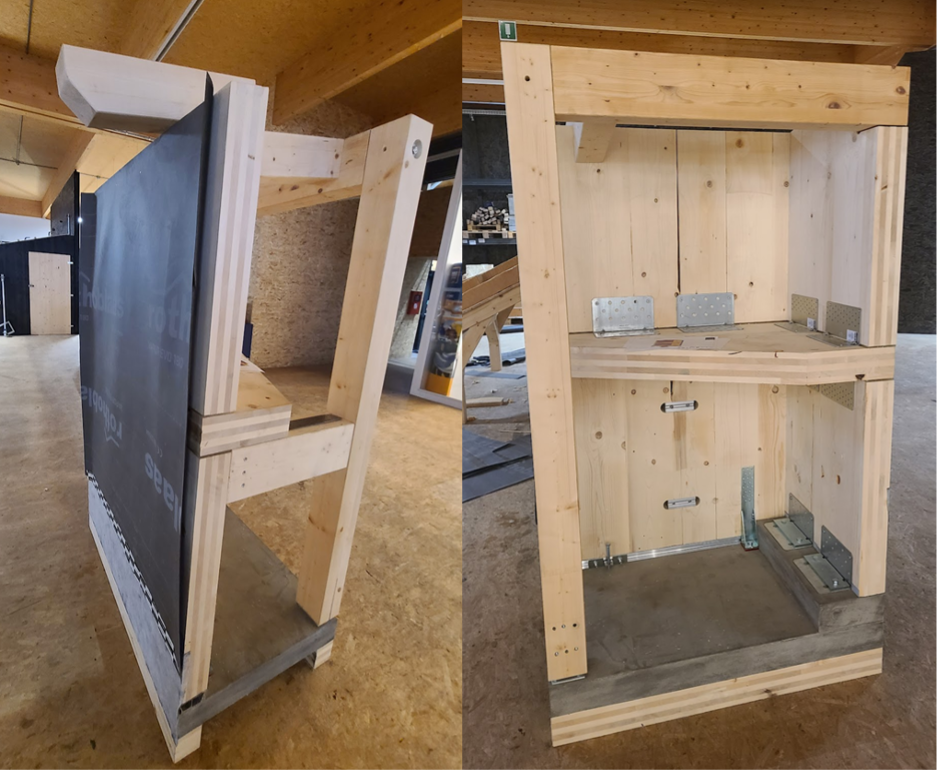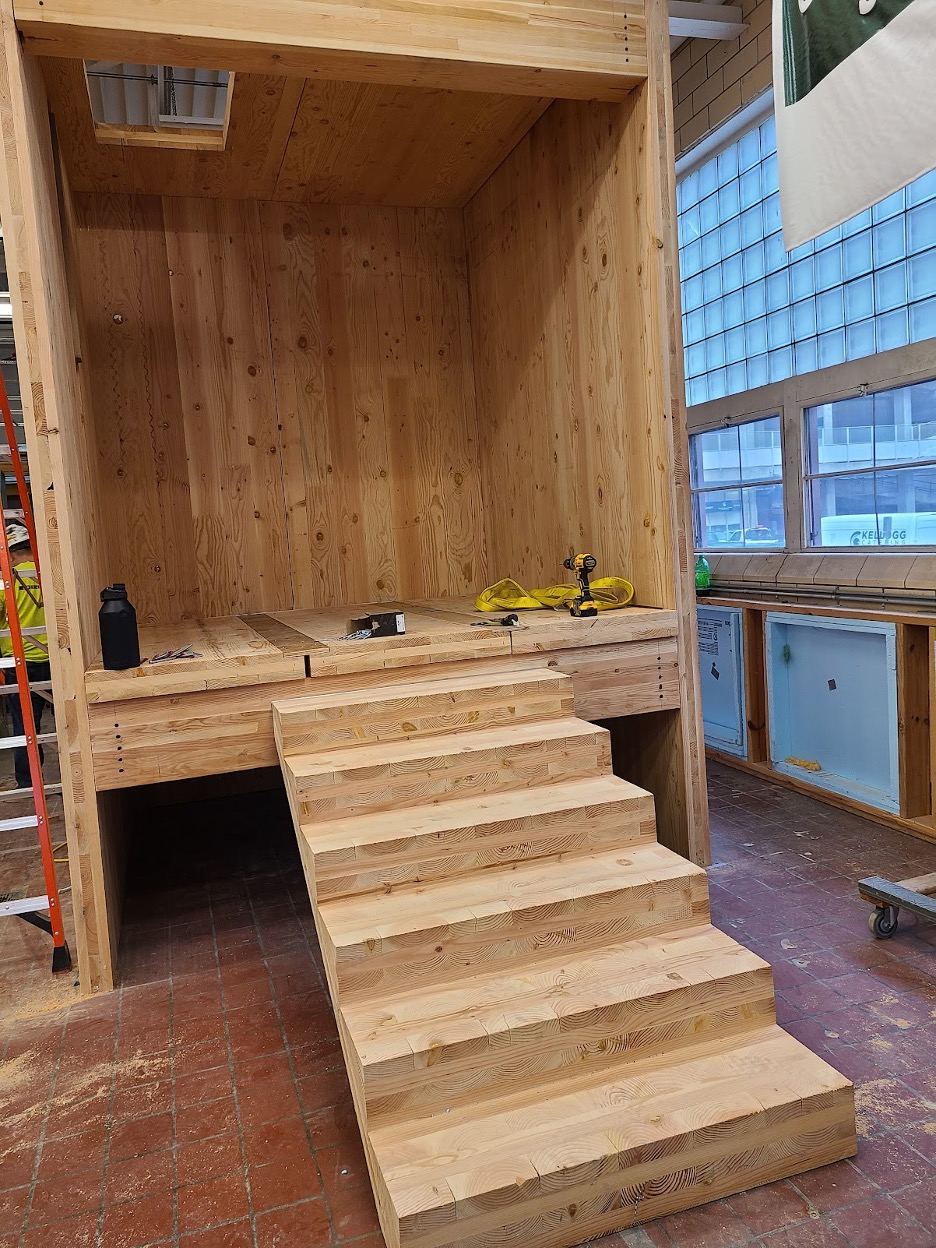 The rest of the day I enjoyed meetings and collaboration discussions with Albino Angeli from XLAM Dolomiti, a mass timber producer; Franco Piva from Ergodomus, a mass timber structural engineering firm; and Alessandro Orsi from Green Building Factory, an Italian construction management firm specializing in delivering sustainable construction. After that, it was time for a Rothobeer in the Rothoblaas company café. The last thing I learned (well, was reminded of!) – thanks to the label on that beer – is that mass timber is a field that's full of extraordinary people! (Photo 10) And I got to meet two of them over that beer – Rothoblaas co-founders Robert Blaas and Peter Lang. I may have had a brief "Stan" moment, but what an uplifting end to an inspiring day!