Eleven 4-H members receive 2023 Michigan 4-H Mark of Excellence awards
Mark of Excellence contest portrays learning experiences of 4-H members.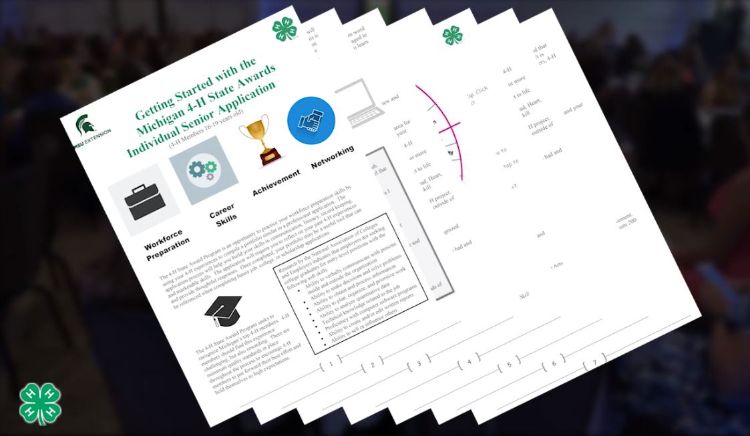 Every year, 11- and 12-year-old Michigan 4-H'ers reflect on the theme of "Because of 4-H, I can . . ." for the Michigan 4-H State Awards Program 4-H Mark of Excellence contest. Youth may submit a video or journal entry with their reflections and each Michigan county 4-H program may select two entries to be recognized as winners.
Some contest participants described how their 4-H experiences have allowed them to make new friends, try new projects, explore new places and help their dreams come true. Some credited 4-H with helping them increase their public speaking skills, confidence and time management skills. Other 4-H'ers expressed excitement about their club meetings, events, exhibits and community service projects.
"These young members have an exciting future ahead of them – both in 4-H and in life," said Julie Chapin, state leader for Michigan 4-H and director of children and youth programs for Michigan State University Extension. "The Mark of Excellence contest is a great way to engage youth in thinking critically about their experiences while also recognizing them for all the ways they've grown through 4-H."
Overall, 11 4-H members from nine counties were honored as 2023 Mark of Excellence state winners.
Cecelia Aulph of Monroe County
Gwendolyn Berry of Branch County
John Jinks of Monroe County
Levi Johnson of Cass County
Natalie Keen of Oakland County
Jazzmyne Kowalski of Alpena County
Brady Pullins of Berrien County
Conner Shirk of Cass County
Dodge Sundberg of Menominee County
Jinger Vantroostenberghe of St. Clair County
Ezri Westrate of Allegan County
Each recipient received a medal, and their winning entries were added to the Mark of Excellence history book at the Michigan 4-H Foundation and State 4-H Office at MSU Extension.
To learn more about Michigan 4-H Youth Development, contact your local MSU Extension office or visit the Michigan 4-H website.