Michigan 4-H members place second at National Junior Dairy Management Contest
The team from Clinton County traveled to Harrisburg, Pennsylvania, to represent Michigan after winning the state contest in July.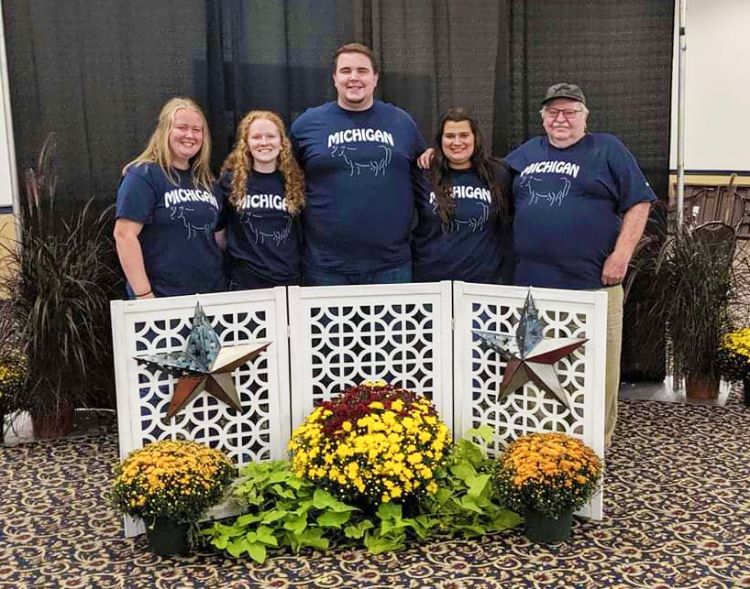 Four Clinton County 4-H members traveled to Harrisburg, Pennsylvania, to compete against other 4-H and FFA teams at the National Junior Dairy Management Contest on Tuesday, Sept. 17, 2019. This contest, held in conjunction with the All-American Dairy Show, tests the practical dairy knowledge of content participants. Youth complete seven stations with questions that cover dairy cattle conformation and linear scoring of live animals, as well as paper classes that cover topics such as farm finance, calf care, dairy farm safety, identifying and evaluating feed stuff, and agronomic considerations for dairy farms. The contest supplies study materials to help the teams prepare, but the journey to Harrisburg started long before the guide was released.
For the Michigan team to earn the invitation to compete, they had to win the state contest during Michigan 4-H Youth Dairy Days held the third week of July. This year, 12 teams competed in the Senior Division, each vying for their chance to take their talents to the national stage. The team from Clinton County, consisting of Madison Halfman, Adalee Thelen, Ian Black and Kassidy Thelen, rose to the top this year. They practiced for weeks before the state contest, learning information related to a wide range of dairy cattle management topics, including cow comfort, feed identification, cattle anatomy and physiology, and much more. After taking home the blue ribbon in July, the team continued to meet and practice as they prepared for Harrisburg.
Months of hard work paid off as the Michigan team placed second overall in 4-H division of the contest. 4-H and FFA participants are combined for the individual awards and Michigan took home ribbons for three of the top 10 spots: Madison Halfman was sixth, Adalee Thelen was seventh and Ian Black was ninth.
Coach Rodney Pennock traveled with the team and has been helping them prepare for the contest. In looking back as the success of this summer in Michigan and now in Harrisburg, Pennock commented, "Luann Learner, a fellow 4-H volunteer, and I helped this team prepare since May in hopes to compete in Harrisburg. The 4-H members reached their goal by winning the state contest and continued to work hard with hopes of placing well in the national contest. I was very pleased with how the kids did as the stations were very difficult. I have been taking 4-H members to this competition for many years and this by far had the most challenging content.
"I am very proud of the work they put in and how they competed. On the way back to Michigan, we made a stop at the Flight 93 Memorial near Somerset, Pennsylvania, so the youth could see the sacrifice many Americans made on 9/11 and learn more about this event in American history."
4-H youth from Clinton County will next represent Michigan at the 2019 North American Invitational 4-H Dairy Quiz Bowl, Nov. 8-9, 2019, held in conjunction with the North American International Livestock Exposition in Louisville, Kentucky.