Michigan youth attend National 4-H Dairy Conference
Nine 4-H members from across Michigan traveled to Madison, Wisconsin, to learn about the national and global dairy industries.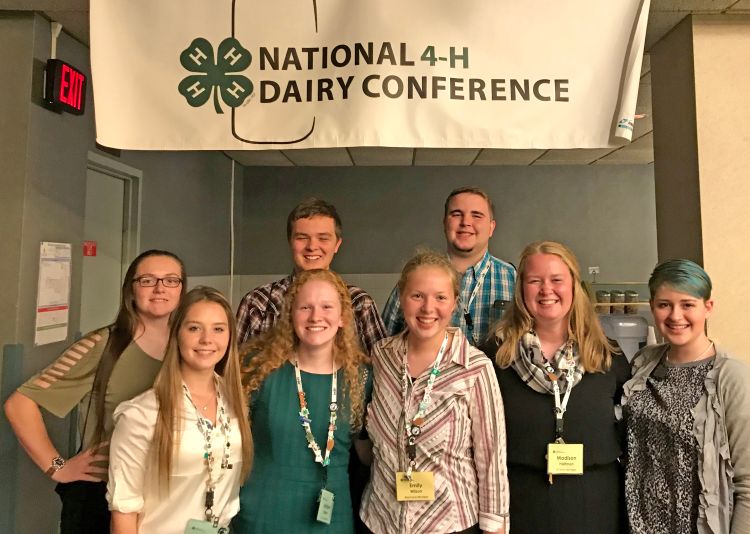 October is an exciting month for the dairy industry as all eyes turn to Madison, Wisconsin for World Dairy Expo. The World Dairy Expo mission is to "serve as a forum for dairy producers, companies, organizations and other dairy enthusiasts to come together to compete, and to exchange ideas, knowledge, technology and commerce." Cow people from around the globe gather in Madison for a week, including over 200 4-H members, volunteers and staff from the U.S. and Canada to attend the National 4-H Dairy Conference. The conference is a youth centered educational experience where delegates lead, learn and network over four days at the University of Wisconsin-Madison campus.
Eight Michigan youth attended the 2019 conference: Ian Black, Madison Halfman, Paige Remenar and Adalee Thelen of Clinton County; Hope Shilling of Branch County; Joshua Tripp of Ottawa County; and Emily Wilson of Isabella County. Addy Battel of Huron County attended the conference as both a planning committee member and a delegate. Battel attended the 2018 conference where she applied and interviewed to be on the 2019 planning committee. She, along with two other youth, were selected and attended monthly conference calls, offered insight on what worked well and what didn't with the conference schedule, were largely the social media voice of the conference, and much more.
The 2019 conference kicked off with a bang on Sunday as members of the UW-Madison marching band welcomed delegates to the Lowell Center with a brass and percussion performance. The energy and excitement generated during the first night carried throughout the conference as participants visited dairy business, farms and historical sites around greater Madison.
After a good night's sleep, all conference delegates hit the road Monday morning for a visit to ABS Global to learn about bull breeding and the latest in reproductive technologies. The group then headed to Fort Atkinson to see the National Dairy Shrine, Hoard's Publishing, Hoard's Dairy Farm and NASCO.
Tuesday was a day full of educational sessions, learning about the science of dairy foods and a career skills assessment to help youth see future paths they might not have considered. At night, everyone traveled to the Crave Brothers' Farm to tour the farm, sample cheese and enjoy a relaxed dinner with new friends.
Wednesday was the day when conference delegates made their way to World Dairy Expo to explore the grounds, sample dairy products, watch cow shows and much more. This is the first time many youth have attended World Dairy Expo, but it certainly won't be the last.
In addition to tours, educational sessions and farm visits, industry partners speak to the delegates at almost every meal. These presentations include their experiences of the dairy industry from youth to adulthood, insights into the future of where the global dairy industry is moving, and sound advice to be successful in the future. Many of the speakers once attended the National 4-H Dairy Conference when they were younger and understand where the delegates are coming from.
Any 4-H member 15-18 years old who has been enrolled in the 4-H dairy project for at least three years is welcome to attend the conference. Applications and registrations are available in July with travel just a few months later. Many Michigan youth earn a scholarship from the Michigan Milk Producer Association (MMPA) to attend the National 4-H Dairy Conference, greatly reducing their out of pocket expenses.
To earn the MMPA scholarship, youth participated in the 4-H/MMPA Milk Market Tour in June. During this two-day event held at MMPA headquarters in Novi, Michigan, youth learn about cooperatives, milk testing, the dairy markets, tour a processing plant and engage in teamwork to enhance learning. At the end of the tour, participants take a short quiz and those who score the highest are invited for an interview during Michigan 4-H Youth Dairy Days. After the interviews, five youth are selected who worked hard and earned their trip to the conference.
For more information on the 4-H/MMPA Milk Marketing Tour, the National 4-H Dairy Conference or other 4-H dairy programming in Michigan, please contact Melissa Elischer at 517-432-4306 or elischer@msu.edu.