Michigan 4-H partners with UDIM to 'Meet Up and Eat Up'
A new partnership with United Dairy Industry of Michigan provides health-based activities for youth.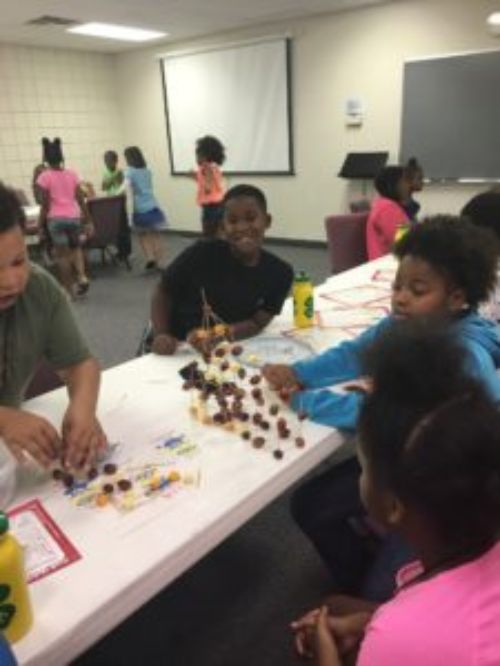 The United Dairy Industry of Michigan (UDIM) and Michigan 4-H together provided healthy living learning activities at Meet Up and Eat Up sites across Michigan.
Meet Up and Eat Up is a summer food service program offered across the state to ensure that children in need receive nutritious meals during long school vacations. The program is operated at the local level by program sponsors and is administered by the Michigan Department of Education Office of School Support Services.
"There are many children who are dependent upon school-based meals," said Emily Mattern, UDIM school nutrition program manager. "We want to be sure that kids have that opportunity during the summer as well."
In fact, according to the Michigan School Data from the Michigan Department of Education, nearly half of Michigan children are eligible to receive free or reduced-price lunches.
To increase youth participation in the Meet Up and Eat Up program, Michigan 4-H partnered with UDIM to provide healthy learning activities centered around nutrition that include dairy.
"One way that we've noticed an increase in the number of meals served is by offering activities for kids," Mattern said. "So we thought that by partnering with 4-H, we would offer educational, fun activities and help draw in more kids."
A longtime partner of the summer food service program, UDIM is the umbrella organization for the Dairy Council for Michigan and the American Dairy Association of Michigan, dedicated to providing science-based dairy and nutrition information for a healthier society. They had the funding and curriculum but needed a structured way to deliver the activities to local communities.
"This partnership is very significant and allows 4-H to focus on the fourth 'H' – health," said Kea Norrell-Aitch, MSU Extension 4-H educator. "The kids involved qualify for free or reduced lunches during the school year. Meet Up and Eat Up makes sure the kids have a nutritious lunch during the summer. This was a way to get resources to youth benefitting from the Meet Up and Eat Up program."
"It makes sense to have programs in place around health to ensure youth are leading healthy lifestyles – not just eating fruits and vegetables, but also eating dairy and a balanced diet overall and are being physically active."
The project was developed at the beginning of the summer and 4-H quickly responded to deliver the activities.
UDIM identified counties they were interested in piloting the program in. 4-H then looked at counties which already had healthy living programs in place, in order to respond and put the program in place quickly.
The health-based activities were held at six sites in Genesee, Ingham, Saginaw and Wayne counties from mid-June through August 2017. 4-H and UDIM curricula were combined to offer a variety of activities from nutrition and healthy eating to gardening and physical fitness. Each county and site offered slightly different programming on the basis of local resources and needs.
In Saginaw and Genesee counties, the activities primarily focused on nutrition and healthy living.
"Kids would make healthy snacks on-site, then take the recipe home to make with their family," she said. "Allowing kids to participate in an activity and taking the recipes home to share with parents will help to build a more healthy family."
The two sites in Ingham County offered both nutrition and physical fitness activities.
"One of the sites had a playground and another site had a field. These sites were able to offer activities for youth to play tag, jump rope and get active outside in addition to the health and nutrition activities."
In Wayne County, nutrition and gardening activities were offered. Youth learned first about the importance of eating fruits and vegetables, then planted peas, broccoli and green beans in a planter.
"The UDIM activities were fun and led into the education and important of drinking milk, eating dairy and eating a well-balanced diet," Norrell-Aitch said.
Not only did the initiative get the word out about the importance of living healthy, it also helped to promote 4-H to new audiences.
"Sometimes those in urban areas are not aware of 4-H. This was a great opportunity to bring awareness of 4-H to the people of Detroit, Flint, Saginaw and Lansing," Norrell-Aitch said.