Michigan 4-H State Youth Leadership Council welcomes new members
Fourteen youth from 11 counties were selected for leadership roles on the Michigan 4-H State Youth Leadership Council.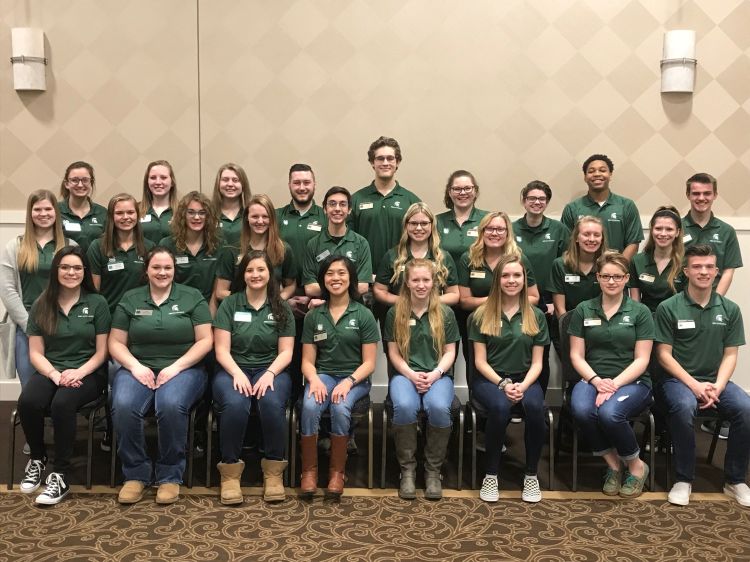 The Michigan 4-H State Youth Leadership Council serves as the premier leadership opportunity for Michigan 4-H members. The council brings together youth from across Michigan to learn about their unique 4-H experiences in order to gain a better understanding of 4-H programs statewide, making them natural spokespeople for the Michigan 4-H program as a whole. Additionally, the council serves as an avenue for youth voice and perspective on statewide 4-H programs and priorities.
This year, 2019, celebrates the fifth year of the council. Since its inception, 69 youth have been selected to serve on the council representing 34 counties across Michigan. The council continues to increase in its popularity, with more applicants applying each year beyond the capacity of the council.
In 2018, State Youth Leadership Council members represented state and local 4-H programs over 35 times throughout the year ranging from awards programs, promotional events and media interviews. The council also established task-centered and youth-driven committees, providing increased opportunities for leadership across the council. Since 2017, four youth completing their terms as State Youth Leadership Council members increased their leadership responsibilities, serving as peer-advisors for the council, working alongside the adult staff advisors. All decisions related to organizational and leadership structure are driven by the members.
The new State Youth Leadership Council members in 2019 are as follows. They will serve on the council through December 2020, serving a two-year term.
Jenna Budd, Belleville, Wayne County
John (Jack) Collins, Sturgis, St. Joseph County
Katherine Erickson, Kingsford, Dickinson County
Alivia Funchion, Monroe, Monroe County
Ajani Knox, Rochester, Oakland County
Savannah Mauk, Grand Ledge, Eaton County
Myranda Montoye, Chelsea, Washtenaw County
Makyla Nelson, Ravenna, Ottawa County
Maezie Nettleton, Chatham, Alger County
Amy Saxton, South Boardman, Kalkaska County
Mathew Seidel, Troy, Oakland County
Jael Tombaugh, Potterville, Eaton County
Abby VanDyk, of Kalamazoo, Kalamazoo County
One member applied and was selected for a second two-year term on the council. Katrina Lomas of Monroe, Monroe County, will complete her second and final term in December 2020.
These youth join existing State Youth Leadership Council members on the second year of their two-year term, concluding their respective terms in December 2019.
Addy Battel, Cass City, Huron County
Miriam Cook, Pewamo, Clinton County
Pearl Daskam, Ubly, Huron County
Noah Doederlein, Carleton, Monroe County
Jade Ebels, Hersey, Osceola County
Torey Fischer, Battle Creek, Calhoun County
Lillian Gendron, Munising, Alger County
Brooke Gersewski, Lachine, Alpena County
Ethan Harbaugh, Monroe, Monroe County
Jacie King, Burr Oak, St. Joseph County
Asya Modert, Bronson, Branch County
Allie Purves, Clarkston, Oakland County
Grace Schmidt, South Lyon, Livingston County
Bailey Welshans, Ann Arbor, Washtenaw County
Carrie Willoughby, Shepherd, Isabella County
The staggering of terms provides an opportunity for second-year members to serve in leadership roles within the council and after they've had a year to learn about the group, its dynamics and goals.
Based on their availability, State Youth Leadership Council members are able to visit counties to enhance educational offerings, assist with recognition events or promote 4-H programs locally. To schedule a visit from a State Youth Leadership Council member, please contact staff advisor Jackie Martin at marti623@msu.edu or 734-222-3877.
Applications for the 2020 Michigan 4-H State Youth Leadership Council will be available this summer. Additional information on Michigan State University Extension youth leadership and civic engagement programs are also available at MSU Extension's Leadership, Citizenship and Service website. To see the kind of impact these types of programs have on youth, we highly encourage you to look at MSU Extension's Impact Reports.