Michigan floriculture: Cultivating beauty
A new video shows behind-the-scenes production of flowers in Michigan greenhouses.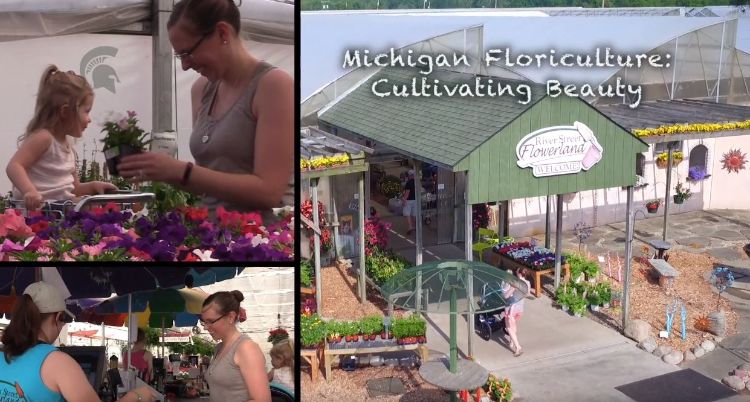 Do you know how the flowers you buy in a retail garden center are grown? Do you know all that it takes to get there? Do you know where Pure Michigan stands compared to other states in the U.S. regarding flower production?
Michigan has the third largest production of ornamental plants ($409 million) in the nation behind the Golden State (California; $1.08 billion) and the Sunshine State (Florida; $1.03 billion). In Michigan, it is the third most valuable agriculture commodity crop, behind corn ($1.07 billion) and soybeans ($938 million), according to the 2016 survey performed by the National Agriculture Statistics Service. Yes! The third most valuable! Other valuable commodities following floriculture in Michigan include apples ($239 million), potatoes (174 $million), sugarbeets ($211 million), wheat ($205 million) and blueberries ($130 million).
In the fall, while most gardeners in Michigan are putting their gardens to bed for the winter, greenhouse growers are just starting the production of flowers for spring sales. As one of the largest states producing young transplants to be sold to other greenhouse growers, planting starts between Thanksgiving and the first week of December. With such an early start, Michigan greenhouses ship plants generally east of the Rocky Mountains into the entire eastern United States.
So, you might ask, "What are greenhouse growers so busy doing during winter?" Find out in the new video produced by Michigan State University Extension, "Michigan Floriculture: Cultivating Beauty"
The main steps of producing flowers for retail sales can be seen in the video:
Planting of seeds into flats or liners (containers with small cell sizes in order to maximize efficiency).
Sticking vegetative cuttings (small part of a stem with one to three leaves) that are produced at off-shore stock plant facilities.
Misting young plants so they root into the growing media.
Transplanting young transplants into larger containers, including hanging baskets.
Placing the newly-planted containers into the greenhouse to grow for three to 16 weeks.
Shipping plants to garden centers.
Consumers purchasing plants in the garden center.
Consumers planting flowers to beautify their homes.
Interested in how other agricultural products are made? Check out the pickle production video, "Michigan Pickles are the Real Dill" and the cherry production video, "Michigan Cherries: Shaken, Not Stirred!"
Thank you to the Western Michigan Greenhouse Association for providing the funding to make this video possible.