Michigan grape scouting report – Sept. 16, 2020
Harvest is starting for several hybrid and vinifera grapes in southwest Michigan. Northwest Michigan grape harvest will start soon.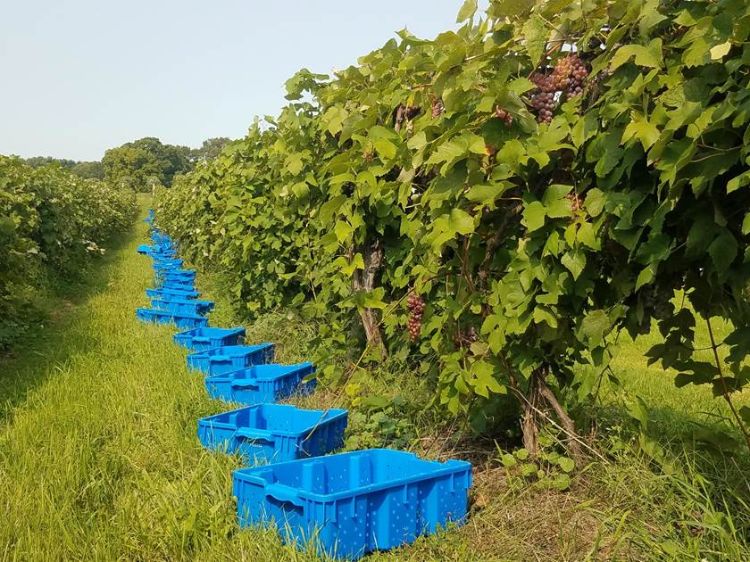 Weather
The past week was cooler across Michigan. Southern parts of the state saw highs in the mid-60s rising to the low 70s by the weekend. Northern areas were cooler, starting in the 50s for highs, eventually reaching 60s by the weekend. Much of the state saw 0.5-1.5 inches of rain on Wednesday and Thursday, Sept. 9 and 10. A second round of rain came on Saturday, providing the northern regions with another half inch of rain, but only leaving trace amounts further south. The cooler weather is expected to continue, with highs in the 60s, rising to the low 70s by next week. Lows are expected to drop into the 40s further south, with mid-30s likely in several grape growing areas further north. A small chance of scattered rain is expected on Thursday.
With the very cool week across the state, we accumulated significantly fewer growing degree days (GDD) compared to the week before: only 30-70 GDD base 50 last week. The southwest region is 550 GDD base 50 ahead of the northwest region.
Northwest Michigan GDD summary from March 1 – Sept. 14, 2020
Southwest Michigan GDD summary from March 1 – Sept. 14, 2020
Southeast Michigan GDD summary from March 1 – Sept. 14, 2020

Northwest stations

GDD 50 F

GDD 47 F from wild bloom (grape berry moth model)

Petoskey (Petoskey)

1908

1828

Traverse City (NWMHRC)

2109

2042

Old Mission (Old Mission)

2052

1947

Avg for NW region

2026

Average last week

1997

Southern stations

GDD 50 F

GDD 47 F from wild bloom (grape berry moth model)

Benton Harbor (SWMREC)

2648

2581

Lawton (Lawton)

2585

2470

Fennville (TNRC)

2403

2316

Avg for SW region

2574

Avg last week

2502

Romeo (Romeo)

2487

2388

Romeo last week

2418
Note: Wild grape bloom dates are estimates. See "Mid-season management of grape berry moth" for bloom dates.
Vine growth
Harvest of table and wine grapes is increasing in southern Michigan. Varieties being harvested include Canadice, Albarino, Frontenac Gris, Gruner Veltliner, Marechal Foch, Pinot Gris, Sauvignon blanc and Vignoles, among others. Pinot Noir and other red cultivars are currently being harvested for sparkling wines. In the northern part of the state, some early super-hardy hybrids are being harvested for sparkling production.
During fruit maturation, bird damage is a challenge in vineyards. Crop losses can reach up to 95% and 60% in red and white varieties, respectively. Several methods of protection can be implemented including the use of bird nets, streamers, scare-eye balloons, electronic bird distress calls and propane-fired bird-scaring cannons. For more information on these methods, see: Bird damage reduction strategies in viticultural practices.
| Variety | Northwest region (degrees Brix) | Southwest region (degrees Brix) |
| --- | --- | --- |
| Pinot Noir | 20.1 | -- |
| Pinot Gris | 20 | 17.4 |
| Pinot Blanc | 20.1 | 16.9 |
| Cabernet Franc | 17.8 | 16.6 |
| Zweigelt | 19 | -- |
| Riesling | 16.1 | 16.7 |
| Madeleine Angevine | 20.4 | -- |
| Chardonnay | 20.5 | -- |
| Valvin Muscat | 15 | 16.6 |
| Sauvignon Blanc | -- | 20.2 |
| Sauvignon Gris | -- | 22.1 |
| Seyval Blanc | -- | 20.9 |
| Chancellor | -- | 18.0 |
| Concord | -- | 15.2 |
| Niagara | -- | 15.1 |
Weeds
Weed control is important at this time of year for both harvested vineyards and blocks yet to be harvested. Weed control in non-harvested vineyards is mainly important to reduce weed interference in machine or manual harvest and to reduce the soil weed seed bank for the following season.
The application timing for most of the herbicides before harvest is mainly based on the preharvest interval (PHI). Aim (three-day PHI), Rely (14-day PHI) and Gramoxone (Restricted Use Pesticide) provide quick burn-down of weeds. Rely and Gramoxone control both broadleaves and grasses, but Aim is only effective for broadleaves. Venue (zero-day PHI) can be added to improve burn-down and broaden the weed control spectrum. Some herbicides will damage grape green bark, new shoots, leaves or vines, so minimize contact with vines during application.
Glyphosate also has a short 14-day PHI, but it is not advisable to apply it after bloom. Significant injury may occur during the current season or the following year if glyphosate comes in contact with leaves, green shoots or is absorbed by bark.
After grape harvest, weed control might not be the top priority for many vineyards. However, fall is the best time to control perennial weeds and apply residual herbicides to vineyard floors. After harvesting, the most important step is to perform thorough scouting of your vineyard and prepare the list of weeds that are problematic in your vineyard.
The next step is to select the herbicides in combination with non-chemical management tools that are effective against these weed species. Fall applications of preemergence herbicides should be made before the soil freezes. Preemergence herbicides such as Alion (indazaflam), Princep (simazine), Solicam (norflurazon), Casoron (dichlobenil), Kerb (pronamide), Goal Tender (oxyfluorfen), Prowl H2O (pendimethalin), Chateau (flumioxazin) and Matrix (rimsulfuron) may be applied in fall.
Detailed information related to the herbicide rates and efficacy on weeds can be obtained in the Herbicide section of E0154 Michigan Fruit Management Guide, which contains lists of all currently labeled herbicides along with specific remarks for their use in vineyards.
Diseases
The disease focus for most grape growers in Michigan is on cluster rots. Botrytis symptoms are becoming more widespread as Brix levels continue to increase. Sour rot is also starting to show up in southern vineyards.
Several strategies contribute to good botrytis bunch rot management. These include opening up the canopy, properly applying fungicides and using resistant cultivars when possible. Good botrytis control depends on getting good coverage. Fungicide resistance management is also important. The most effective products for botrytis are site specific and prone to resistance development. A new Michigan Grape Fact Sheet is now available for managing botrytis bunch rot.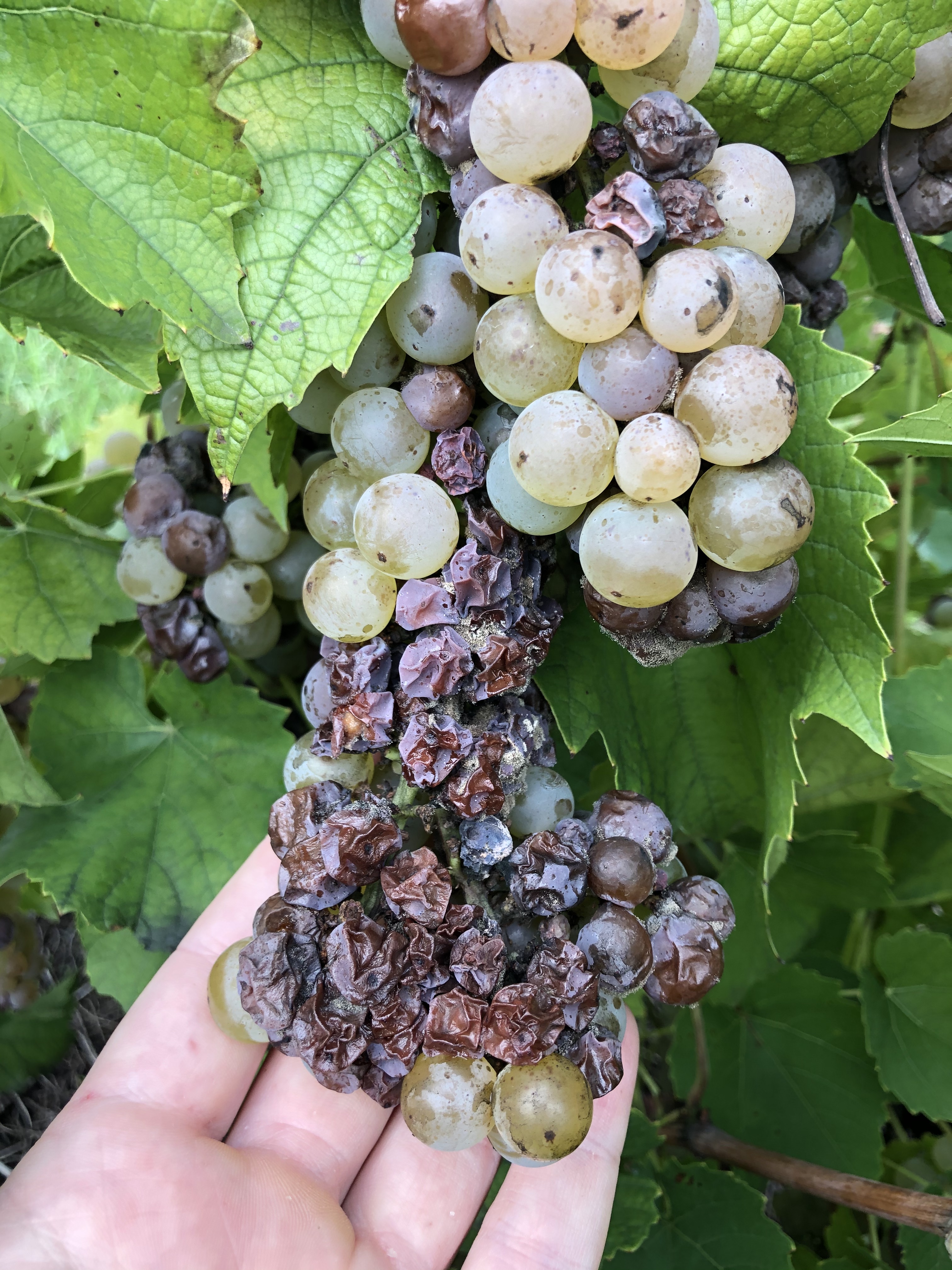 Sour rot can be particularly difficult to control on tight clustered varieties. Enhancing airflow through the canopy and clusters can help, so leaf pulling, thinning, shoot positioning and weed control can all provide some reduction in sour rot risk. Another important aspect of control is preventing berry damage (e.g., bird pecks, insect feeding and mechanical damage) to reduce the initiation of berry infections. We are finding more cracked berries, too, after the recent rainfall events.
Combining an insecticide with a contact fungicide can be effective in managing both the insect vector and the pathogen. In high risk cultivars (e.g., Vignoles) and in hot and humid conditions, these treatments should be applied before symptom development and clusters have reached 13-15 degrees Brix. Under high disease scenarios, reapplication may be needed on seven- to 10-day intervals until harvest, with careful attention to preharvest intervals.
At this time, we continue to be concerned about defoliation caused by downy mildew. Premature defoliation will reduce vine winter hardiness. This article provides more information on late season downy mildew control.
This is a good time to collect soil samples for nematode testing. Nematodes feed on vine roots, causing symptoms that can be misdiagnosed as abiotic stress or nutrient deficiency. Several of the most important nematodes vector plant viruses such as tobacco and tomato ringspot virus. See this announcement about nematodes and sampling for them. If you are interested in taking samples and testing, you can send them to MSU Plant & Pest Diagnostics.
A complete list of grape fungicides can be found in the E154 Michigan Fruit Management Guide. Check the guide for potential phytotoxicity of certain sprays on Concord grapes especially. Phytotoxicity risk is higher with high temperatures and quickly growing vines. One important thing to remember at this time of year is to keep track of preharvest intervals for fungicides.
Insects
The recent cool weather has slowed down development of damage from grape berry moth and other insects. For cultivars more than a week or two from harvest, this cool weather is providing a welcome window for planned sprays. Egglaying of the fourth generation of grape berry moth is predicted to begin at 2,430 GDD base 47 from the spring biofix of wild grape bloom. Much of southwest Michigan met this threshold in the past week. Egg hatch is 100 GDD base 47 later. This time of year, that is typically a week to a week and a half after the start of egglaying.
This timing will result in the fourth generation overlapping with harvest season this year, potentially requiring control in some hot spots. Preharvest intervals will be especially important for the earliest harvested wine grape cultivars and early Niagara blocks harvested in late September. For the later harvested wine grapes, Concords and the last round of Niagara grapes, there is still time for the longer-lasting products to used. See "Berry moth control: Preparing for the 2020 grape harvest" for more details.
Yellowjacket populations are increasing in vineyards, especially during warm, sunny days. They are attracted to the accumulating sugars in the berries. Yellowjackets can be very damaging to the berries directly, causing wounds that can lead to cluster rots and reducing harvestable crop. They can also be frustrating to sprayers and harvest crews, trying to avoid being stung while working with the ripening grapes. The colder conditions over the next week will reduce their activity.
Vinegar flies are a fact of life in grape production, but with the presence of the invasive spotted wing Drosophila in Michigan, it is more important to keep a regular check on clusters for development of vinegar flies in berries. The presence of vinegar flies in berries can be determined by putting fruit into a gallon bag with half a pint of strong salt solution for an hour, and then looking in the solution to determine whether there are larvae present. If treatment is needed, there are several short PHI insecticides available. Be aware, resistance has been documented for pyrethroids in vinegar flies in other states and is being evaluated in Michigan.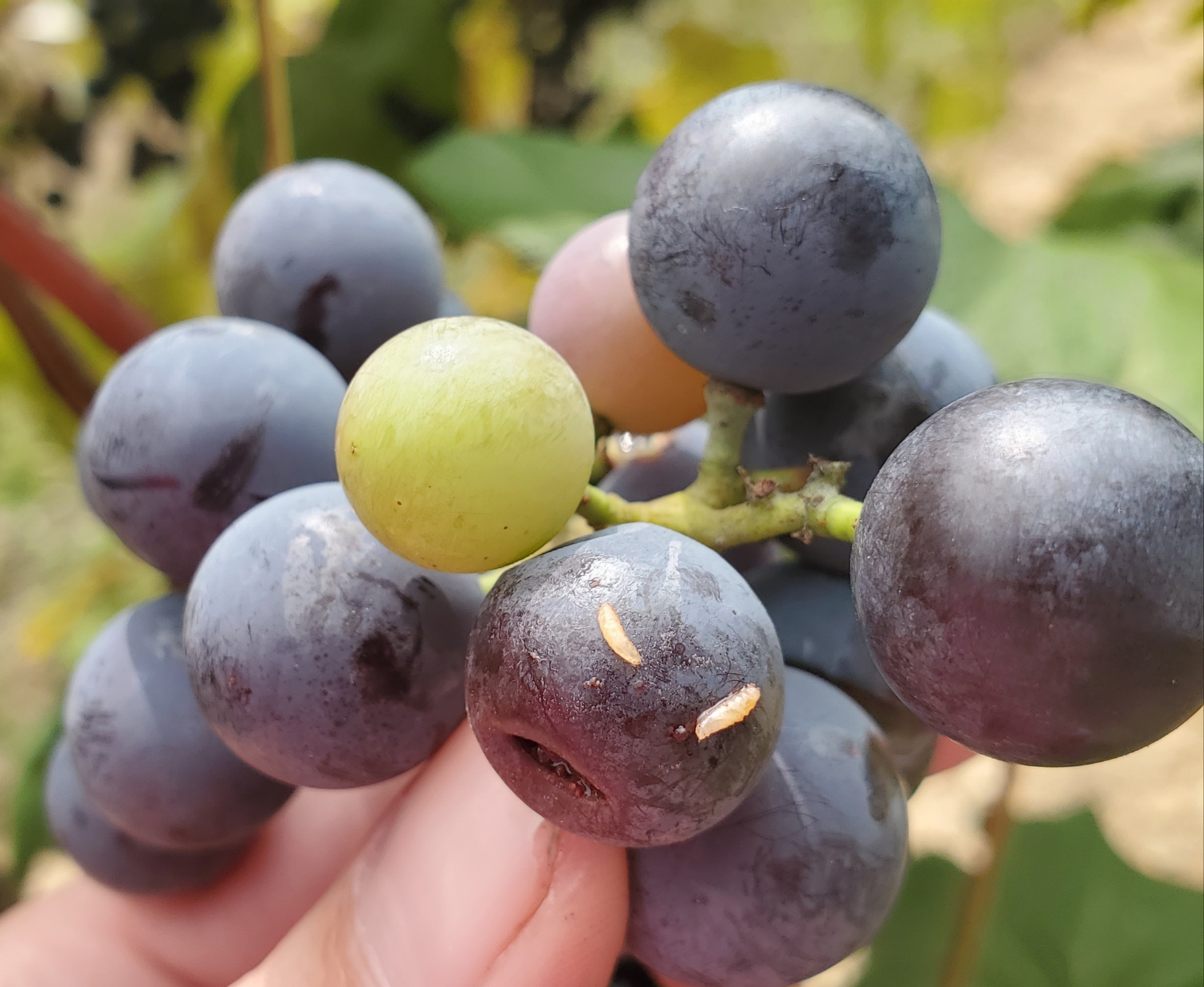 As harvest approaches, it will be important to be looking out for spider mites and mealybugs.
Related articles and resources