Michigan State ANR Week is all about education, shopping, networking and more for Michigan Equine Enthusiasts!
ANR Week guests include: Michigan Horse Industry Update, MHC President's Gala, and Michigan Horse Expo on Mar. 7-10, 2019 in East Lansing, MI.
Michigan State University's ANR Week offers three outstanding opportunities for Michigan equine enthusiasts! Michigan State University Extension recommends that all Michigan horse enthusiasts come to East Lansing on Thursday, Mar. 7 and stay through the weekend!
MSU – Michigan Equine Industry Update, Thursday, Mar. 7, 2019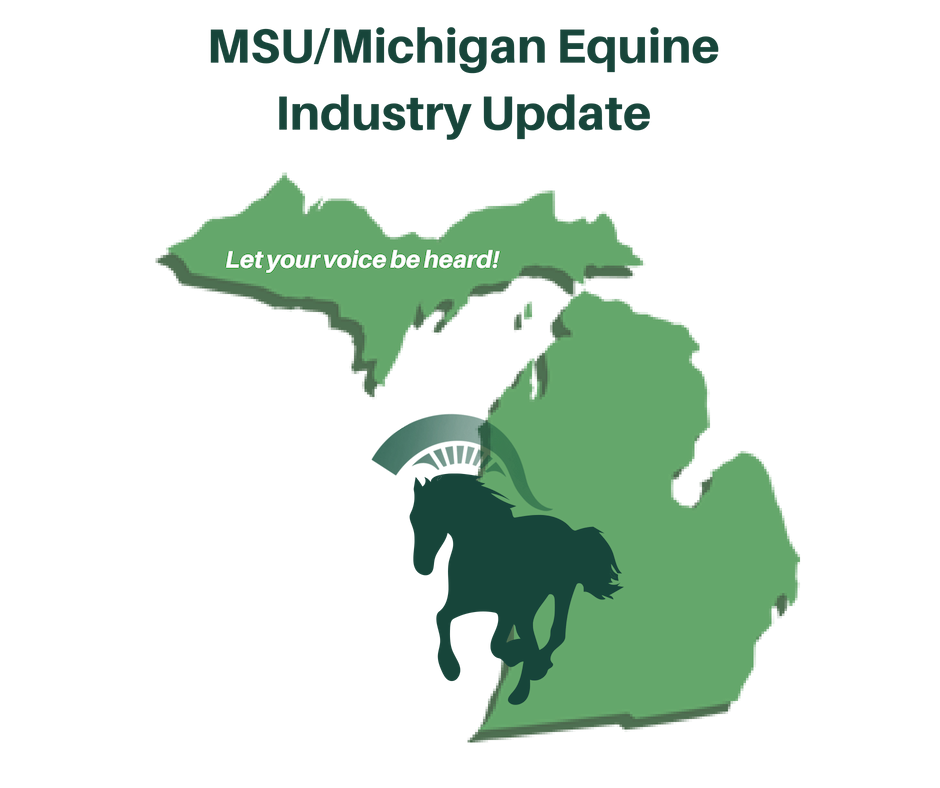 Begin your equine adventure by attending the MSU-Michigan Equine Industry Update on Thursday, Mar. 7, 2019 from 1:00 PM – 5:00 PM at the Kellogg Center in East Lansing. Join like-minded equestrians and industry representatives to discuss the current status and future outlook of the Michigan Equine Industry. MSU faculty and educators from the Department of Animal Science, College of Veterinary Medicine, and MSU Extension will share their programing efforts and innovations. Industry leaders from the Michigan Horse Council, Michigan Farm Bureau, and the Michigan Department of Agriculture and Rural Development will give an update on their equine related activities. You can network during the ice cream bar reception featuring MSU's Dairy Store ice cream before joining small groups to help identify industry priorities. There is no cost to attend, but please register by Sunday, Mar. 3, as seating is limited.
Register online for the free industry update meeting at the Kellogg Center in East Lansing.
This event will also be available via live broadcast! The instructions to join will be sent to your email the day before the event. Register here for the free live broadcast.
For more information, contact Carla McLachlan: MCLACHL2@msu.edu
Michigan Horse Council President's Gala, Thursday, Mar. 7, 2019
Stay after the Industry Update and join Colonel Don Packard for the Michigan Horse Council President's Gala, also held at the elegant Kellogg Center from 7:00 PM – 9:00 PM, Thursday, Mar. 7, 2019. Meet your favorite clinicians and speakers featured at this year's Michigan Horse Expo. The gala includes an auction, light appetizers, cash bar and cowboy music. All proceeds from the $35 per person registration fee go to Detroit Horse Power, a nonprofit organization that teaches urban youth to ride and care for horses as a way to develop critical skills that will set them up for future success. You can purchase your tickets online.
Direct your questions to Colonel Don Packard at: packardcoloneldon74@gmail.com
Michigan Horse Expo, Mar. 8-10, 2019

Finish your week strong by attending the Michigan Horse Expo at the MSU Pavilion for Agriculture and Livestock Education. The 36th Michigan Horse Expo has something for you to enjoy whether you are a horseless horse lover, a new horse owner, or a seasoned professional. This year, Julie Goodnight will be a featured clinician along with many top horse professionals from Michigan and across the country. Shop till you drop for both you and your horse at the 200 vendor booths! If you still aren't impressed, how about the thrilling action of the Michigan High School Rodeo Association's Friday Night Rodeo. Enjoy the mounted sheriff's posses' Color Presentation each day. Be sure to stop by the MSU Horse Programs booth #329 and the Youth Area for hands-on activities! View our complete daily schedules here.
You can purchase tickets at the door or through the Michigan Horse Expo website.