Michigan and Ontario groups earn prestigious Department of Interior Partners in Conservation Award
International collaboration along Lake St. Clair and the St. Clair and Detroit rivers leads to ecosystem restoration and exemplary partnerships.
On January 16, 2014 representatives from Michigan Sea Grant, U.S. Geological Survey, Ontario Ministry of Natural Resources, U.S. Fish & Wildlife Service, and Great Lakes Fishery Commission traveled to Washington D.C. to receive a Partners in Conservation (PIC) Award from the Secretary of the Interior on behalf of all the collaborators who have contributed to the success of the Huron Erie Corridor (HEC) Initiative. (Note: The HEC Initiative has recently re-named the St. Clair Detroit River System Initiative, now known as SCDRS).
The purpose of the Initiative is to create relevant, new science that will assist resource managers in making decisions concerning restoration of native aquatic species and their habitats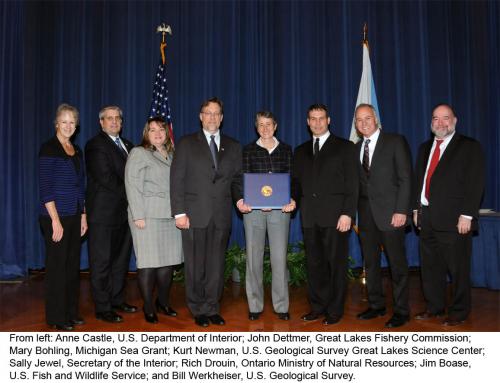 in Lake St. Clair, Detroit and St. Clair Rivers. It is an international partnership including federal, tribal, state, provincial, local, and non-governmental participants. The main goal of SCDRS is to restore and improve the ecological function and resilience of the St. Clair-Detroit River ecosystem. Rebuilding and restoring those functions will help maintain healthy, diverse and productive aquatic ecosystems throughout the corridor — that will, in turn, provide societal, economic, and environmental benefits to the Great Lakes region and throughout the U.S. and Canada.
The Partners in Conservation Award recognizes groups that make exceptional contributions in achieving conservation goals through collaboration and partnering. Specifically, this award recognizes outstanding conservation results produced either: 1.) through engaging external partners; or 2.) by fostering a collaborative culture within and across Interior organizations. The Initiative meets both criteria by engaging a broad diversity of external partners as well as the Department of Interior organizations of U.S. Geologic Survey and U.S. Fish & Wildlife Service.
"The Department of the Interior is proud to recognize the accomplishments of those who are innovating and collaborating in ways that address today's complex conservation and stewardship challenges," said Secretary Jewell at the awards ceremony. "These partnerships represent the gold standard for how Interior is doing business across the nation to power our future, strengthen tribal nations, conserve and enhance America's great outdoors and engage the next generation." A list of this year's twenty award-winning partnerships with details about each partnership and the organizations involved can be accessed on the Department of Interior news site.
Michigan Sea Grant staff has contributed to the Initiative in a variety of ways since its inception, including group facilitation, conference planning, website development, research coordination and grant management of several fish spawning reef habitat construction projects and education and outreach.