Michigan Catch and Cook program connects community members, local restaurants
Through a partnership between charter fishing boats and local restaurants, anglers can take their catch to local restaurants for a delicious meal.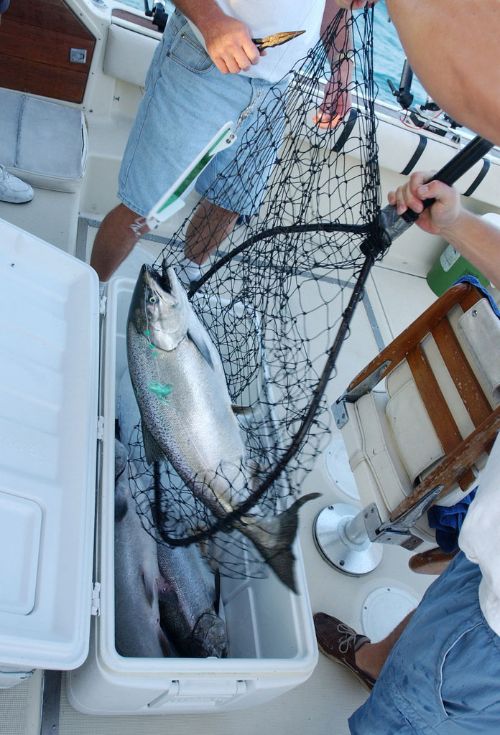 Michiganders who enjoy fresh and local fish can turn their day's catch into a delicious dinner thanks to a partnership with participating lakeshore restaurants.
The Catch and Cook program allows charter fishing clients to reel in fish from any of Michigan's Great Lakes and bring their catch to a participating Michigan restaurant, where the fish will be cooked and served. Catch and Cook's fresh approach in promoting local fish sourcing has been acknowledged throughout the state and was recently awarded the 2013 Governor's Award for Innovative Tourism Collaboration.
The program, which was formed to promote local fish sourcing in a creative and safe manner, is a collaboration between many of Michigan State University Extension's key partners including MSU's Department of Fisheries and Wildlife, Michigan Sea Grant, Michigan Department of Agriculture and Rural Development, Michigan Department of Natural Resources, Michigan Charter Boat Association, and the Michigan Restaurant Association.
Charter boat captains help their clients clean, gut, and scale their catch before transporting the fish to participating restaurants. To ensure safety, the charter boat captain is expected to be knowledgeable in food safety and proper food handling, as well as overall wholesomeness of the fish. This includes keeping the freshly caught fish at 41°F or lower to inhibit harmful bacteria growth and cleaning the fish with properly sanitized equipment. The charter boat captain is also expected to provide proper documentation of each catch, as well as to individually label each fish with the date and time of the catch. In addition, it is mandatory for each participating charter service to be inspected by Michigan Department of Natural Resources Law Enforcement Division and display the proper decal indicating it has been legally inspected.
Restaurant staff are required to inspect the quality of the fish being brought in and have the right to refuse fish that are determined to be unwholesome. It is also required that the restaurant has a sufficient method for providing the client with the correct fish. For a list of participating restaurants and charter services, visit the Michigan Catch and Cook website.
Restaurants, charter services, and Michigan's economy stand to gain from Catch and Cook and similar programs. Restaurants and charter services may gain new and repeat customers, which support local economies, while Catch and Cook establishes a more interactive relationship between local restaurants and charter fishing services.
If your summer plans involve taking a charter fishing trip on any of Michigan's Great Lakes, you might want to consider making arrangements with your captain to participate in the Catch and Cook program.
MSU Extension helps connect people to farmers, fisherman, and food producers through education and outreach, including monthly e-newsletters to inform Michigan residents and others about issues related to food, health and the environment. Visit www.msue.anr.msu.edu to sign up to monthly e-newsletters on the topics important to you or call 1-888-678-3464 to contact your local county Extension office.