Michigan grape scouting report – May 17, 2016
After recent cool weather, shoot development has gone from about a week ahead of average to about a week behind average.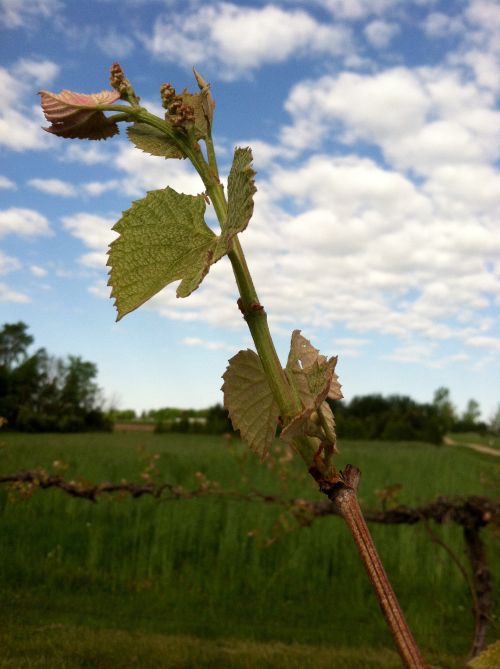 Weather
Last week was cool with several rain events. The coming week is projected to be warmer, and with a low probability of rain. As of May 16, Concord shoots in the region were between 3-7 inches of shoot growth. Wine grape buds at present vary from late bud swell to 3 inches of shoot growth.
For the first time in several years, most wine grape wood is healthy and bearing. The chance of a frost is rapidly diminishing and is very unlikely at this point.
Growing degree-day summary

Location

May 16

May 22 (projected)

294

329

332

386
Diseases in juice grapes
Recent cool rains have created conditions conducive to developing Phomopsis lesions on newly-emerged shoots. Protect growing tissue at least once more between now and bloom with an ethylenebisdithiocarbamate (EBDC). Any vineyards that haven't been protected yet this year should use a Phosphonate material, which may have some back-action on Phomopsis. In any vineyards with noticeable powdery mildew infections last year, these early sprays should also contain a powdery-active mix partner such as a sterol inhibitor.
Diseases in wine grapes
Powdery mildew, Phomopsis and Anthracnose are currently producing spores, and shoots in sensitive varieties are vulnerable to all three fungal diseases. Wine grape growers should protect against powdery mildew development on newly-emerging tissues. In Anthracnose-sensitive varieties such as Vidal Blanc, Vignoles, Chardonnay and Marquette, disease sprays should include Anthracnose-active materials as well. Downy mildew will soon begin producing spores, but vegetative tissues will not be vulnerable until one to two weeks before bloom.
Insect development
Grape berry moth males were caught at all the farms we scouted in Van Buren County (three to 200 moths per trap) and Berrien County (one to 12 moths per trap). Sprays for grape berry moth at this time are ineffective at reducing damage, so there is no need to treat. In vineyards with a history of severe infestation, a first generation spray will be appropriate after wild grape bloom.
Michigan State University Extension advises growers and scouts to identify riverbank grape (Vitis riparia) near their vineyards and record when bloom occurs. This can be used to time first generation sprays where needed, and can also be used to start counting growing degree-days with the grape berry moth model on MSU Enviro-weather to obtain ideal timing for second and third generation poisons.
Vitis riparia (riverbank grape)
Use this for the grape berry moth model.
Most common wild grape species.
Leafs are green and glossy underneath.
Blooms before Concord.
Vitis aestivalis (summer grape)
Underside of leafs are whitish-gray with hair.
Every third leaf is without an opposing cluster or tendril.
Blooms after Concord.
No grape flea beetles, climbing cutworms or grape plume moths were seen during scouting, and damage symptoms were not observed at the vineyards we visited. Juice grapes have grown past the period of susceptibility to flea beetles and cutworms. However, this year's cool weather and slower bud break have created the conditions in which climbing cutworms are most often seen. Therefore, wine grape varieties with late bud break should still be scouted for these pests. A rough estimate of a treatment threshold is 5 percent damaged buds in a vineyard. Poison climbing cutworms with Altacor, Delegate or a Pyrethroid, and poison flea beetles with a Pyrethroid or Sevin.