Michigan has a viable and sustainable bait industry
Much of the bait is harvested in Michigan with some imports.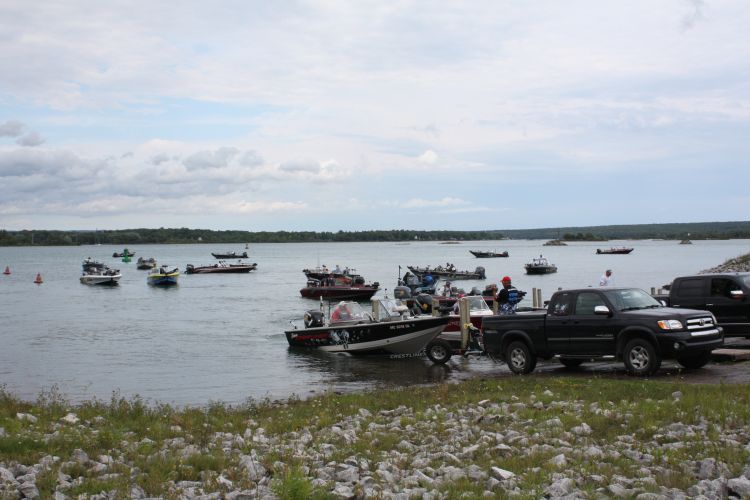 Michigan has a viable and sustainable bait industry that helps keep the hundreds of Michigan's retail bait shops well supplied for recreational anglers. A significant portion of the bait sold at Michigan's retail bait shops is harvested here in Michigan. For example, emerald (blues) and spottail (greys) shiners which are both popular baitfish species are mostly harvested from Saginaw Bay, St. Clair River, Detroit River, and Lake Erie mainly during November. Species that are imported into the state include fathead minnows and golden shiners which are produced in aquaculture operations in the South. Most wiggler production comes from the Sable River in Mason County.
About a dozen large wholesale catchers provide most of Michigan's in-state bait supply. State law requires that these wholesale catchers only sell their bait in Michigan and prohibits minnows, wigglers, and crayfish that are harvested in Michigan from being exported and sold out of state. This ensures Michigan's bait harvest exists solely to meet the local in-state bait demands of the recreational fishery.
Michigan has three types of commercial bait licenses that include retailers, wholesalers, and commercial catchers. Retailers sell live minnows and wigglers directly to the public while wholesalers sell bait directly to licensed retailers and other wholesalers. Those with a retail or wholesalers license can also purchase a commercial catcher's license that allows them to catch and sell bait. There are approximately 600 retailers, 40 wholesalers, and 75 commercial catchers with about 15 harvesters and wholesalers providing most of Michigan's bait retail supply. The seine net is the main method for commercially harvesting minnows in addition to minnow traps, which are occasionally used.
Between 25,000 to 38,000 gallons of minnows are harvested from Michigan's waters annually with about 85 percent to 90 percent coming from the Great Lakes or their tributaries. The annual wholesale market value of this minnow harvest ranges from $900,000 to $1.3 million, with a retail value of $5 million to $7.5 million. In Michigan between 1,200 and 3,500 pints of wigglers are harvested annually. The annual wholesale market value of this wiggler harvest ranges from $35,000 to $100,000 with a retail value of $150,000 to $270,000.
The Michigan Department of Natural Resources developed a positive and informative website focusing on Michigan's bait industry, which will help the public understand the role of the bait industry in relation to recreational fishing. The site includes a Retail Bait Shop locator.
The site also has sections on the Michigan Bait Dealers Association and its role working with Michigan Sea Grant on developing and implementing the aquatic invasive species hazard analysis critical control point (AIS-HACCP) program to prevent the movement of aquatic invasive species in their operational practices.
Michigan Sea Grant helps to foster economic growth and protect Michigan's coastal, Great Lakes resources through education, research and outreach. A collaborative effort of the University of Michigan and Michigan State University and its MSU Extension, Michigan Sea Grant is part of the NOAA-National Sea Grant network of 33 university-based programs.