Michigan spotted wing Drosophila summary report for 2015
A summary of the spotted wing Drosophila monitoring network reports for the 2015 season.
For a third year in a row, spotted wing Drosophila (SWD) were monitored statewide and reported weekly in each of the major fruit growing regions throughout the Lower Peninsula of Michigan. The purpose of the Michigan State University Extension SWD monitoring network was to provide growers and crop consultants with regional trends in SWD population growth near cultivated and wild hosts.
This year, traps in the network were baited with Trécé lures and placed near susceptible crops and wild hosts in each of the major fruit growing regions across the state. As in previous seasons, activity of the flies remained low during June and into early July (see graph). During mid-late July, the populations increased and pest pressure was greatest during August and September. Although the comparison across the years indicates a similar timing and intensity of SWD this season compared to the earlier ones, it is important to note the 2013 season network used traps baited with yeast and sugar whereas the 2014 and 2015 seasons used mostly commercial lures that seem to be less effective than the homemade baits. We have been running some side-by-side bait comparisons this season too, and will be gathering those results together over the next month.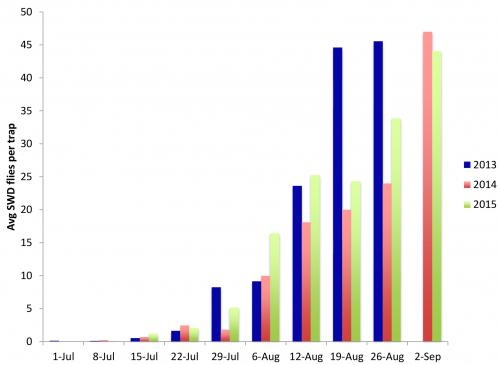 Through the winter there will be various opportunities to learn more about this pest at Extension meetings organized by MSU Extension, including the Great Lakes Fruit, Vegetable and Farm Market Expo, Northwest Orchard and Vineyard Show and Southwest Hort Days. Check the MSU Extension Fruit & Nuts online news for announcements. Growers can also consult the MSU Spotted Wing Drosophila website where there are crop recommendations posted for berry crops, or contact your local MSU Extension fruit educator for more information on management strategies. The online management guidelines will be updated for the 2016 season and will be posted in early spring, including a new guide specifically for tart cherry growers.
Did you find this article useful?
---
You Might Also Be Interested In