Michigan youth unleashed inner scientists and explored college campus at 4-H Exploration Days
4-H Exploration Days brought hundreds of youth to MSU in June for a pre-college program focused on science education, personal development and fun.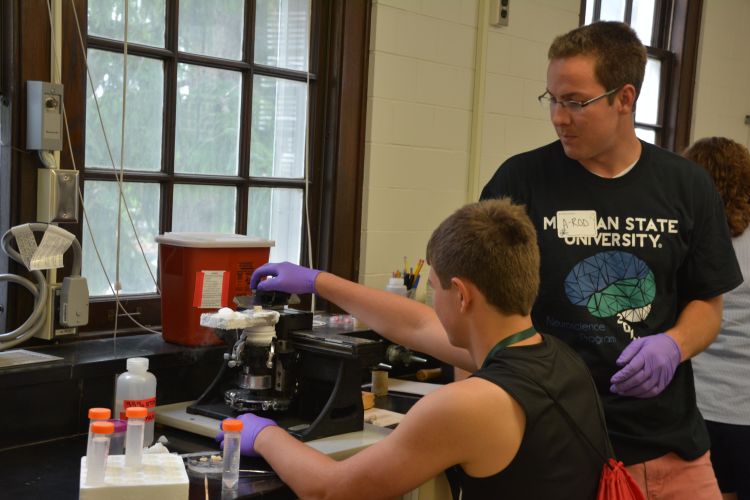 Nearly 2,500 young people from 77 Michigan counties attended Michigan State University's (MSU) largest pre-college program, 4-H Exploration Days, earlier this summer. A program of Michigan State University Extension, 4-H Exploration Days took place on the MSU campus June 18-20 and offered more than 200 interactive learning sessions for participating youth.
An annual event, this year's 4-H Exploration Days featured a special Unleash Your Inner Scientist theme and offered a multitude of action-filled classroom and field trip sessions in a wide variety of content areas, including animal and veterinary science, business and entrepreneurship, environmental education, food, nutrition and fitness, performing and visual arts, as well as science, engineering and technology. When not in sessions, participants engaged in other activities with a strong science emphasis and tours that gave them access to the MSU campus and its wealth of resources.
This MSU pre-college program gave youth an authentic collegiate experience as they lived in MSU residence halls, increased their interest and readiness for college, and developed decision-making, independence and teamwork skills. They also had fun and made friends with people from different backgrounds and areas.
Participants of this year's event completed a post-conference evaluation that featured the following highlights:
94 percent indicated they plan to attend college.
87 percent reported that they gained awareness of career and job possibilities related to their skills and interests.
81 percent said they increased their knowledge of the different majors, career paths and opportunities available at MSU.
Youth also reported on the top life skills they developed by attending this program. The reports indicated that:
91.5 percent of youth developed time management skills.
91.4 percent of youth developed the ability to follow through and complete tasks.
91.4 percent of youth developed the ability to adapt to new living arrangements.
91.0 percent of youth learned to accept people who are different from them.
91.0 percent of youth developed the ability to make decisions and choices.
90.8 percent of youth learned how to be independent.
90.2 percent of youth developed the ability to socialize and make new friends.
In addition to completing the survey, many youth provided testimonials about their experience. The following sample testimonials convey the excitement and influence expressed by hundreds of youth.
"It's given me confidence and courage to try new things." – Clare County youth
"Everything we did was fun, active, very hands-on and educational!" – Chippewa County youth
"The Future Docs session greatly influenced my desire to go into the medical field. The experiences in the lab were great." – Gratiot County youth
"It's shown me a variety of career pathways to explore and pursue that I didn't even know existed." – Cass County youth
"I learned how to interact with a diverse group of people and accept everyone's differences." – Huron County youth
"Touring the MSU horse farm and MSU Veterinary Center finalized my plans of being a veterinarian." – Delta County youth
"It influenced me to be more open-minded, evaluate all of my options and make good choices." – Wayne County youth
"I want to pursue a career in robotic engineering because of the session I participated in." – St. Joseph County youth
"It gets you excited to go to college! I love it here!" – Ottawa County youth
"I now plan to go to college for agriculture science." – Kalamazoo County youth
To learn more about 4-H Exploration Days and review the 2014 impact summary and full evaluation report, visit the 4-H Exploration Days website. The next 4-H Exploration Days will be held June 24-26, 2015.