Michigan flood: Resources to assist flood-impacted areas
Recent flooding has submerged crops and neighborhoods, and left many Michigan residents with unanswered questions.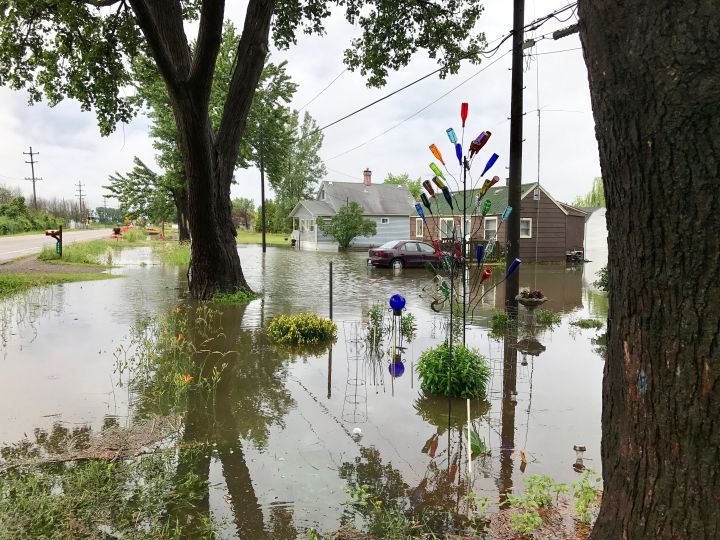 Several Michigan counties experienced significant flooding in the past several days. While the water levels have started to recede, the impacts of the storm are still being felt directly by many.
Michigan State University Extension has an educational roundup highlighting questions and concerns Michigan residents might have about recent flooding. These were compiled originally after the historic mid-Michigan flood of June 2017. MSU Extension will add more information to this page as it becomes available.
Have a question? Ask MSU Extension

If you have a question about flood damage, impacted Michigan crops, food safety and more, you can ask your question directly online at https://ask.extension.org/ask.
A network of Extension experts from flood-impacted areas, around the state and even experts nationwide can answer your questions.
Frequently Asked Questions -- Flooding
Michigan Sea Grant partner organization The National Weather Service has put together a series of frequently asked questions related to flooding issues including where to get accurate water levels, flood stages, flood insurance and more.
Read the Frequently Asked Questions about flooding
Extension Disaster Education Network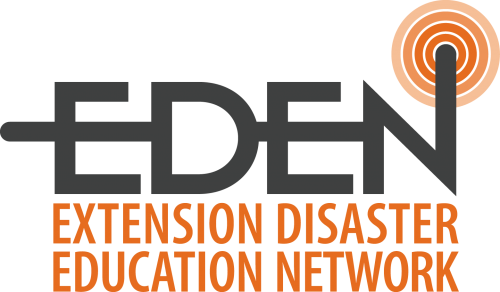 The Extension Disaster Education Network (EDEN) is a nationwide collective of Extension experts focused on disaster response and education. MSU's EDEN representative is Joyce McGarry, and she can help direct people to resources found on the EDEN website and also answer questions about appropriate local groups to contact.
Visit the Extension Disaster Education Network
9 Key financial strategies for recovery after a natural disaster
MSU Extension understands that the period after a natural disaster can be a source of much stress and a lot of questions. Where do I start? Where will I live? What is next? Several tools and resources are available to help from Extension's Disaster Education Network (EDEN) and the Michigan Department of Insurance and Financial Services.
Tools to help you sort out the pieces of your financial recovery puzzle are contained in Recovery After Disaster: The Family Financial Toolkit.
Read 9 Key financial strategies for recovery after a natural disaster

Should I be worried if flood waters reach my well?
MSU Extension also addresses a common question that comes up during any flood – should residents be worried if flood waters reach their well. MSU recommends playing it safe and having your well tested. In the interim, it is suggested residents use bottled water or boil water while awaiting test results.
The Michigan Department of Environmental Quality also has a fact sheet on how to protect your water supply in a flood emergency.
Read Should I be worried if flood waters reach my well?
Food safety during and after a flood
Just as important in protecting your water supply after a flood is following proper food safety procedures. MSU Extension food safety expert Joyce McGarry highlights which foods might need to be discarded after a flood and how to properly clean dishes and utensils that might be impacted by flood waters.
Read Food safety during and after a flood
MSU Extension also offers a Meal Preparation and Food Safety During and After a Flood fact sheet covering emergency supplies, impacted food items, items that can be saved and considerations for drinking water.
Evaluating damaged crops
MSU Extension recently updated a three-part series on evaluating damaged crops. The series about storm damage is designed to assist growers in decision-making.
Read Evaluating hail-damaged crops - Part 1
Read Evaluating flood-damaged crops – Part 2
Read Evaluating wind-damaged crops - Part 3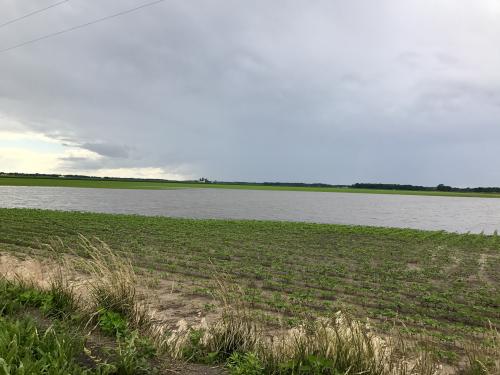 Assessing flood damage in pickles
Pickle harvests could be delayed by the recent flooding. Ben Phillips, a vegetable educator who focuses on cucurbits (pickles and other vine crops), outlines who could most be impacted and how growers can assess the potential damage once fields dry out.
Read Assessing flood damage in pickles
Assessing water damage to emerged soybeans
Mike Staton, an MSU Extension educator focused on soybeans, highlights the possible damage to soybean fields in mid-Michigan. The article highlights several factors that will determine the level of yield loss including duration of oversaturation, temperatures, growth stage and level of Phytophthora resistance.
Read Assessing water damage to emerged soybeans
Michigan Sea Grant storm project seeks to help communities prepare for future extreme storms
Michigan Sea Grant is committed to helping to bring heightened awareness of extreme storms and to provide information to communities on prepare for such storms, particularly in the Saginaw Bay watershed.
Michigan Sea Grant and MSU Extension outline the role the preservation of wetlands, green infrastructure, protecting floodplains, proper culvert construction and flood insurance play in protecting against future extreme weather events.
Read Michigan Sea Grant storm project seeks to help communities prepare for future extreme storms
More about our MSU Extension Experts
Field crops education
Vegetable crops
Soybeans
Food Safety and Extension Disaster Education Network
Financial Management
Coastal Flooding and Extreme Weather Education
---