Mind design session explores big ideas
More than 150 4-H youth and adult volunteers from across the state took that question to heart at the second annual Michigan 4-H Business and Entrepreneurship Expo (4-H B&EE).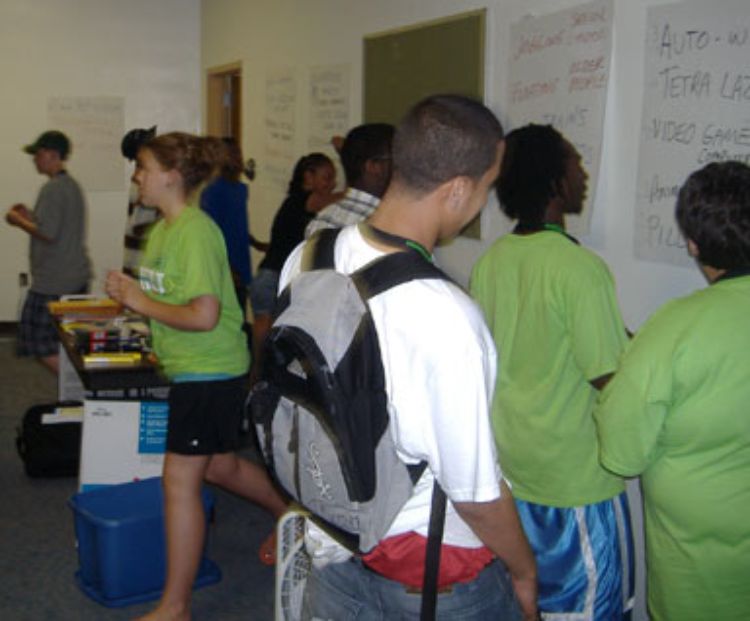 What's your big idea? More than 150 4-H youth and adult volunteers from across the state took that question to heart at the second annual Michigan 4-H Business and Entrepreneurship Expo (4-H B&EE). The Expo was held during 4-H Exploration Days from June 24–26, 2009 on Michigan State University's (MSU's) campus and was funded by an internal grant from Michigan State University Extension.
"Mind Design," a new 4-H B&EE session, brought in 20 4-H youth, ages 11–19, and four adult chaperones. The session's description read, "Is your mind always spinning with new ways to get things done or to help others? Are you constantly coming up with new inventions? If so, this session gives you an opportunity to present and test your ideas to see if they can be moved to the next level and possibly launched into reality."
The session was instructed by Kevin Karpinski from the Michigan Education Association, with the help of Mansour Ashtiani, a TRIZ innovation consultant. "TRIZ" is the Russian acronym for the "Theory of Inventive Problem Solving." It is a systematic problem-solving process that develops critical thinking skills and promotes creativity and innovation. It was developed by Russian dissident engineer and scientist Genrikh Altshuller and incorporates his theory that inventiveness and creativity can be learned.
The session began with having each participant write a brief description of his or her idea, including what is unique about the idea and the biggest problem to overcome. Next, they had to share their paragraphs with the rest of the group and add any extra comments or thoughts about their ideas. While the youth read their ideas out loud, the adult chaperones tracked the information with colored sticky dots on newsprint, placing the dots together based on similarities.
Participants were then split into small groups of four or five (based on the similarities) where they brainstormed ideas and created solutions to their problems. Afterward, they reported their list of changes or modifications to the other groups.
Next, each participant made a "to do" list for his or her project, including Internet-based research on related markets and competition. They developed a creativity plan, which enhanced their ideas and moved them closer to market. Toward the end of the session, youth developed a marketing pitch, an outline, a list of resources to use, a list of potential customers and a prototype design.
The session ended with each participant showcasing his or her final design. The top three business ideas received a zippered MSU portfolio and everyone received a certificate of completion.
Participants' remarks on what they liked best about the session included learning about TRIZ and seeing all the ideas the kids came up with, and that the instructors seemed very passionate about what they do.
Instructor Kevin Karpinski stated, "I was so impressed with the great group of kids we got to work with, and three or four of the inventions could actually become a reality."
Although now may seem like the worst time to finally get a patent for an invention that's been on your mind for years, experts say an economic downturn provides a prime opportunity for workers to do something differently and follow their passions. Although Michigan has been hard hit in other sectors, it ranked seventh among all states in the number of patents granted in 2008, according to the United States Patent and Trademark Office.
Michigan also has 15 "SmartZones" where technology firms, entrepreneurs and researchers cluster and collaborate. Each SmartZone offers businesses help with commercializing ideas, patents and other opportunities and has access to learn about money for which they can apply. There are definitely more enterprising individuals trying to bring their inventions to fruition at the Michigan State University Product Center for Agriculture and Natural Resources, which helps entrepreneurs start their business.
For more information on the "Mind Design" session or 4-H Exploration Days, contact Laura Allen at 517-432-7632 or lacourse@msu.edu.