MSU First and Fourth at 2019 Animal Welfare Assessment Contest
MSU Animal Science was represented by two undergraduate teams that placed 1st and 4th overall at the Animal Welfare Assessment Contest® (AWJAC®), which took place November 22-24 at Colorado State University.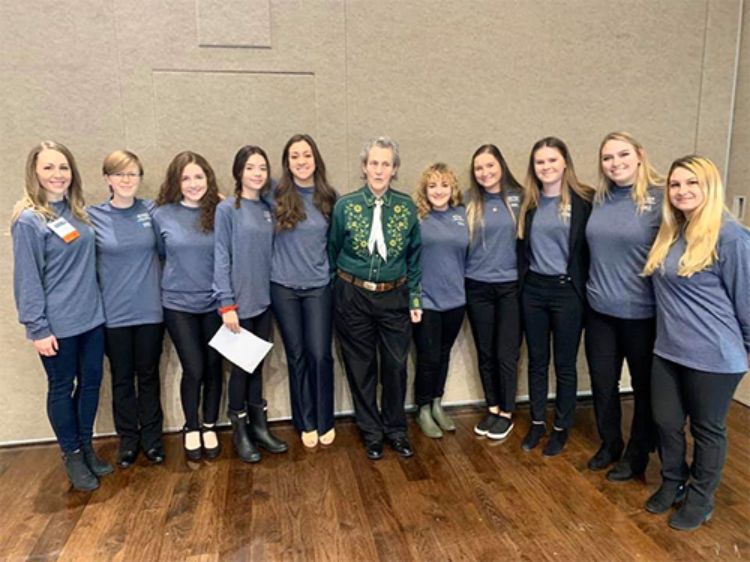 The Animal Welfare Assessment Contest, which was founded at Michigan State University in 2001, took place November 22-24 at Colorado State University.
MSU fielded two teams. The MSU undergraduate teams were 1st and 4th for overall team placing, and Ashley Dunn was 1st for overall individual student placing. Jackie Jacobs, Assistant Professor in Animal Science, coached the team.
Some of the other high placing teams also have connections to MSU ANS:
The Minnesota undergraduate team, which placed 1st, was coached by MSU alum Dr. Beth Ventura (BS).
The Texas A&M undergraduate team (high scoring team for the live assessment and 3rd overall) was coached by MSU alum Dr. Courtney Daigle (MS, PhD).
Olivia Child, who placed 3rd in the Veterinary Division for the MSU CVM team, also received her BS from MSU ANS. The MSU CVM team was 2nd overall.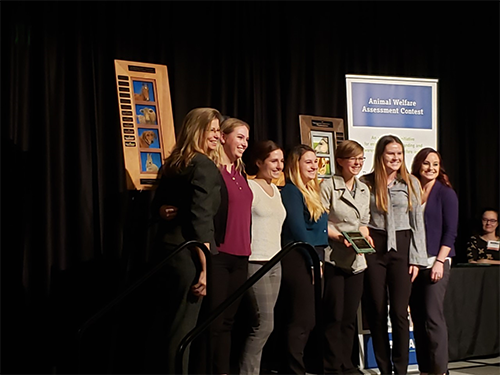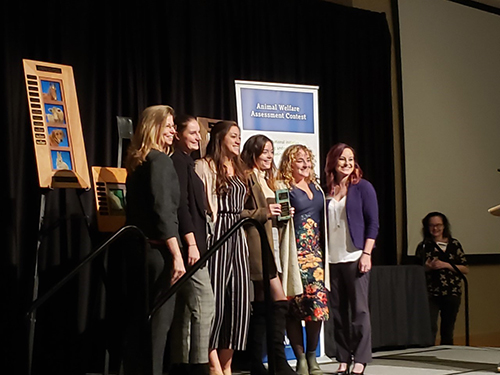 The contest this year had 244 people in attendance, compared with 163 in 2016, 201 in 2017, and 216 in 2018. Twenty-five different universities were represented, with 22 international participants (University of Guelph, Ontario Veterinary College, Atlantic Veterinary College, Royal Veterinary College, University of Edinburgh Royal (Dick) Vet College, and University of São Paulo, Brazil). Competitors included 95 undergraduate students, 47 veterinary students, and 23 graduate students.
"The Animal Welfare Assessment Contest (AWJAC) aims to provide a unique educational experience while strengthening student vocabulary and reasoning skills. The competition teaches students to assess the welfare of animals in a variety of settings using science-based methods and reasoning. Students are given the opportunity to weigh evidence and present sound evaluations. This contest ensures that tomorrow's leaders in the animal industries develop strong communication skills and acquire enhanced knowledge of animal welfare.
The contest is open to veterinary students, undergraduates, and graduate students. A limited number of veterinarians also take part each year as non-competitive participants."
The 2019 contest species focus included
Broiler Chickens
Laboratory Zebrafish
Captive African painted dogs
Live Assessment: Livestock Sheep Slaughter
This article was updated December 11, 2019, with corrected results from the competition.