MSU Extension names Institute Team Award recipients
The 4-H Home Alone Safely Virtual Programming Team, MSU Extension Field Crops Team and Opportunity Zones Training Team received Institute Team Awards during the annual Fall Extension Conference held virtually on Sept. 28.
4-H Home Alone Safely Virtual Programming Team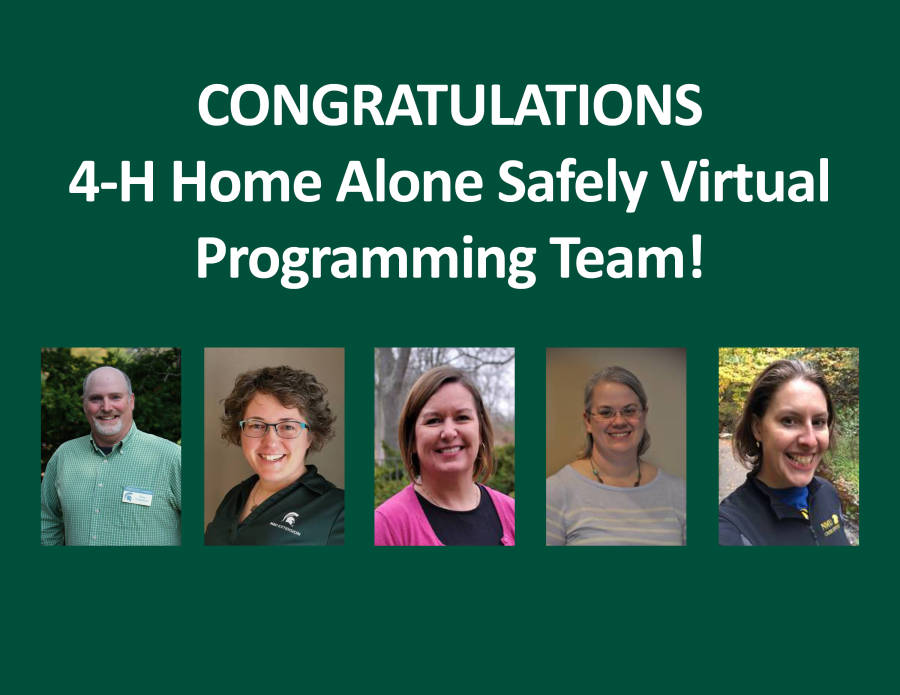 The Institute Team Award recognizes an outstanding team contribution to MSU Extension. The 4-H Home Alone Safely Virtual Programming Team's effort exemplifies the beauty of MSU Extension programming and its program delivery model.
In spring 2019, Karie Saxton first developed this program in an in-person format, meeting a need locally to develop youth home-alone skills during the summer months. When the COVID-19 crisis closed Michigan schools on March 16, 2020, an even greater number of children were left home alone under a "Stay Home, Stay Safe" order. Angela Cook inquired about turning Karie's idea into a virtual program. Geep Charlebois, Jill Connin, and Liz Wiener joined the committee, and the group launched a revamped program less than a week later. 4-H Home Alone Safely quickly became a virtual program that reached 422 youth: 334 from 63 Michigan counties, and 88 from 19 other states and Ontario. This was the first MSU Extension program many of these youth had experienced.
The 4-H Home Alone Safely Virtual Programming Team is comprised of Geep Charlebois, Jill Connin, Angela Cook, Karie Saxton, and Liz Wiener. The Key Partner Award recognizes those who have made significant contributions to supporting and promoting MSU Extension programs
The themes covered by the group reflected critical issues facing youth who may be alone or caring for younger siblings while their parents or guardians work. Topics covered during the series included time budgeting, first-aid, home safety, 911, nutrition and food safety, physical activity, managing feelings through mindfulness, at-home science experiments, and care of younger siblings. Each meeting involved two topics with a physical fitness component allowing youth to move and, perhaps more importantly, to take breaks from screen-learning. A webpage was created for resources and recorded presentations, and surveys were sent out after the program to families to gain insight into the program's effectiveness and potential improvements.
The team partnered with local 911 operators in Crawford and Antrim counties. During each series, a 911 dispatcher joined the Zoom meeting to explain to youth the importance of 911, the procedures that take place when a call to 911 is placed, and what to do if 911 is dialed accidentally.
Staff from other state's Extension programs joined to gain insights to run similar programs in their states and to adapt their curricula to address current needs.
MSU Extension Field Crops Team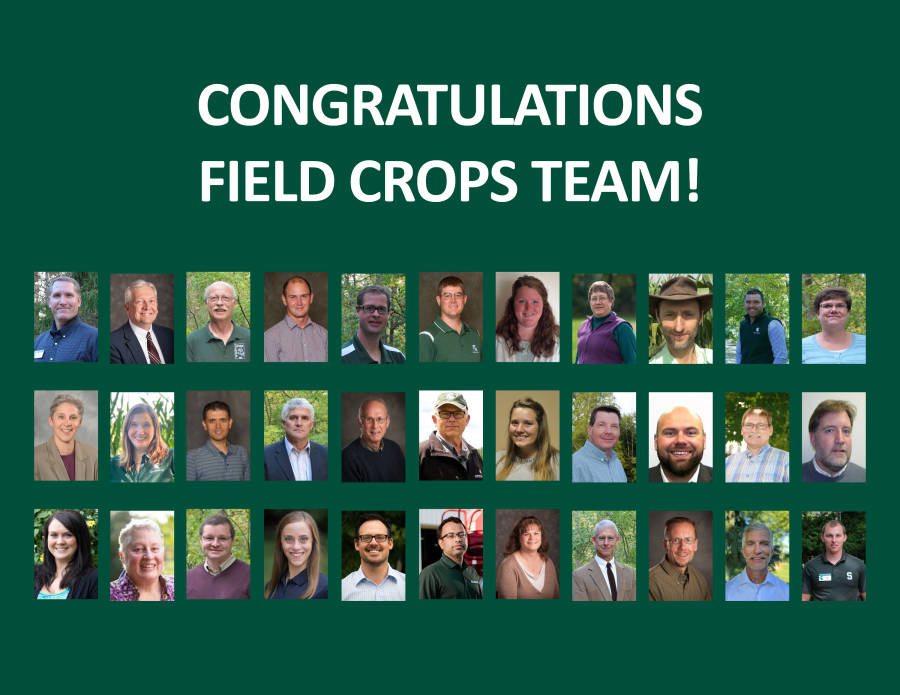 The MSU Extension Field Crops Team is composed of campus-based or research station–based specialists and Extension educators housed in counties across Michigan. The team conducted an issues identification process in 2017, which included farmer and agribusiness surveys and face-to-face meetings. The results suggested strong interest in virtual delivery of Extension programs. This hatched the Virtual Breakfast Series in which the team successfully uses Zoom to reach a changing agriculture audience. Started in 2018, the weekly series takes place during the growing season. The format begins with an MSU specialist presenting research and information on timely topics. Next, MSU climatologist Jeff Andresen presents a comprehensive report of current and long-term weather conditions. A question-and-answer session follows each section. The session pairs an MSU specialist with a field educator serving as host. The breakfast is recorded and posted on the Field Crops Team webpage and social media. In 2019, over 11,000 reaches were recorded from either live, social media, or podcast views. The topics are set at the beginning of the season but provide flexibility to change during the growing season as issues change. The 2019 growing season is an example. Excessive rains created a number of challenges for farmers and the breakfast menu was changed to provide the necessary information weekly for farmers and agribusinesses.
The Field Crops Team is comprised of Eric Anderson, Jeff Andresen, Dean Baas, Scott Bales, Robert Battel, Daniel Bublitz, Erin Burns, Kim Cassida, Martin Chilvers, Ricardo Costa, Christina Curell, Chris DiFonzo, Sarah Fronczak, Ehsan Ghane, Paul Gross, Tim Harrigan, James Isleib, Monica Jean, Philip Kaatz, Eric Karbowski, Lyndon Kelley, Bruce MacKellar, Mallory Marienfeld, Vicki Morrone, Dennis Pennington, Erica Rogers, Aleks Schaefer, Maninder Singh, Christy Sprague, Michael Staton, Kurt Steinke, Kurt Thelen, and Christian Tollini. The Key Partner Award recognizes those who have made significant contributions to supporting and promoting MSU Extension programs
The pandemic in 2020 revealed the further need for quality virtual programming. Educators from other states are viewing this delivery method. The breakfasts have strengthened the MSU Extension field crops team performance, collaboration, and working relationships. In addition, Virtual Breakfast has become a model for information delivery for other teams.
Opportunity Zones Training Team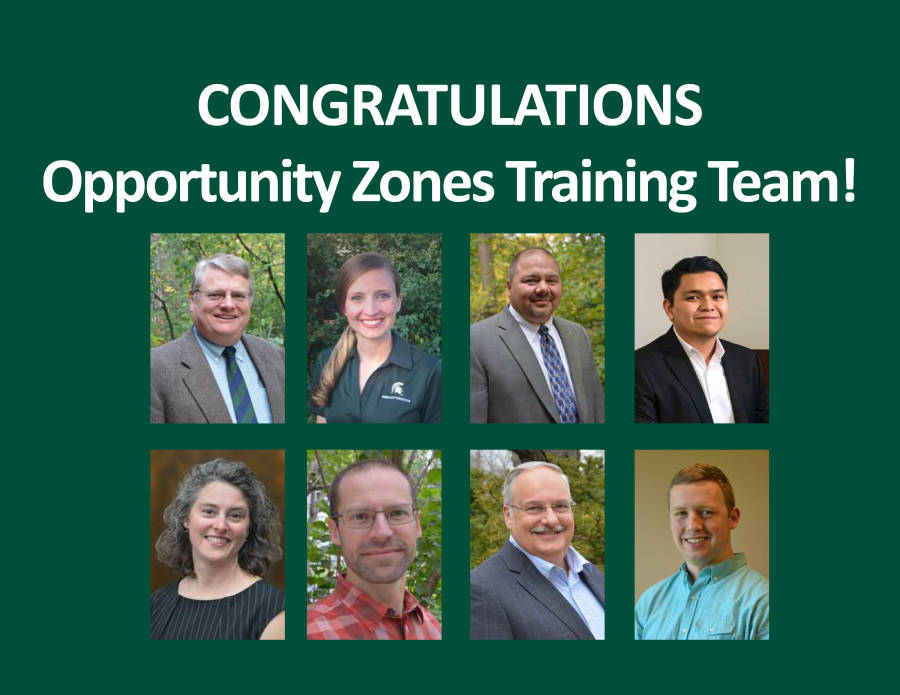 The OZ Training Team's partnership with key state agencies, expertise, and capacity to develop meaningful educational content in a timely response to a demonstrated need is exemplary of MSU Extension's broader resourcefulness, responsiveness, and relevance to Michigan residents and is deserving of the 2020 Institute Team Award.
The Opportunity Zone (OZ) Training Team organized to develop a program to educate Michigan local government leaders on a new federal program for community reinvestment. Created by federal statute, opportunity zones are economically distressed census tracts where certain new investments in existing businesses or new construction are eligible for preferential tax treatment. MSU Extension educators, in partnership with MSU's National Charrette Institute, developed a statewide training series "Opportunity Zones (OZ): There's No Place Like Home!" to teach local officials strategies to use this new economic development tool. The multi-disciplinary team came together at the request of a key state agency partner in late 2018 and worked remotely over a few short months to develop and launch a new program in spring 2019.
The Opportunity Zones Training Team is comprised of John Amrhein, Lindsey Gardner, David Ivan, Yusri Jamaluddin, Holly Madill, Brad Neumann, David Rowley, and Eric Walcott. The Key Partner Award recognizes those who have made significant contributions to supporting and promoting MSU Extension programs
The team developed a half-day workshop with interactive group exercises for participants to start formulating plans to leverage opportunity zones in their communities. The team offered five in-person trainings statewide in April-May 2019 ending with a two-hour webinar in June. In total, 304 community leaders participated in the initial training series. Additionally, the team trained 44 State of Michigan employees in related departments and agencies with the program materials.
The team secured a service agreement with the Michigan Economic Development Corporation and the Michigan State Housing Development Authority to prepare and deliver the program at no cost to Michigan residents. State agencies partnered with the team to promote the program to communities, and department staff attended all programs allowing the agencies to make connections with local government leaders and share additional agency resources.